Matthew Thorsen
Truck Stop
At ArtsRiot, an event space and restaurant in Burlington's funky South End, the words "Destroy apathy" appear on the menu, the dining room wall and the lips of the staff — as if the reclaimed warehouse were secretly a den for superheroes. In some ways, it may be: The mission is to create social change through collective, positive action — and by having fun.
Matthew Thorsen
George Lambertson
There's no question that ArtsRiot plays it big and bold, starting with the food. Chefs George Lambertson and Jean-Luc Matecat's ever-changing dishes are a riot of flavor and texture. Golden seared snapper rests on snowy-white corn velouté, topped with green-garlic pesto, purple cornflower petals and seasoned bacon oozing orange fat, allowing diners to taste the rainbow. Sichuan tenderloin tartare is garnished with cilantro, peanuts, pickled shiitake mushrooms and surprise bites of rhubarb. The popular popcorn chicken promises a touch of "Korean sparkle."
400 Pine St.
Burlington, VT
802-540-0406
Vegetarian and Gastropub
Dining doesn't get much more engaged than scooping marrow from a roasted beef bone, biting into an ear of Mexican street corn or chowing down on al fresco kimchi tacos from the restaurant's award-winning food truck, which parks out back on summer Fridays. During those Truck Stops, hundreds of hungry patrons come for showstopping meals-on-wheels from the area's best mobile vendors.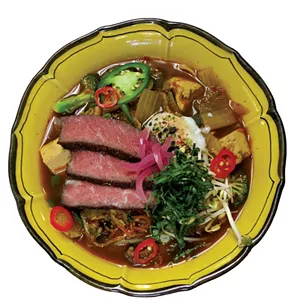 Matthew Thorsen
Artsriot
During the day, the restaurant may host volunteers peeling and chopping vegetables for the food shelf; at night, the space is home to drag balls, poetry readings, film screenings, concerts and dance socials. The common thread through it all: those plates of brilliantly colored food.
So locals gather here to eat, of course — but also to greet neighbors, forge new connections and dream up collaborations. They know that ArtsRiot serves gutsy, inspired nourishment for belly, mind and soul.