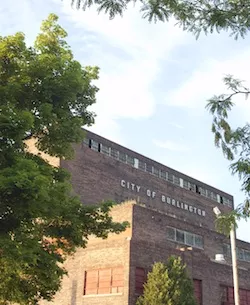 With a little imagination, it's easy to envision the Moran plant — that long-vacant eyesore on the Burlington waterfront — as an industrial-chic creative hub. Think funky art galleries with soaring ceilings, dance studios, welding workshops, even affordable apartments for artists.
Over the years, plans to rehab the plant have repeatedly crashed and burned. But, hey, you never know. In Burlington today, voters are considering a ballot item that approves tax-increment financing for infrastructure improvements to the area around the plant.
Meanwhile, the Minneapolis-based nonprofit real estate developer Artspace is about to wrap up a two-day summit about the Moran Plant's creative potential with movers and shakers from Burlington's business and arts communities. Burlington City Arts and CEDO hosted the series of meetings at ECHO Lake Aquarium and Science Center.
It was standing-room only at a Monday afternoon meeting with local artists and art organizations, including Frog Hollow, SEABA, S.P.A.C.E. Gallery, Signal Kitchen, the Flynn Center for Performing Arts, Fleming Museum, the Vermont Arts Council, ArtsRiot, the Vermont Folklife Center, Jeh Kulu Dance and Drum Theater, Lyric Theatre, Vermont Makers and many more.
Artspace senior vice president Wendy Holmes, who led the meeting, stressed that though the visit was prompted by the Moran Plant issue, the conversation was an opportunity for arts folks to talk about what's missing from their community. "The Moran Plant is the gateway to a bigger discussion," Holmes said.
Artspace specializes in transforming long-vacant industrial structures into affordable art hubs, often including a mixture of commercial and residential space, as well as artist studios, galleries, theaters, restaurants and other creative spaces.
Before opening the floor to discussion, Holmes showed off some of the dozens of projects Artspace has completed in other cities — from Chicago and Seattle to tiny Minot, N.D.
In Minneapolis, it converted two maligned buildings — an 1888 Masonic temple and a 1910 theater — into a state-of-the-art flagship center for dance. In New York City, Artspace is in the midst of turning East Harlem's long-abandoned public school 109 into 90 units of affordable housing for artists and their families.
Artspace has given new life to a grain warehouse, a tannery, a defunct department store, even a Superfund site.
Eyes widened in the ECHO Center conference room. Suddenly, the hulking, industrial Moran Plant seemed like a natural contender to become the area's next arts hub.
So what is Burlington's art community missing? The discussion that followed was lively — and all over the map.
Burlington needs more spaces where artists and art buyers can interact with one another, someone suggested. S.P.A.C.E.'s Christy Mitchell noted the city could use galleries or other art venues that are open on the weekends. Someone else said they wanted to see bigger spaces for large-scale installations.
Laura Hale, a Burlington artist who recently started the monthly Old North End Art Market at North End Studios, makes upcycled lamps and other functional art by welding together cheese graters, colanders and other metal objects. "We need a big space for the messy arts," she said.
A musician suggested a practice space "where you aren't in danger of getting a noise violation."
"You could use the Moran Plant right now!" someone joked.
Greg Sharrow from the Vermont Folklife Center suggested creating some sort of creative civic space. In VFC's work with New Americans, he said, he's found that it's important to have public places to socialize.
One artist brought up a conundrum: How do we build a flashy new arts center at the Moran Plant without alienating artists in existing studios and galleries?
Another person noted that it's going to be tough to convince Burlingtonians "that art space is good space," especially when there are so many other pressing needs in the community, such as low-income housing.
SEABA president Mark Waskow noted that while Burlington is technically a city, it's not like most of the other cities Artspace has worked with. "There aren't enough people here to start a fire with," he said. "Whatever we do here, it has to work with our demographic."
Photo by Matthew Thorsen