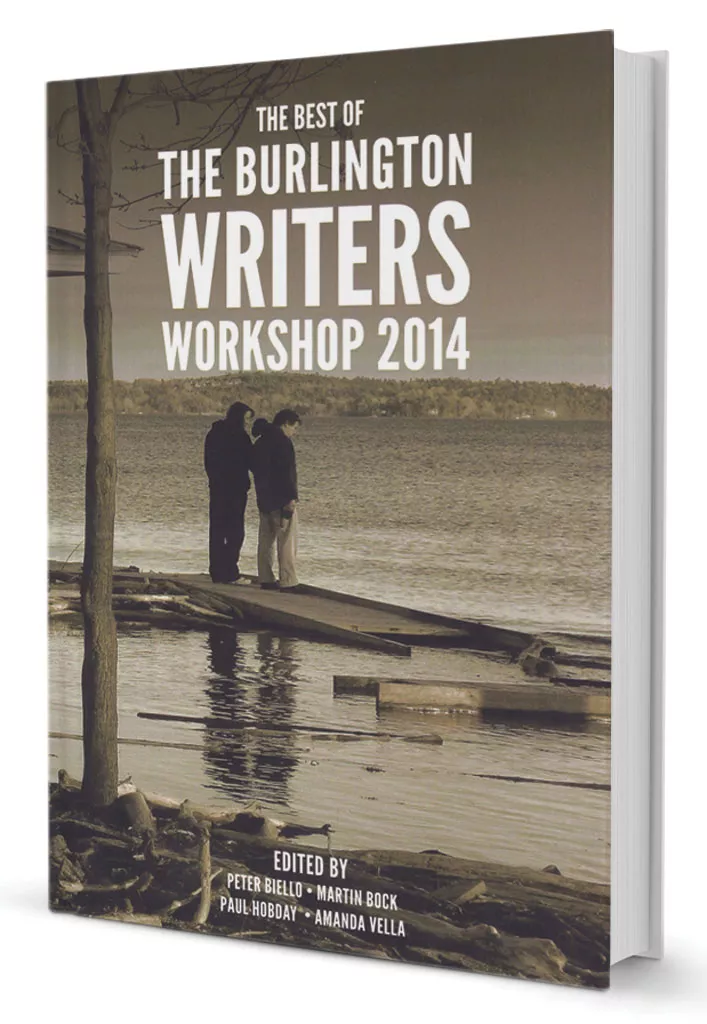 The Best of the Burlington Writers Workshop 2014, 142 pages. $12.
A young man bets on a boxing bout and finds himself rooting for the wrong fighter. A hotshot ad man fuels his creativity with cocaine. A woman has "mastectomy blues." A white man in a Louisiana jail in 1962 learns about defiance from watching his African American counterparts. An old woman ekes out an existence in a rural trailer. A specter in a pond saves a farm boy from drowning.
These are some of the wildly varied premises of the short works included in the second annual anthology The Best of the Burlington Writers Workshop — united, more or less, by an official theme of "darkness." Many of these stories, essays, poems and photos are indeed dark, and many also offer glimmers of hope and insight.
Since the BWW released its inaugural anthology in 2013, the organization has swelled in membership, partnered with Hotel Vermont to put local writers' work in guest rooms, established a space for its burgeoning workshops at Studio 266 and begun planning a literary journal. Belying its name, it now holds workshops in Montpelier, too.
The anthology features 36 works chosen from nearly 200 submissions and packaged in a handsome paperback with a cover photo of a flooded North Beach by Colleen McLaughlin. Most of the pieces are short — and highly readable.
The boomer generation is well represented here. Michael Freed-Thall kicks off the collection with an essay in which he attempts to reconstruct the night in 1950 when his parents were arrested for antiwar organizing. (He was in the womb at the time.) Martin Bock's "Prelude to Freedom Summer," the aforementioned account of prison in the segregated South, offers raw vignettes of a system of brutal, undisguised inequality.
Jernigan Pontiac, well known to Seven Days readers as the pseudonymous author of the Hackie column, contributed a witty story that doesn't take place in a taxicab. It's about a Beatles-era game of Risk that became his "first initiation into the scary mutability of human affiliation."
The anthology frequently confronts aging and death. In Colleen Ovelman's starkly powerful poem "The Dying Game," the narrator receives visitors who harbor an unspoken agenda: "you are dying and no one really knows / how to say this in comfortable clothes." There are poems of beauty and rebirth here, too, like Rebecca Starks' elegant "Only Child," in which a formerly barren tree sprouts mysterious leaves: "We watched their light green glow unfold / in delicate tongues with curled tips..."
Younger generations get their say here, too. Amanda Vella captures the vicissitudes of a modern relationship in "The Person With Whom She Was Meant to Go Hiking." BWW organizer Peter Biello describes how cleaning a drain leads to pondering the detritus of a marriage in the essay "The Blame Drain." (Biello, Vella, Bock and Paul Hobday edited the anthology with the assistance of other BWW members.)
In every solid collection, readers will find themselves picking favorites — pieces that rearranged their heads and stuck with them for days. For this reader, that piece was Hillary Read's short story "Soon," one of the longer fiction works in The Best of the BWW 2014. It's narrated in rhythmic, evocative prose from deep within the perspective of Mildred, an optimist and natural caregiver who has spent her life "carrying out tasks and saving her mind for something better." Now Mildred's sister, who kept her anchored to the practical world, has died; and the government checks have stopped coming. With no concept of where to seek help, or even that she needs it, Mildred finds herself subsisting on Wonder Bread and roadside berries, waiting for a visit that may never arrive and a winter that could be her last.
It's the sort of tale that in the wrong hands can easily turn maudlin, but Read makes it alternately transcendent and quietly devastating. We want to reach out our hands to this woman. Readers may put down the story with a resolution to notice members of their community who too easily slip out of sight. And it's that spirit of empathy, pervading many of these works, that lightens the "darkness" of their visions.