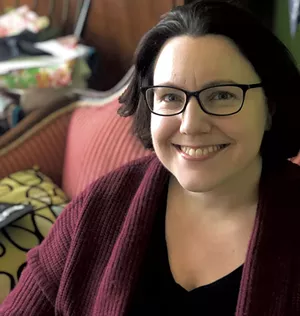 Courtesy of Jessica Pierce-Larose
Laura Hale
While Burlington's COVID-19 Resource & Recovery Center is connecting Queen City residents with resources to help them through the coronavirus crisis, one Burlington woman is using her nonprofit organization to help them pay their utility bills.

Laura Hale has harnessed the power of her 501c3, the ONE Good Deed Fund, to raise nearly $24,000 and distribute more than $18,000. Hale created the fund in 2014 and named it for her neighborhood, Burlington's Old North End. It allocated grants of $100 for people who wanted to do a good deed for a neighbor, or $250 for a community-wide project.
But last month, Hale quickly recognized the economic devastation the crisis was creating. She consulted with her board members and changed the organizational structure so she can issue grants to people in need.

"More than half of the folks who have gotten in touch have just recently lost work for the first time," Hale said. "These are not folks who've generally navigated the unemployment systems before. A lot of folks had two or three jobs ... and just pieced it together."
An application asks how the person has been impacted by the crisis, how much they need and how they want to receive the grant. Hale can't distribute cash, so she writes checks directly to utility companies or landlords, or she buys gift certificates at grocery stores. Applicants must live in Burlington and can receive one grant of up to $100.
Hale opened the COVID-19 Relief program on March 18 and started with about $3,500. "That went in four days," she said. "That was a shock."
Nearly 200 people have received grants from money contributed by about 140 donors. New applications keep coming in each day — and could for a while.
"When I came up with this idea six years ago, it never in a million years occurred to me that I would be giving out relief grants in a pandemic," Hale said. But, she added, "When unprecedented things happen, you step up however you can."