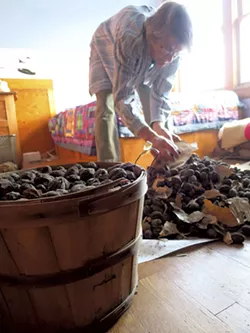 Matthew Thorsen
Cynthia Norman
Frederick and Beatrice Keighley built their house on Burlington's Walnut Street in 1936. Three years later, they went nutting.
It was September 16, 1939. The Yankees had just beaten Detroit 10 to 3. Down south in Brandon, Rollin Bissette was healing from an injury caused by a cartridge that backfired and exploded when he tried to shoot skunks that had been eating his grain. No one on this side of the Atlantic seemed too concerned about Germany's report of having shot down 31 Polish planes.
All of those stories appeared in that day's issue of the Burlington Free Press, which the Keighleys used to line one of the eaves in their newly constructed house. They sealed off the nook and apparently forgot all about the bushel of butternuts they had carefully lined up on top of the spread-out newsprint.
No one saw those nuts again until about 2005, when Cynthia Norman unscrewed the panel covering the nook. Norman and her husband, Bob Keller, had bought the property in 1991. When she eventually got around to exploring the eaves, she discovered the hundreds of nuts and made an unlikely decision: She broke some open and tasted them.
"I only ate a few at a time," Norman recalls. "I was hesitant because I didn't know if [they] would poison me."
Norman, now in her early sixties, spent a decade cracking the occasional ancient butternuts for her own enjoyment before she realized that her strange find might be of interest to others. The naturalist and former librarian made her discovery an ongoing informal research project, picking away at it just as she picked at the nuts.
Norman eventually learned that the nuts could have a vital use today, apart from their dubious food value. Butternuts, or Juglans cinerea, have suffered from a blight known as butternut canker since at least 1967, when the disease was first identified.
Forest pathologist Dale Bergdahl, now a University of Vermont professor emeritus, discovered butternut canker in Vermont in 1983. Today, he estimates, the trees have a 70 to 75 percent mortality rate. Indeed, so many trees are ill throughout the Northeast and Midwest that the butternut has been added to Canada's endangered species list.
Now Bergdahl thinks the near-perfectly preserved nuts in Norman's eave could hold the key to saving the tree. Just as the scientists in Jurassic Park made dinosaurs from DNA preserved in amber, so real scientists might be able to revive the butternut using genetic material from these nuts, which predate the blight and may be more resistant to it. If they can still germinate, the Keighleys' butternuts could be part of a new genetic line that bolsters the breed and puts butternuts back on the table. "Our long-term plan includes the restoration of the species to the northeastern landscape," Bergdahl says.
Butternut trees are native to Vermont, and locals were eating them long before Europeans reached the shores of Lake Champlain. Native Americans usually crushed the nuts and used them to thicken drinks and sauces. But butternuts weren't just an ancient additive. Like their sister the walnut, they produce a rich oil, which was used for cooking and flavoring food.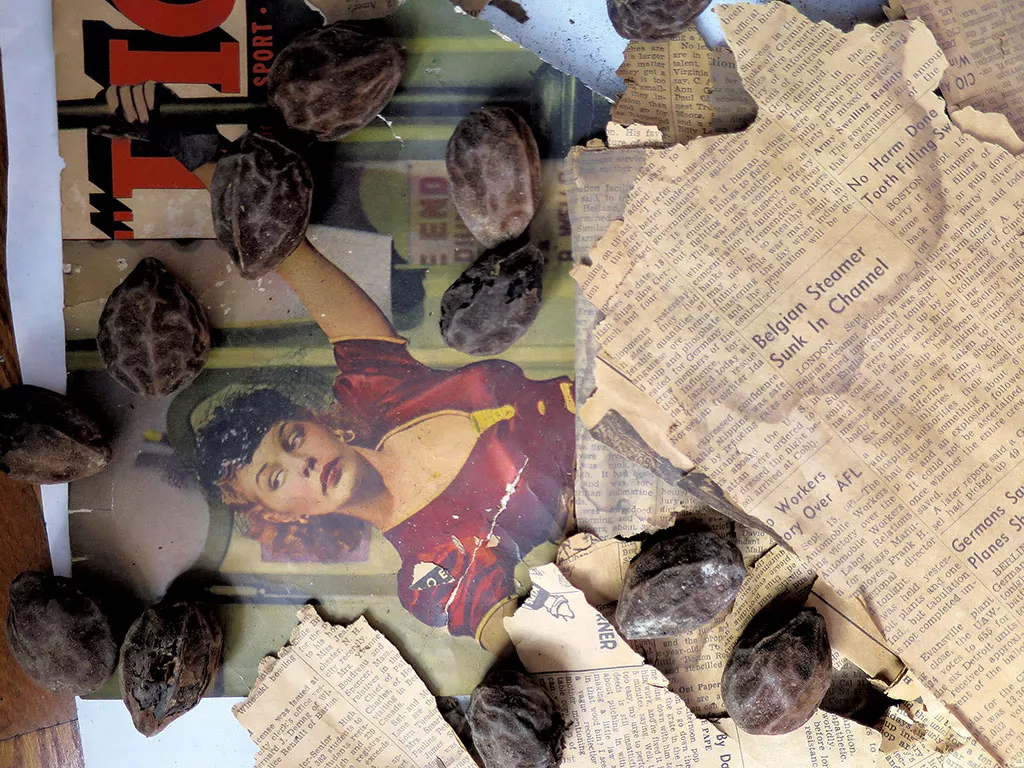 Domesticated butternuts came to Vermont with early European settlers, who planted them around their homesteads. Most of those dense plantings were in rural areas: photos collected by UVM's Landscape Change Program show butternut trees in Marlboro, Arlington, Williamstown and Rutland. The 1935 Marlboro photo, of Hogback Mountain Gift Shop, reveals another use for the nuts — as an ingredient in homemade fudge.
That doesn't tell us where the Keighleys harvested their nuts back in 1939 — presumably in Burlington. Despite urbanization and years of ill health, Bergdahl says, butternut trees still exist in the city today, including a few — located just north and east of UVM, and on Brookes Avenue — that produce occasional nuts.
Most of those trees were planted, with new ones in the mix as well as antiques. The Intervale Center's Conservation Nursery has partnered with the U.S. Fish & Wildlife Service, UVM Extension, and Vermont's National Resources Conservation Service to grow 3,000 butternuts from source stock that has displayed resistance to butternut canker. Bergdahl continues his work at UVM's Jericho Research Forest, while Middlebury College maintains a "butternut rescue effort" known as the Butternut Seed Orchard.
Why all this effort? Besides the obvious advantages of biodiversity, Bergdahl touts the quality of butternut wood — and the tree's potential availability as a wild local food source.
The nuts are now so rare that it's hard to learn much about their flavor. Even on the existing trees, "seeds are very sparse," says Bergdahl. In years with an early frost, trees often produce no nuts at all.
So Norman is one of the few Vermonters who still snacks on butternuts, albeit extremely old ones. She enjoys them alone, because "the rest of my family isn't as adventurous," she says.
Extracting the meats is an adventure in itself, as Norman demonstrates for Seven Days. In her basement, she uses a heavy hammer to crack open a few nuts at a time — they're far too hard to penetrate with a nutcracker. Then she spreads out the broken nuts on a copy of Seven Days on her dining room table.
A tiny nut hook is her tool for the surgery of extracting the nutmeats from the crevices of the seeds. Most of them crumble with age. The shells look like those of walnuts but are blackened and brittle, essentially mummified.
Norman says every nut she's cracked so far has contained meats — unlike the dud walnuts one often finds. She hopes that's a testament to the good health of the tree from which they were harvested 76 years ago.
When contacted about the nuts, Cynthia Belliveau, nutritionist and dean of UVM's continuing education program, is incredulous about the story. Since Norman is still alive, the nuts must be safe to eat, she jokes via email. Belliveau says she would have expected the oils in the nuts to have gone rancid decades ago.
Instead, the sample of butternuts Norman offers to Seven Days tastes much like walnuts that have been left in the cupboard too long — slightly dusty, but not so different from their fresh selves. Belliveau says not to expect any of the characteristic health benefits from them, though: "Nuts that old are so desiccated that they would be more like eating dust, with a lot less nutritional value."
So perhaps Norman's original plan to make butternut muffins with her heirloom stash would be more work than it's worth. Her early fantasies of donating them to the Chittenden Emergency Food Shelf seem unlikely to become reality, either.
The butternuts' most probable fate, then, is with Bergdahl. What doesn't end up being used for research into butternut genetics may end up as mulch — very good mulch, says Norman, who notes that walnut mulch has an excellent reputation among gardeners.
Frederick Keighley died in 1991, the same year Norman and her husband bought the house on Walnut Street. He never enjoyed the fruits of his labors from that September day back in 1939. But, three-quarters of a century later, the Keighleys may help make it possible for future families to go nutting in Burlington. Even if the venerable butternuts don't help save their descendants, they'll live on in memory as perhaps the strangest snack ever eaten in the Queen City.