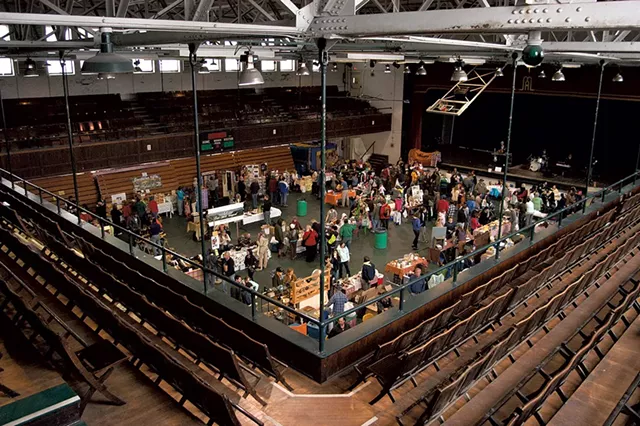 File: Matthew Thorsen
Burlington Farmers Market at Memorial Auditorium
Way back when, Memorial Auditorium was the most happening spot in Burlington. It hosted basketball games, boxing championships and concerts by some of the hottest acts in music. Now the building, constructed in 1927, has been declared structurally unsafe. Occupants such as Burlington City Arts' print and clay studios and the Generator maker space are moving out.
Likewise, the Burlington Winter Farmers Market, which has been held on alternate Saturdays (with exceptions around the holidays) in Memorial Auditorium since its inception a decade ago, needed to find a new venue. And it did, at the University of Vermont's Dudley H. Davis Center. "Our official home is going to be the Olin Atrium [on the ground floor]," says market manager Chris Wagner.
Visitors to the market won't find much different besides location when it opens on November 12, Wagner continues. There will still be 55 vendors, with the option to increase the number in future. "We're excited to keep the same feel the Winter Market has had," Wagner says.
What will change? At UVM, unlike in downtown Burlington, parking will be free and plentiful. And the university is heavily invested in composting and recycling, an orientation that fits the market's mission. "The building is so much more appropriate for us, as far as the services that are offered," Wagner says.
However, he grants that change can shake things up. "Being a little farther from the downtown core of Church Street, we may lose some people," Wagner says. Still, he suspects new customers coming from South Burlington and Williston will even out the numbers.
What about undergrads? Although Wagner says the market's location was chosen to meet the needs of vendors and customary shoppers, it will invariably attract more students, as well. "I anticipate a great relationship with [them]," he says.
Wagner acknowledges that "students sample a lot [without buying]; that's a given." But, he points out, some undergrads may form relationships with farmers, then prompt their visiting parents to shell out for the goods.
After all, early twentysomethings are the next generation of farmers market shoppers — and the new market should offer them plenty of fuel for their weekend trips to the slopes.