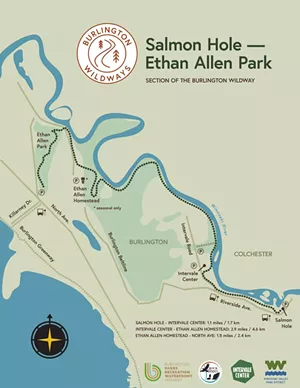 As winter approaches, it can feel harder to interest kids in outdoor nature expeditions. One thing that keeps my family willing to bundle up and head out? Permission to keep it small.
Since my son was tiny, we've had a family tradition of spending time in nature on Sunday mornings. When we're too lazy to venture far from home, we head to Crescent Woods, a little parcel of public forest that's within walking distance of our house in Burlington. Sometimes, when we're feeling especially unmotivated, we drive there.
At first glance, it doesn't seem like much. It's small and surrounded by busy Route 7 and suburban houses. You would not want to drink from the sometimes murky stream running through it.
But I still remember my son's first visit there when he was a toddler. He was a big fan of running up and down ramps at that age, so navigating the steep dirt path from the road down into the woods to the stream was captivating in and of itself. When he caught sight of the curtain of water pouring off the edge of the culvert that runs under the road, he turned to us with a look of delighted amazement, as if to say, "Have you seen this thing? How come you never told me how amazing this world is?" We did not make it much past the culvert that day.
In the years since, we've made countless journeys to Crescent Woods. We've seen and heard all kinds of birds. We've peered at an improbably large fish through a hole in a concrete bridge. We've navigated high water and barely moving trickles. We even set up a wildlife camera and have caught a fox moving through on more than one occasion. Some days we don't see much, but the half hour or 45 minutes in the woods helps us reset a tense morning and regain perspective.
Wherever you are, there is likely a nearby small patch of nature waiting to be discovered. If you want a wilder experience, try going early in the morning or at dusk when the area's natural inhabitants are more likely to be out and about. This summer, I went with a friend to see the sun rise at Burlington's Oakledge Park. Instead of the beachgoers and family dogs we were used to, we saw a pair of herons and a beaver. It felt like an entirely different place.
If you're in or near Burlington, finding such a place just got easier. This fall, a nonprofit partnership called Burlington Wildways celebrated the opening of the Intervale Wildway, the first trail in their initiative to make the wild areas of Burlington more visible and accessible. The partnership has brought together the Winooski Valley Park District, Rock Point, and other parties who own and manage the open space and natural areas that together make up an astounding 49 percent of Burlington.
The newly-marked 5.5-mile section of the Wildway runs from Salmon Hole, on Riverside Avenue, all the way to Ethan Allen Park in the New North End. It can also be accessed along the way, at the Intervale Center and Ethan Allen Homestead, and explored in small sections.
"The trail is tremendously beautiful, with a lot of nice variety, and the sense of quiet and respite in there is surprising. Even people who are familiar with the area will find something new," said Zoe Richards, director of Burlington Wildways.
Plans are in the works to have the Wildway eventually connect to Arms Forest and Rock Point, both near Burlington High School.
At the Wildway's grand opening in early September, I took a guided walk from Ethan Allen Homestead to the Intervale Center and was amazed by its beauty. Although I've walked, biked and cross-country skied through the Intervale many times, I never knew this previously overgrown trail was here. The newly marked trail hugs the Winooski River until just before the Homestead, and much of the path is forested. The trees arch overhead, so you feel like you're walking through a tunnel of floodplain forest. It feels much more glorious than the farm fields along the bike path. In fact, it feels wild.
Other urban wilds of Burlington
Rock Point: This forested peninsula just north of North Beach features dramatic cliffs of older orange rock thrust on top of younger black rock. The unusual forest perched on top of these cliffs offers breathtaking views of Lake Champlain and the Adirondacks. It is owned by the Episcopal Diocese of Vermont. Trail passes are available at rockpointvt.org/visitor-passes. Passes are free, but there is an option to donate for the upkeep of trails.
Arms Forest: Right next to Rock Point, this former dairy farm also has unusual geology and natural communities. Its thin, ledgy soils may have spared it from cultivation, as it is home to some unusually large trees. The city manages this forest as an urban wild.
Derway Island: Not actually an island, but a peninsula near the mouth of the Winooski River, this isolated preserve is home to a surprising number of plant communities and many kinds of wildlife. The Nature Conservancy holds a conservation easement on this Winooski Valley Park District property.
See burlingtonwildways.org for more information about each of these places, including directions.
Heather Fitzgerald teaches field ecology and environmental science at the Community College of Vermont and the University of Vermont.