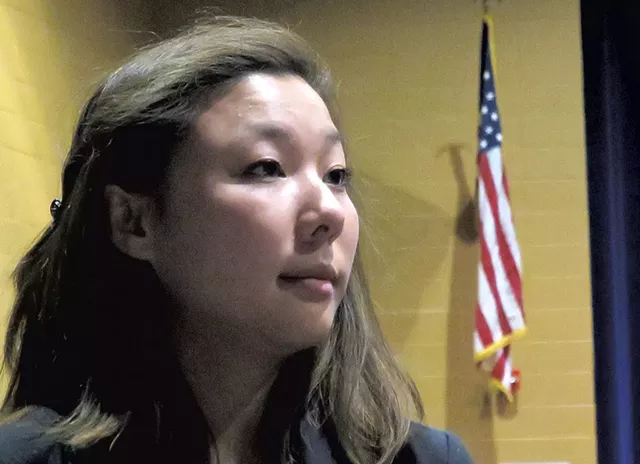 Matthew Thorsen
Lizzie Haskell
The three contenders for the Burlington City Council's Ward 3 seat have more in common than their eagerness to represent the city's western flank. Each moved to the Queen City from somewhere else to attend the University of Vermont — and decided to stick around after finishing college.
There are plenty of differences between them, though. One candidate is a 21-year-old newbie Democrat who graduated eight months ago. Another is a former city councilor and veteran Progressive who worked for decades in Burlington City Hall. The third is an independent — politically and in spirit — who founded a nonprofit that is committed to "preserving and promoting Vermont-made music."
They're competing to be the voice of a corner of Burlington that encompasses parts of the Old North End, downtown and the waterfront, from King Street to Manhattan Drive. Incumbent Sara Moore, a Progressive, is not seeking reelection on March 6.
Seven Days spoke with the candidates about their motivations and goals.
'I'm a new voice in Burlington politics.'
Growing up on Cape Cod in Chatham, Mass., was no vacation for Lizzie Haskell, who was adopted from China when she was 6 months old. When other teens headed to the beach, Haskell focused on her studies, waitressed at a seafood shack and cleaned houses with her mother to earn money for her higher education.
"Neither of my parents went to college, and they needed to work seven days a week to make ends meet," Haskell said. Her father was in the landscaping business. When her mother wasn't making money dusting and vacuuming, she worked as a "lunch lady" at a local high school.
UVM appealed to Haskell because a number of her relatives attended the school — "We like to call it the official 'Haskell University,'" she said — and some of them live in the Burlington area. In her first year, she joined the Political Science Club. She learned different ways to get involved locally, and served as Ward 8 chair for the Burlington Democrats.
Getting off campus, "I learned a lot about the Burlington community apart from UVM," she said.
Haskell also worked in the UVM athletic department and joined the women's crew team, where she stepped up to be the coxswain, who steers the boat. Being a leader taught her to "work with very different people," Haskell said.
Fall and spring, the team met at 5:15 a.m. to drive to Milton to train on the Lamoille River. "I saw a lot of great sunrises, and that's not something many college students can say," Haskell said.
She earned her political science degree in just three years to save money — and decided to stay in Burlington because "I feel like there's a good sense of community in this town." She said she was eager to start pursuing her goals.
One of those is to run for office.
"I'm a new voice in Burlington politics, and I think I can bring a new perspective to the council," Haskell said.
Another aspiration: to attend Vermont Law School. Haskell is already a legal administrative assistant at the Burlington law firm Maley and Maley — a job she can walk to from her Pine Street apartment. Chittenden County State's Attorney Sarah George has become a fan.
"Lizzie's fresh ideas, extremely hard work and seemingly endless energy are exactly what this community needs," said George, who has formally endorsed Haskell.
On the council, Haskell said, she would focus on policy that prioritizes affordable housing and solutions to the opiate crisis.
She's also interested in the municipal Memorial Auditorium, which has been closed because of its deteriorating condition. Haskell wants to see the building preserved and repurposed to "become a usable space for the entire community."
How would Haskell have weighed in on recent major council issues? She would have voted with a council majority to approve the zoning change that increased the building height limit to 14 stories downtown for the redevelopment of the Burlington Town Center, now called City Place Burlington. The mall property is located in Ward 3.
Regarding the sale of Burlington Telecom, Haskell said she initially supported a lower bid from the co-op Keep BT Local but in the end concluded it was not the best offer. "I would have had to choose Ting," Haskell said, citing a Canadian-based competitor.
After a lengthy debate, the council opted for a last-minute proposal from Schurz Communications.
"The vote was at two in the morning when residents were asleep," Haskell noted by way of mentioning another of her many goals: making city council proceedings more open.
'An engaged citizen, that's what I am.'
Matthew Thorsen
James Lockridge
When it comes to Burlington, James Lockridge doesn't differentiate between small and big issues. For example, he believes the downtown needs more public bulletin boards, and they don't need to be the fancy, glass-covered kind that city officials have in mind, he said. Anything that can accommodate a concert flyer will do.
If elected, said Lockridge, 49, he'd devote his attention to such minor improvements as well as to broader goals, like "making our little democracy more fair and transparent."
"When you talk about an engaged citizen, that's what I am," said the independent candidate. "I'm not running against anybody. I'm running for an improved city."
He proved it when he invited his opponent Brian Pine to appear in a video that gave both men a chance to champion respectful civic participation. If she'd declared her candidacy in time, Haskell would have been in it, too.
Lockridge grew up on Oahu, where his dad worked as a pilot for Hawaiian Airlines. His mom, who worked in real estate, had a Vermont connection: Her parents lived on a farm in Springfield. Lockridge and his mom visited almost every summer.
When it was time for college, Lockridge was sufficiently intrigued to give up the Aloha State for the Green Mountain one. He started at Lyndon State College, but soon found himself driving to Burlington to attend concerts. He transferred to UVM in large part to be closer to the music and culture.
After graduating in 1991 with a history degree, he found work as a graphic designer and living accommodations with members of the band Chin Ho! on South Union Street.
Music is the "most complete mode of sharing the human experience," said Lockridge, who does not sing or play any instruments himself. "I keep a harmonica by my bed that I hope to learn someday," he quipped.
In 1996, he founded Big Heavy World, a nonprofit that has included a record label, a public listening library, a tour van, musician summits, a low-power radio station known as the Radiator 105.9 FM, recording equipment, and various programs to help people make and share Vermont sounds.
Lockridge's labor of love doesn't provide a paycheck. So, by day, he is executive director of the Youth Safety Council of Vermont, which works to reduce teen car crashes. He lives on King Street with his wife, Victoria St. John, who is director of operations at Vermont Public Radio. Their daughter attends the private Vermont Commons School in South Burlington.
Lockridge's interest in city issues started with Burlington City Arts. He's been critical of the department for funding decisions and for failing to open up its advisory board to new appointees. Too many citizen commissions and boards in Burlington have a culture of "permanent" incumbency that keeps new voices out, Lockridge said.
"I keep bumping into a culture of inherited, legacy modes of governance that, by their nature, are exclusive," Lockridge said.
Lockridge said he supported KBTL's bid for Burlington Telecom but that the city did not provide leadership to make it viable.
At the polls last November, he voted against the zoning change to allow taller buildings downtown. "It was because I was dissatisfied with the process," Lockridge said. City voters approved the new height, but a majority of Ward 3 voters were opposed.
Memorial Auditorium should be restored for new uses, Lockridge said. He blames the city for failing to properly manage the space, which was used as a concert hall, gym and for other purposes. "It's never had staffing that understood how to generate revenue," Lockridge said.
He's helping to make a documentary about 242 Main, the teen center and punk-music venue that was located there for decades.
If elected, Lockridge said he would search for solutions but stay positive and avoid falling into "antagonistic camps," adding: "I'm not prone to that."
'This is not a stepping stone.'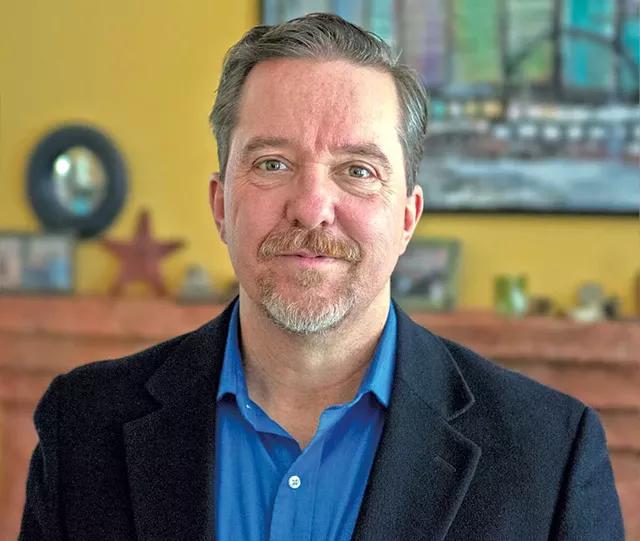 Courtesy Of Brian Pine
Brian Pine
Brian Pine came to UVM for the hiking and alpine skiing.
He stayed for the politics — specifically, the Progressive ideology of now-Sen. Bernie Sanders (I-Vt.). His first glimpse of the man was at the Flynn Center for the Performing Arts, where Sanders introduced musician Arlo Guthrie. Pine was amazed to discover the straight-talking guy onstage was Burlington's mayor. "He was just telling it like it is, telling the truth," Pine recalled.
During his senior year at UVM, Pine served on a recycling task force that Sanders created. "That was the beginning of my civic involvement," Pine said. "It was an incredibly exciting time to be here."
In 1985, with a degree in environmental science, the New Paltz, N.Y., native put down roots in Burlington's Old North End. He was a senior loan officer with the Vermont Community Loan Fund when he ran for a seat on the Burlington City Council in 1991. By then, Peter Clavelle had succeeded Sanders, who had moved to the U.S. House.
Serving two terms — and campaigning door-to-door — was a crash course in community relations for Pine, the son of a sociology professor and a special ed teacher. He knew Ward 3 intimately when he went to work for Clavelle as an assistant director in the Community & Economic Development Office, where Pine focused on housing and neighborhood revitalization from 1997 to 2015. A few years into the job, in 1999, Pine took charge of a $6 million reconstruction of North Street with new curbs, sidewalks, trees and underground power lines.
He's lived on Crowley Street for almost 23 years. His wife, Liz Curry, serves on the Burlington School Board. They have two sons.
Now that the younger is a Burlington High School senior heading off to college, Pine said he's ready to get back into electoral politics.
"I'm going for it," Pine, 55, said at Vermont Energy Investment Corporation on Lakeside Avenue, where he has worked for three years as an energy financing consultant.
He's running because, he said, he is "almost pathologically in love with Burlington."
Ward 3 has changed since Pine represented it. But he knows a lot of the newcomers, too. He spent a college semester in Nepal and speaks the language well enough to order momos from the Nepali Dumpling House on North Street.
It's good to see new enterprises cropping up, Pine said, but he is worried about gentrification — a concern that dates back to the Sanders era.
If he were to serve on the council, Pine said he'd push anew to pressure UVM to house more students on campus. That could free up affordable housing on streets such as Hickok, Green and Buell, where the high turnover of student renters contributes to disrepair, he said.
Pine said he would also work to ensure that any city financial incentives, such as the ones extended for the mall makeover, would lead to local jobs.
Pine would have voted to boost the building height limits. "It doesn't personally offend me in any way to have taller buildings in the core of the downtown," he said. He would have opted for KBTL's Burlington Telecom proposal. Over time, the city could have figured out ways to make the local-ownership model work financially, Pine said. "I just felt that was a huge missed opportunity," he said.
Memorial Auditorium should be saved, Pine said. The successful renovation of St. Joseph's School in the Old North End shows how a public-private partnership could revive the auditorium, Pine said.
Pine is a staunch believer in the city's capacity to solve its problems. He has no political ambition beyond the council, he added: "This is not a stepping stone."