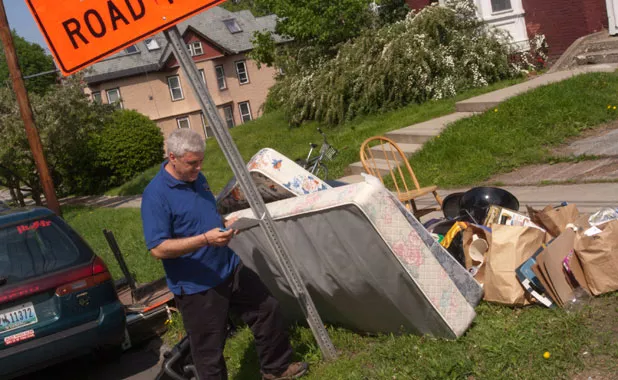 Matthew Thorsen
Code enforcement officer Ted Miles
Burlington Code Enforcement director Bill Ward was walking on South Willard Street when he spotted evidence of college students on the move: a ratty, plaid sofa dumped on the greenbelt outside a brick apartment building. Ward snapped a photo of the offending couch on his smartphone and emailed it to the property's landlord.
"Mr. Handy, this is with your greenbelt today," Ward typed. "I will be back Friday to reinspect. Please have it removed today if possible and Friday at the latest."
Ward's warning worked: By the next morning, the sofa had disappeared.
Burlington is stepping up its efforts this year to eradicate those junk piles that sprout like dandelions as college students vacate rented apartments and split town.
That's because last year's move-out was "out of control," Ward said. His staff of six code inspectors was overwhelmed with "hundreds" of curbside junk piles. For several weeks, crucial health and safety inspections weren't getting done at other properties. In the month of May alone, the city issued more than a dozen tickets for illegal greenbelt dumping.
Hoping to avoid a repeat, Ward's office is cracking down this year with foot patrols, warning letters and, if necessary, fines of up to $500.
"People say it's the norm," said Ward, a former city cop who became code-enforcement chief last year. "I'm here to say it's not the norm any longer." Translation: There's a new sheriff in town — and he doesn't suffer litter.
Earlier this month, before Champlain College graduated, the code-enforcement office mailed warning letters to owners of two dozen "problem properties" where dumping was especially bad last year. Code inspectors are policing seven student-heavy streets: North and South Willard, Isham, Bradley, Loomis, Buell, and Greene.
With the help of UVM, city officials went door to door with flyers that offered "7 Spring Move Out Tips" and warned of $500 fines for littered greenbelts. Burlington has temporarily expanded the hours trash haulers can pick up — garbage trucks can start rolling at 6 a.m. instead of 7 in Ward 1 for the next few weeks.
Most dramatically, the city's Spring Move Out Project, in which students swap or dump furniture, clothing and household items at a designated location, is being held earlier — and is twice the size it was last year. The annual SMOP event — which collects 10 to 16 tons of recyclables each year — is happening on May 25, from 11 a.m. to 3 p.m., on lower Loomis and Bradley streets.
UVM junior Lucas Morgan helped organize last year's SMOP event as a member of the university's Student Government Association. He said many undergrads leave messes behind because they don't know what else to do with the stuff that roommates leave in apartments — even after receiving flyers with phone numbers for furniture pick-up services such as those of the ReStore and 1-800-GOT-JUNK.
"Students care about Burlington — we really do," Morgan said. "Through our career at UVM, it's brought us four years of great times. It's a place we want to see in good shape when we leave."
College students might do most of the dumping, but landlords get stuck cleaning it up. City ordinance dictates that property owners pay the fines for greenbelt garbage. Landlords can try to recoup the costs from a renter's security deposit, but in multi-unit buildings, determining who dumped the beer-stained La-Z-Boy can be difficult, explained Stuart Bennett, president of the Vermont Apartment Owners Association.
"Let's say you had three apartments move out. How do you allocate whose toaster oven it is, whose trash it is?" Bennett asked rhetorically. "Trying to actually track it would almost require some level of daily vigilance, and people don't have time for that. So, in the end, it's probably one of those costs that just winds up being absorbed and not deducted" from a security deposit, he concluded.
Bennett noted that often renters try to do the right thing — as evidenced by the overflowing trash bins stuffed into the middle of greenbelt junk piles. "They're trying to be responsible; they just don't have big enough receptacles," he said.
But code enforcer Ward wants students to do more — specifically, to pay for big recycling barrels with lids rather than the free, blue bins sans lids that allow trash to blow around and make a mess.
The day after the University of Vermont's graduation, May 23, was a case in point. Though largely free of big furniture and appliances, several greenbelts on the targeted "problem streets" were strewn with litter that the wind had tossed from recycling and trash bins.
Still, it's nothing like last year, Ward said, noting that he's only issued three tickets for greenbelt dumping this year, compared to 16 last year. With two weeks left in move-out season, Ward said he's "surprised and pleased" about the relatively low amount of junk cropping up — and he's cautiously optimistic it'll stay that way.