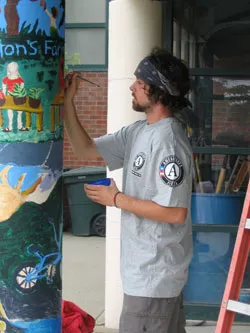 On January 21, about 200 people gathered at Burlington City Hall for a Martin Luther King Jr. Day celebration. The keynote speaker was Lajiri Van Ness-Otunnu, who was nearing the end of a two-and-a-half-year stint with NeighborKeepers, a nonprofit anti-poverty group.
Van Ness-Otunnu had gotten the job through the Americorps*VISTA program, which is coordinated by the city's Community and Economic Development Office. She reminded the MLK Day crowd that over the years CEDO's director, Yiota Ahladas, had "marshaled an army" of VISTAs to help nonprofit groups in the fight against poverty.
"CEDO VISTAs are probably the best ambassadors the city of Burlington has ever deployed," Van Ness-Otunnu said.
That deployment, however, is about to be cut in half. In April, CEDO learned that the number of VISTA organizers allocated to the city of Burlington would be reduced from 41 to 20 in fiscal year 2009, which begins August 1.
Created in 1964 as part of President Lyndon Johnson's "War on Poverty," the VISTA program pays organizers to work with underserved and impoverished communities. Organizers receive a $10,908 annual stipend and a $4725 education award that can be applied to student loans.
At the federal level, Americorps*VISTA is managed by the Corporation for National & Community Service, an organization that provides grants and technical assistance to volunteer organizations. According to Beth Truzansky, CEDO's VISTA coordinator, the corporation provided about $400,000 last year to support the 41 positions in the greater Burlington area about a third of all VISTA positions in Vermont.
Ahladas said the announced cuts are "a big blow" to CEDO's VISTA program. "It had become so much a part of what we expected to be doing every year," she said. "VISTAs are here to be capacity builders, so it's easy to start to depend on them as regular staff, particularly when federal programs are being cut."
Until CEDO was notified of impending cuts to the program, Kate Neubauer, executive director of Burlington's Lake Champlain Community Sailing Center, had planned to put a VISTA in charge of creating new programs for a children's leadership program. Now, Neubauer has to come up with $25,000 from the center's budget to fund the position.
Hal Colston is founder and executive director of NeighborKeepers, which will receive funding in August for one VISTA worker, its third since 2004. Colston said VISTA teaches young men and women the importance of giving back to their communities. "That's building social capital," he said, "which is how we're going to get out of our mess in this day and age, because the economic capital isn't there."
According to CEDO, VISTA organizers in Burlington have helped start 29 neighborhood associations. They've leveraged more than $5 million for area agencies and projects, including Recycle North, the Good News Garage, the Center for Media and Democracy and the McClure MultiGenerational Center.
Some Burlington VISTAs have gone on to start their own community groups after completing their service. Of more than 500 organizers who have served in Burlington since 1994, two thirds still live here; one third remain employed by local nonprofits, according to a CEDO report from 2004.
Chapin Spencer says he was an "eager but naive" VISTA volunteer when he first came to Burlington. He likens the program to a "base camp" for aspiring organizers. After working with CEDO for five years on affordable-housing issues, he founded the bicycling advocacy organization LocalMotion. The nonprofit publishes maps, raises money for bike bridges and ferries and sells bicycles to low-income residents at discounted prices.
The federal government has invested a lot into Burlington's "base camp" over the years, but the program hasn't always been so widely admired. Before the Clinton adminstration poured new resources into it, Ahladas said federal administrators "slapped" her hand for CEDO's work on behalf of tenants' rights.
"There were definitely moments in the history of the program where Burlington was seen as the socialist lefties who were inciting the revolution," Ahladas said. "I had to remind the feds that that's what VISTAs were here to do."