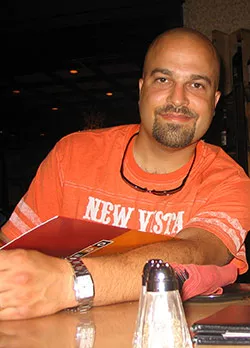 City Councilor Paul Decelles has lived in Burlington's New North End since he was a kid. As a youngster, he used to play wherever he pleased. But two years ago, after learning that a convicted sex offender lived down the block from his family's home, Decelles started keeping closer tabs on his young daughter.
Around the same time, Decelles (R-Ward 7) heard about a municipality somewhere in the United States — he doesn't remember where — that passed an ordinance restricting where convicted sex offenders could live. While the ordinance struck Decelles as too "restrictive," the idea of forbidding sex offenders from living near certain child-centric places appealed to him.
Earlier this month, Decelles suggested Burlington consider doing just that. In a resolution co-sponsored by an Independent and two fellow Republicans, Decelles asks the council's Public Safety Committee to look into barring sex offenders from living in certain areas of Burlington.
Decelles conceded there is no "silver bullet" solution for dealing with sexual predators. He says that's why he left the language of his resolution open, to encourage community input on any resulting ordinance.
Vermont law requires offenders to keep their residency and employment information current in a statewide registry, but it does not prohibit where they live. Last month, in the wake of the abduction and murder of 12-year-old Brooke Bennett, Barre passed Vermont's first residency restrictions, which bar offenders from living within 1000 feet of a school or recreation facility. Rutland's Board of Aldermen passed a similar ordinance August 4.
But it's not clear whether such residency restrictions ultimately keep sexual predators away from children. Jill Levenson, a professor at Florida's Lynn University and a co-author of a recent study on the issue in the journal Burlington City Councilors. Sharon Bushor (I-Ward 1) pointed out that, since children walk to school, such an ordinance might not "add protection." Joan Shannon (D-Ward 5) cautioned that restricting sex-offenders from one neighborhood could have an adverse effect on other neighborhoods — a point echoed by Tim Ashe (P-Ward 3). Ashe, who works for a local affordable housing nonprofit, warned that a Burlington-only ordinance could force sex offenders to move out of town, creating a regional problem.
At least two officials at the Vermont Department of Corrections are equally wary of municipal residency restrictions. Commissioner Robert Hoffman said he is concerned that such ordinances would displace sex offenders to poor, rural areas. David Peebles, the director of community justice at the department, points out that residency restrictions have made it difficult for offenders to secure work, use public transportation and spend time with family members — all of which have been found to reduce criminal recidivism in general.
"We're all in a rush to do something," Peebles said, adding that involving entire communities in strategies to prevent sex crimes "would seemingly be one of the best strategies to deal with this issue."
Decelles' resolution calls for the Public Safety Committee to report back to the city council in November. He acknowledged that sex-offender restrictions elsewhere have proved controversial. But, he added, Burlington should at least consider such a policy in the interest of public safety.
"If we can pass a law to prevent one child getting hurt or killed, then I think it's worth it," Decelles said. "My sense is that the greater community feels that as well."