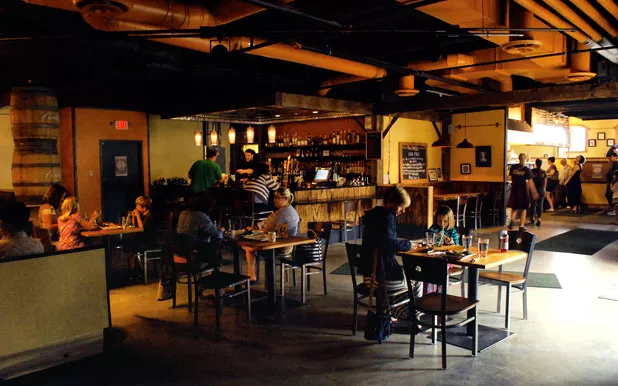 Skinny Pancake — Burlington
Summer facelifts are in full swing. This past weekend, the Skinny Pancake on Lake Street unveiled spacious new digs after a frenetic renovation that began in early June. "It was an intense, month-long sprint," says co-owner Benjy Adler, that resulted in new tables, an indoor stage, an expanded kitchen and an L-shaped, granite and wood bar stocked with an eclectic assortment of spirits.
"It's sort of like moving into a new house," says Adler, standing in a new dining room decorated with cow skulls and barrels. The staff expanded the menu, too, pulling in a few dishes from the eatery's airport location — panini, a burger, Vermont Salumi sausage sandwich — as well as a handful of new crêpes and dishes, such as a Toasted Greek Salad with pumpkin seeds and paprika-crêpe chips, a shareable plate of roasted beets with chèvre, and a dip made with local cheeses and chicken.
While the beer still flows, bartender Sam Barracos has rolled out a cocktail menu with drinks such as the Herbalist, a combo of Russian Standard vodka, mango iced tea, muddled blackberries and basil.
Up the hill from the Pancake, the 31-year-old Daily Planet on Center Street has a new, 34-seat patio.
Longtime owner Copey Houghton says the impetus for the expansion came last summer, when the state ruled its sidewalk tables were in violation of the law. "It's tough to compete in the restaurant business in Burlington without having outdoor seating," he notes.
So far, near constant precipitation has made the patio less than desirable, but Houghton planned ahead for the proverbial rainy day by taking down the walls of the interior hallway that used to separate the bar from the greenhouse. It's really brightened up the place. "We brought the greenhouse into the bar and the bar into the greenhouse," he says.
The original print version of this article was headlined "Multiplying Tables"