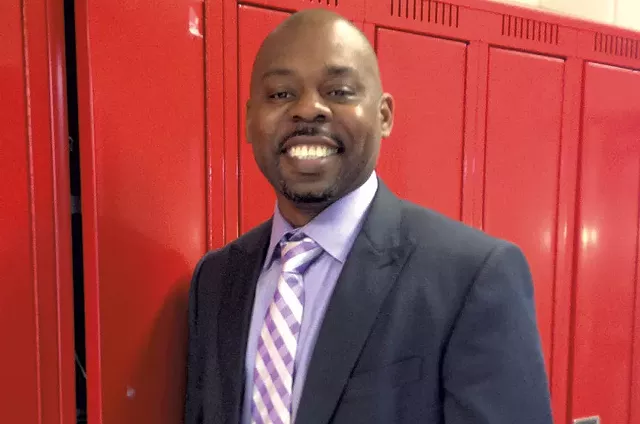 File: Molly Walsh
Yaw Obeng
He has a short commute, but some people aren't happy that Yaw Obeng, Burlington's new school superintendent, is living outside the city that pays him $153,000 a year. Instead, he bought a home in South Burlington. It sends "a very poor message about the livability of Burlington," city resident Helen Hossley wrote in a recent email to Burlington City Council President Jane Knodell. "Apparently, our tax dollars are good enough to pay his (very high) salary, but our housing community isn't good enough to live in?" Hossley appeared before the council March 7 to ask if Obeng is complying with a city charter requirement stipulating that he and 15 other department heads must be legal voters in Burlington — for which residency is a prerequisite.
Knodell is also unhappy that Obeng is living outside city limits. But, as she reminded Hossley via email, he's doing so with permission. The city council gave Obeng a "hardship extension" from the legal-voter requirement at the request of the Burlington School Board in April 2015 — after Obeng, then a schools administrator in Canada, had been hired, but before he started the job.
Knodell, a Progressive from the Central District, says the request was clearly framed to give Obeng, a Canadian citizen, time to pursue the U.S. citizenship required to become a legal voter, with the understanding that he would live in Burlington before and after that happened.
Although he shares Knodell's concern about the new super, Mayor Miro Weinberger is generally sympathetic when high-ranking city officials in his administration ask for permission to live outside the Queen City. Counting Obeng, five of 16 are doing so, and Knodell is asking the mayor for an explanation of every one.
"I do think it's important to be evenhanded in the application of this policy," she said.
Residency requirements are designed to promote personal investment in municipalities — "because then you really have skin in the game," Knodell said. "You are really kind of living with the implications of your decisions." In Chicago, public school district employees are required to live within city limits to expand their understanding of the city and help shore up its middle-class neighborhoods.
Burlington does not go that far. In addition to elected officials, including the mayor, the city charter requires the city's keepers of public safety — the police and fire chiefs, directors of civil defense and public works — to live in the burg they're hired to protect. The mayor's key operatives — chief administrative officer, director of community and economic development, human resources czar — also have to stay within city limits, as do the city assessor, attorney, constable and planner. Ditto the harbormaster, cemetery and school superintendents, head of parks and rec, and director of the Burlington Electric Department.
These managers have one year from their date of hire to become legal voters. They can also seek personal hardship exemptions from the city council to extend the time limit for a set period "beyond one year."
School board chair Mark Porter made the request for Obeng. In an April 2015 letter to Weinberger and Knodell, he wrote, "Dr. Obeng intends to be a Burlington resident from the beginning of his professional services here." He added: "Dr. Obeng intends to establish his residency in Burlington and to work assiduously on securing his work visa and citizenship."

Read Mark Porter's letter:
The city council granted the waiver, which gave Obeng an extension from the requirement to be a legal Burlington voter until July 1, 2018, or until he obtains his U.S. citizenship — whichever is sooner.
But he apparently never bought a place in the Queen City.
In October, Weinberger wrote Porter "to express some concern that our conversations regarding new Superintendent Dr. Obeng's obligation to meet the City Charter residency requirement are not consistent with what has been reported in the media." The mayor continued: "The resolution explicitly states that Dr. Obeng intends to establish residency in Burlington while working to obtain his visa and U.S. citizenship."

Read Weinberger's letter:
As Knodell explained it: "What was communicated to us was seemingly not shared with Dr. Obeng. I've never talked to Dr. Obeng about this, but we were clearly told by the school board chair that Dr. Obeng intended to live in Burlington from the beginning of his service."
Porter did not respond to messages seeking comment for this story.
Now it looks like South Burlington is where Obeng might eventually vote if he gains citizenship. He and his wife, Nancy, purchased a home on Bower Street for $440,000 in November, South Burlington city records show.
Obeng said his move to South Burlington was guided partly by the delay in his start date last year from July 1 to August 31 due to visa problems. "Given the late start, it was quite difficult to get settled," Obeng told Seven Days. He declined to elaborate on the decision to live in South Burlington and suggested it wouldn't interfere with his goals as superintendent.
"I don't know if that's a major concern for people or not," Obeng said of his address. "My focus is on the students in Burlington."
After Seven Days inquired, Burlington School Board lawyer Joe McNeil said Tuesday that Obeng will submit a letter to the council this week seeking a new exemption. McNeil said that Obeng has two sons attending South Burlington High School and feels it would be hard for them to attend the Burlington district that he leads. The new request will ask for a waiver that lasts until Obeng's sons graduate, McNeil said.
Obeng also wants to respond to the council's concerns, said McNeil, adding: "He wants to be straight with the council and have the council consider the entire situation as he sees it." Eventually, he said, Obeng "would take steps to move into Burlington."
Burlington's residency provision has been on the books for more than 60 years. When Mayor Peter Clavelle tried to get rid of it in 2006, Burlington residents voted overwhelmingly to keep it in place.
Weinberger says he has mixed feelings about the hometown rule. "It's certainly a challenging requirement," he said, and it "frequently becomes an issue when we are attempting to hire people for these specialized jobs."
Because most department heads are appointed and renewed on an annual basis, some prospective hires don't want to sell homes and uproot families to move into the city on what could be a short-term basis, the mayor said.
"That's not an enormous amount of job security," Weinberger noted.
Eight department heads currently live in Burlington: Police Chief Brandon del Pozo; Burlington Electric Department general manager Neale Lunderville; City Attorney Eileen Blackwood; City Assessor John Vickery; Department of Public Works Director Chapin Spencer; Parks, Recreation & Waterfront Director, Harbormaster and Cemetery Commissioner Jesse Bridges; and City Constable Gene Bergman.
Note: After this story was published, Lunderville clarified to Seven Days that he rents a room in Burlington and is registered to vote there, but sleeps in his house in South Burlington.
Chief Administrative Officer Bob Rusten is on that list, too, because he rents a room at 184 South Champlain Street. The city voter checklist shows he has been a registered voter in Burlington since 2014.
But Rusten and his wife, Susan, also own a home on Silver Street in Hinesburg, where the CAO acknowledged he spends most nights. Rusten does not have a hardship waiver.
"Based on my having a lease and paying rent, I then changed my voter registration from Hinesburg to Burlington. I very occasionally stay there, and not at all since January, when my wife broke her arm," Rusten said.
State voting law defines a resident as someone "who is domiciled in the town as evidenced by an intent to maintain a principal dwelling place ... indefinitely and to return there if temporarily absent..."
Should Burlington count as Rusten's primary residence? "His requirement under the charter is to be a legal voter in Burlington, and it's my understanding that he meets that requirement," Weinberger said, adding that Rusten is doing an "outstanding" job.
Wrote Rusten: "I believe I have met the charter requirements to be a legal Burlington voter and demonstrated my investment and commitment to the city."
Other out-of-towners? City Planner David White lives in Jericho. Human Resources Director Susan Leonard lives in Williston. Community and Economic Development Office Director Peter Owens lives in Hanover, N.H., and Burlington Fire Chief and Civil Defense Director Steven Locke — who was hired in December — lives in Hartland. Although he has until the end of 2016 to comply, Locke plans to move to Burlington before then. His house is on the market, he said in an email Friday.
Leonard, the human resources director, and Owens, CEDO director, received hardship exemptions because their children were students in districts outside Burlington. White's most recent exemption, granted in January, indicates he was grandfathered in because he was a city employee living in Jericho when he was promoted to planning director in 2007.
Blackwood, the city attorney, said she has not done a legal examination of each department head's situation, but she added, in an email: "With what I know, I am not aware of anyone who is out of compliance with the charter."
Weinberger said his administration intends to fulfill Knodell's request for a full report on the residency status of his department heads. He also said that despite his misgivings about the charter provision, he has no plans to try and change it. "I will continue to expect applicable department heads to meet the requirements of the charter and support exemptions in the case of compelling personal hardships as contemplated in that guiding document," Weinberger said.
Burlington residents, he added, "voted clearly on that" 10 years ago.