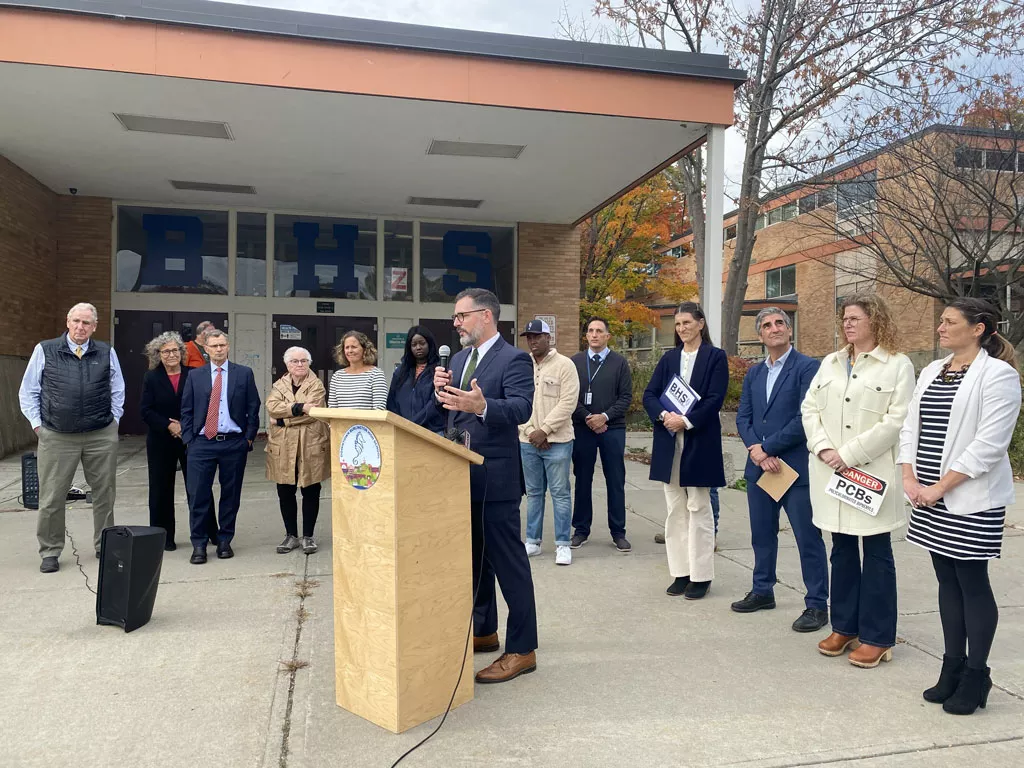 Alison Novak ©️ Seven Days
Burlington superintendent Tom Flanagan at Thursday's press conference
Updated at 3:14 p.m.
The Burlington School District intends to sue chemical maker Monsanto after contamination from the company's
PCBs forced the closure of the city h
igh school and tech center in 2020.
The district wants to demolish the contaminated school on Institute Road and build a new one there. But the plan requires Burlington voters to approve a $165 million bond in November. District officials said at a press conference on Thursday that any money recouped in a lawsuit against Monsanto would help pay for the new building and decrease the burden on city taxpayers.
School board chair Clare Wool said the district does not expect the litigation to be "an uncontested and quickly resolved matter." In fact, she said, it may take "a number of years."
"Any money recovered from litigation would be used to pay down the bond in future years and reduce the amount taxpayers would be required to pay on debt," Wool said.
She urged Burlingtonians to vote yes on the bond as school district officials work to lower the financial burden to voters by exploring different funding opportunities for the project.
If the bond is approved, district officials want to begin demolition in December and build a new school by August 2025. More than $20 million would go to remediating soil and removing building materials contaminated by PCBs, which the U.S. Environmental Protection Agency has labeled a probable carcinogen.
Standing outside the now-closed building on Thursday, superintendent Tom Flanagan — joined by Mayor Miro Weinberger, school administrators, representatives from the teachers' union, school commissioners and several lawyers — said the district has been reviewing proposals for months from lawyers experienced in environmental litigation. Burlington law firm Langrock Sperry & Wool and national firms
Seeger Weiss LLP
and Grant & Eisenhofer will represent the school district in its lawsuit against Monsanto, which Flanagan said will be filed "soon."

Monsanto, which was acquired by Bayer AG in 2018, was the sole producer of PCBs in the U.S. from 1935 to 1977. The chemicals were found in common building materials such as caulking, tile adhesive and fluorescent light ballasts.

Burlington High School students were moved to a temporary downtown high school in March 2021 after elevated levels of airborne PCBs were discovered the previous year ahead of a planned $70 million renovation of the nearly 60-year-old building. That renovation has been scrapped in favor of the plan for a new building.


Flanagan said the three law firms have agreed to work on a "contingency fee basis," meaning that the district will have no financial obligation for the cost of litigation unless it is awarded monetary damages in court. If that happens, the legal team would recover its expenses based on the percentage of money recovered.
"We believe, and our board believes, that this is a win-win situation for our school district and for the City of Burlington," Flanagan said.
Mayor Weinberger said it's clear the district is making "a viable claim," and he applauded it for pursuing litigation.
The announcement comes about a week after
two former Burlington High School educators — special educator Tracy Rubman and paraeducator Kathy Lothian — filed a lawsuit against Monsanto claiming PCBs led to their various health problems.
Both teachers worked in the school's
Building F, which registered the highest levels of airborne PCBs during testing at BHS in 2020.

Flanagan said on Thursday that the school district's impending litigation is "a separate initiative" from that lawsuit.

PCBs have been shown to cause cancer in animals, as well as health effects to the immune, reproductive, nervous and endocrine systems, according to the EPA. Human studies have found evidence for "potential carcinogenic and non-carcinogenic effects of PCBs."
Exposure to the chemicals has also been found to suppress the immune system, increasing the risk of acquiring several human diseases.
The chemicals do not easily break down and migrate between air, water, soil and building materials, remaining in the environment for long periods of time.
But, Pawa added, "our case will be stronger."
Pawa, an environmental litigation attorney at Seeger Weiss,
recently helped New Hampshire win a $25 million settlement from Monsanto after PCBs polluted state waters. Pawa is also involved in PCB litigation on behalf of the City of Los Angeles and the State of New Jersey.
When asked at the press conference whether other schools in Vermont would be able to join Burlington's lawsuit against Monsanto, Pawa declined to comment.
A spokesperson for the company sent Seven Days this statement after this story was published:
"Monsanto ... voluntarily stopped producing PCBs 45 years ago and its conduct has been appropriate at all times. Until the company terminated their production, PCBs were lawfully used in a number of commercial products that were manufactured by other companies. We will assess and respond to a complaint if one is filed."