The train's late getting to Burlington — by about 60 years. Railroad riders have been waiting since 1953 for long-distance passenger service to return to Union Station.
In the mid-1990s, developers Melinda Moulton and Lisa Steele renovated the station at the foot of Main Street in hopes of enticing Amtrak to the Queen City. Union Station did become the northern terminus for the Champlain Flyer commuter train from Charlotte in 2000, but that service ended about two years later because it never attracted more than a dozen or so daily riders. Since then, the 98-year-old station has housed an art gallery, fitness center and offices, its rails unused except by occasional freight trains.
Intermittent efforts during the past decade to bring Amtrak to Burlington have failed. But now state officials are saying that daily service to and from New York City will begin in about three years — really.
The project, one of several envisioned to improve passenger and rail service in Vermont, calls for extending Amtrak's Ethan Allen Express from Rutland to Union Station, with a stop in Middlebury. A nearly $9 million federal grant awarded last year is paying for the upgrade of 20 miles of track between Rutland and Leicester. And Vermont Agency of Transportation planner Costa Pappis says he's "very optimistic" that the feds will soon approve another $10 million outlay that will cover additional improvements.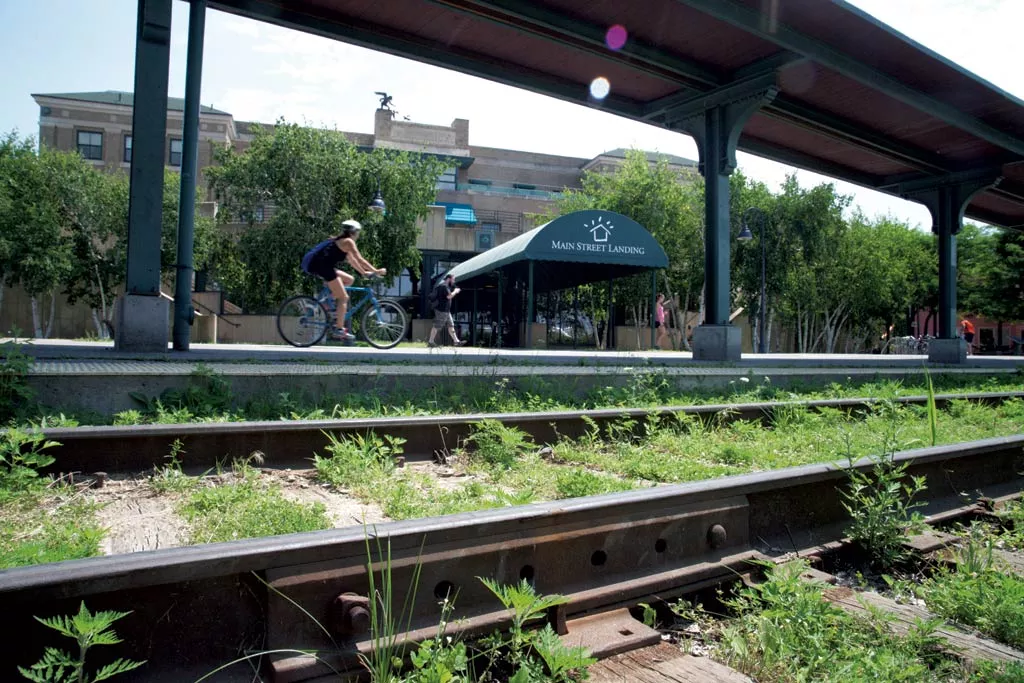 Matthew Thorsen
Union station in Burlington
Another $18 million in federal and state funds will be spent in Middlebury on what is probably the single largest restructuring element in the entire Rutland-Burlington project: The existing track and two overpasses — on Main Street and Merchants Row — can't accommodate passenger trains. Nor could they handle a freight train hauling 15 cars filled with gasoline that derailed just south of the Merchants Row overpass in 2007, spilling some of its liquid cargo into Otter Creek.
Plans call for building a roughly 300-foot-long concrete tunnel that will be deeper and wider than the current right-of-way beneath the overpasses. Work is expected to start next spring and take at least two years to complete, says local project manager Bill Finger.
Complete conversion from jointed to welded rail all along the route — which makes for a smoother, faster ride — should enable the Ethan Allen to travel between Burlington and Rutland in about 80 minutes, with the full journey to or from Manhattan's Penn Station clocking in at about seven hours.
That's two hours less than it currently takes Amtrak's Vermonter to reach Penn Station from Essex Junction. That service, running north to St. Albans and south via Montpelier, White River Junction and Brattleboro, has been operating for more than 40 years, but the route was truncated in 1995 after Amtrak and the state stopped subsidizing the train from St. Albans to Montréal.
An average of about 220 passengers board or alight at stations in Vermont every day. That meager total will likely increase substantially next year, predicts Chris Parker, director of the Vermont Rail Action Network, an advocacy group. A rerouting of the Vermonter on the Massachusetts portion of its run is expected to shave about an hour off the journey to and from New York City.
"The biggest issue with the Vermonter is that it takes too long," Parker says. "There's lots of proof that the faster the train, the greater the number of people who want to ride it."
At present, the Vermonter performs a bizarre maneuver due to the absence of a connection between two sets of rails. Instead of traveling directly between Springfield, Mass., and Brattleboro, the train detours east to Palmer, Mass., which is not a passenger stop. There, Amtrak crews throw switches enabling the Vermonter to travel in the direction opposite of what it had just covered before finally heading north.
The hour-long Palmer diversion comes in addition to a 15-minute layover in New Haven, Conn., where a switch is made between electric and diesel power.
Track improvements completed last year have already reduced travel time in Vermont by nearly half an hour. When the rerouting in Massachusetts is completed, a journey on the Vermonter between Penn Station and Essex Junction will take about seven and a half hours.
If ridership increases, the state should be able to reduce the $5 million annual subsidy it provided Amtrak in 2013 to keep the Vermonter running. Extending the Ethan Allen to Burlington is also expected to boost ridership, potentially resulting in a reduction of the $1.4 million the state pays for the train's 20 miles of travel in Vermont. The state calculates the subsidy to Amtrak on a per-passenger basis for Vermont stations, which currently stands at $54.80.
Heightened demand could also allow Amtrak to boost the price of tickets, Parker points out. It costs an adult $58 to travel one way on a weekday to or from Penn Station on the Vermonter. The standard one-way Rutland-Penn Station fare on the Ethan Allen Express is $70 on a weekday.
The improvements along the Rutland-Burlington route and on the tracks used by the Vermonter will also benefit freight shippers. Saving time could prove especially valuable for the Vermont Rail System, which operates a freight line between Bennington and Burlington. "It will be wonderful for our customers," says Mary Anne Michaels, the rail system's chief financial officer.
About 90 percent of the freight her company hauls — including road salt, petroleum products, feed and fertilizer — is used by Vermont-based businesses. The railway serves as a commercial lifeline for Omya, the Florence, Vt.-based manufacturer of products used in the paper, paint and plastics industries.
Because western Vermont lacks an interstate highway, rail freight can compete effectively with truck traffic, Michaels notes. And the track upgrades, which will increase speeds and enhance reliability on the Rutland-Burlington route, could give rail freight a decisive advantage over shipping by road, she says.
But the switch from jointed to welded track won't by itself enable the Vermont Rail System to overcome a major competitive disadvantage: Freight cars operating in Vermont can carry no more than 269,000 pounds of goods, as compared to the national maximum load of 286,000 pounds. For freight trains to operate at full capacity, Vermont bridges need strengthening, which isn't part of the upgrade under way on the Rutland-Burlington line.
Planners do envision an extension of passenger service between Rutland and Bennington, which would serve to speed existing rail freight runs on that line. But it won't happen anytime soon, VTrans official Pappis cautions. He puts the total cost of a Bennington-Rutland track upgrade at $135 million, with no certainty that Washington will agree to pick up most of that tab.
VTrans also wants to restore passenger service to Montréal. But that can't happen, Pappis says, until the United States and Canada adopt treaty amendments that would allow U.S. immigration officials to screen riders before they board the train in Montréal. Passengers traveling to Montréal from Vermont could also be screened upon arrival, thereby avoiding the delay of passport checks at the Alburgh Springs border station.
The Shumlin administration had set a goal in 2011 of restoring passenger rail service to Montréal in three years. There's currently no estimate of when that might actually occur.
For all its frustrations, travel by rail through Vermont does offer advantages for New York-bound passengers, Parker points out. "You have to compare the length of the journey to the hassles of driving, particularly in the New York City area," he says. Amtrak now offers fairly dependable Wi-Fi on the Vermonter and the Ethan Allen Express, and unlike drivers, train passengers are able to stretch their legs, take a nap and grab grub in a café car.
There's also the environmental angle. As part of its ambitious effort to slash greenhouse gas emissions by 50 percent, the Shumlin administration aims to double rail freight tonnage and quadruple rail ridership over the next 20 years.
The original print version of this article was headlined "Train Coming, Slowly: Tracking Burlington's Passenger Rail Progress"