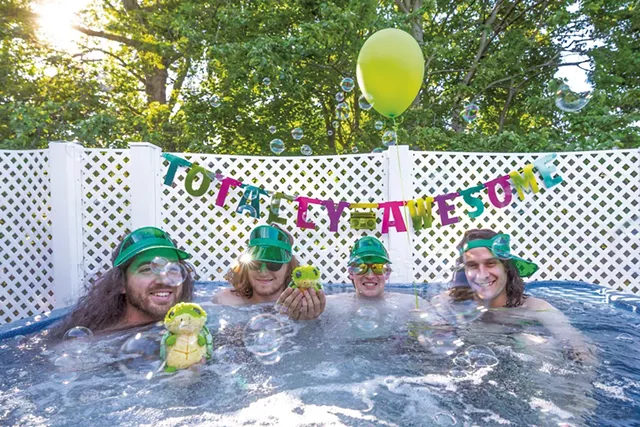 Luke Awtry
From left: Jake Styles, Justus Gaston, Mike Fried and Jeremy Gartner
A few days before the release show for their new album This Day in Age, Sad Turtle found themselves in sudden distress. Halfway through an interview with Seven Days about the sophomore release, a carefully crafted plan went awry. As the four musicians lounged on the porch of drummer Jeremy Gartner's Burlington home, a prop for the accompanying photo shoot abruptly flew away. A lone inflatable turtle balloon had broken loose from its mooring by the hot tub where the band would shortly be photographed.
"I'm not driving back to fucking Party City," quipped guitarist Justus Gaston as he watched the balloon climb into a clear, pre-dusk sky. Despite their chagrin, I assured the band that the flyaway prop wasn't a bad omen. The turtle balloon, purchased as a momentary avatar, had only embraced the role and, like the band itself, quickly moved on to brighter skies. Life is change, a lesson the post-rock quartet knows all too well. It's also why, on their new record, Sad Turtle focus so much on documenting themselves as they are: creatures of the present.
That theme of being in the moment is evident on the album's cover. This Day in Age features a photograph of Gaston as a young boy, beaming with the wonder of youth as he crouches over a snapping turtle.
"It ties in with the music," said keyboardist Mike Fried of the photograph. "The new record is a kind of a celebration of the present and, songwriting-wise, we've broadened our scope to a degree," he continued. "We wanted it to be a kind of scrapbook for this moment in time for the band. You see Justus as a kid on the cover ... It's sort of like us growing up, too."
"It's the second record," added bassist Jake Styles. "But if you include Wave of the Future, we've been playing together for seven years."
Like so many other Burlington bands, Sad Turtle came together from the ashes of other local acts. Styles and Gartner were the rhythm section for the cinematically futuristic-themed Wave of the Future when Gaston and Fried joined to replace departing members. The four immediately discovered a unique chemistry, both musically and personally.
"We bonded over being into a lot of the same stuff back then," Gartner recalled. New York City post-rock behemoth Battles were a particular rallying point for a new sound they wanted to explore, apart from the band they were in. "We'd be playing Wave songs and sort of go off on our tangent."
Those tangents turned into jams, which turned into songs, which turned into a band. In 2014, Fried, Gaston, Gartner and Styles formed Sad Turtle and minted a uniquely stylized sound. Local producer Ryan Cohen dubbed the group "instrumental music for people who don't like instrumental music," a moniker that has largely held up.
Gartner and Styles lay groundwork centered on dynamic grooves. Their bass and drums are as locked in as any electro-pop act but are inherently organic-sounding. That foundation creates a wide vista for Gaston to unleash a smorgasbord of guitar riffs that twist and turn, sometimes bleeping like computer code as music, sometimes thundering in muscular melodies. He is rarely at rest.
The guitarist shares a near telepathic musical bond with Fried. For evidence, look no further than "Ahab and the Whale Become Best Friends" on the new LP. The two soar through the melodies like fighter jets in tandem, Fried's keys coloring in many areas of the piece. Their interplay is a key component of the band's distinctive sound, a ribbon of hooks that runs through the songs and keeps the grooves interesting.
"The idea is to be accessible while simultaneously being musically literate," Fried explained.
"We want to avoid the 'listen to me solo' kind of stuff," asserted Styles. "Because these songs are all just pop structures, really: It's all A-B-A, verse and chorus."
The band's 2016 debut album, Ruthless and Toothless, showcased those distinctive songwriting chops. Far from some raw first step, Sad Turtle came out of the gate with an aggressive record full of math-rock grooves, earworm riffs and melodies in equal measure. Curiously, all of the song titles were references to the TV show "Seinfeld."
"That album was sort of trying to be bigger than it is," Fried said. "It was centered around this animated character. It was more of an imaginary world with songs that were about nothing," he continued. "That's why there were all the song titles from 'Seinfeld' — because it was a show about nothing."
That's not to say that the band's song titles have gotten any more serious. Gaston smiled as he listed the inspirations for titles on the new record, seeming particularly pleased with "Bunkerpunch!" That's an ode to the Netflix show "Unbreakable Kimmy Schmidt."
"It's about these pop-culture moments that maybe people won't remember one day," the guitarist explained of the band's penchant for naming songs. "But they're tied into a sense of this moment in time and how the record is so much a snapshot of the now."
"We're aging into it nicely," Fried added with a shrug. "And we spent a lot of time this go-around just getting the textures and dynamics of the songs exactly how we wanted them."
As with the first LP, Sad Turtle entrusted Cohen to record them at his Robot Dog Studio. They checked in to the Williston recording studio with 10 tracks ready to go.
Cohen said that the processes of recording Ruthless and Toothless and This Day in Age were similar. "But in terms of the mixing," he added of the new record, "the goal was a more open, atmospheric and dynamic sound."
Fried had described to Cohen his desire for a sound that came somewhere close to a Steve Albini-engineered record, but mixed by legendary Radiohead producer Nigel Godrich. While that may seem like a tall order, Cohen delivered.
"I've never had to approach them any differently than a vocal act," the engineer explained, citing "a narrative quality" to Gaston's guitar work in particular. "All together, they just do their thing in perfect sync," Cohen said. "I press 'record,' and it sounds this good."
Unlike with the first album, the band took the initial mixes of This Day in Age home to lay overdubs and tinker. The downside was that the extra step took nearly a year to complete. Fried has some less-than-fond memories of the technical annoyances that arose as a result — particularly about the delay. But it's clear he and his bandmates are proud of what they've released.
"I think we did a good job of making some shit that will make you think on a technical level," Gartner said. "But there's always a relative groove; we never lose that."
That assertion gave Gaston a bit of a laugh as he stood, ready to join the others on their way to the hot tub for the photo session, missing inflatable turtle be damned.
"I like to write stuff you think you can dance to," he said. "But when you try, you can't."
Sad Turtle climbed into the hot tub, a band as in it together as you'll find. That quality is evident in This Day in Age, a showcase of living, and creating, in the present. Like the escaping turtle balloon, long gone into the summer evening, the bandmates will soon move on to what's next. But their new album will remain a yearbook to remember these days in their age.