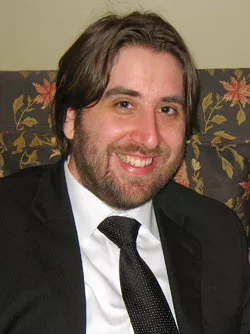 It's published original interviews with Christopher Hitchens, Jonathan Safran Foer, Barbara Ehrenreich, Sarah Vowell and John Cusack, to name a few. But Identity Theory doesn't come between glossy covers. Its staff of about 20 is composed of volunteers, and its publisher and editor-in-chief's office, at least on a recent afternoon, is a table in Burlington's New Moon Café.
Matt Borondy, a bearded, soft-spoken 30-year-old, started his online magazine — its homepage calls it "a literary website, sort of" — in 2000, shortly after his graduation from the University of Florida. He's lived in Burlington for the past 18 months, but his staff, and readers, are farflung.
In a world crowded with literary blogs, Identitytheory.com stands out, but not for the externals. It doesn't have a cheeky title like Bookslut, and it doesn't have splashy graphics. (Borondy, who works as a freelance web developer, gave his site a design he calls "very basic, not intrusive.") What it does have are book reviews; essays; short stories; blogs devoted to literature, music, film and social justice; visual art — look for local artists such as Ash Larose and Sage Tucker-Ketcham — and the aforementioned interviews.
Those lengthy, informal talks — many with well-known cultural figures — have perhaps garnered the site the most attention. Many are conducted by "editor-at-large" Robert Birnbaum, who draws on contacts he made while publishing Boston's Stuff Magazine in the 1990s. Borondy initially approached the generation-older journalist in hopes of publishing an interview with Howard Zinn. Birnbaum, who was "looking to get his interviews out there," provided that conversation with Zinn, and more. His subjects have ranged from Stephen Carter and Ethan Hawke to Vermont writers Marc Estrin and Elizabeth Inness-Brown. In an August 3 interview, Paul Krassner, publisher of '60s countercultural mag The Realist, talks to Birnbaum about working for Hustler and hobnobbing with Timothy Leary.
In 2003, Sarah Cavill of the popular site Mediabistro.com raved about Birnbaum's interviews, calling them "luxuriously long, sometimes funny, and deeply engaged. This is why writers should be celebrities, for their intelligence and not for their hucksterism." Cavill added that Identitytheory.com is "worth reading because it's casual and welcoming and not elitist and overreaching — just like a good book."
At a time when traditional literary journals are fighting for support — Middlebury College, for instance, has asked the New England Review to find its own funding — Identity Theory presents an intriguing alternative. It doesn't have print costs, subscriptions or more than occasional ads, but it does have 50,000 to 60,000 visitors per month and 125,000 to 150,000 page views, estimates Borondy.
Of course, it also doesn't have salaries, just a committed staff of folks who like words. Borondy, who studied English and new media in college, started the site because he "wanted to provide services to writers," he says. "This was before everyone had a blog." Even now, though, he points out, writers "still need the credibility of being published in an editorially controlled environment." Each of IT's four fiction editors reads submissions for about a week per month. One of its music writers, Ross Simonini, went on to work as interviews editor at The Believer.
Borondy says he spends at least five hours per week working on IT — more now that he's regularly using Twitter to get the word out about new content. He has plans to incorporate IT as a publisher of e-books. And he's putting down roots in Burlington. (His girlfriend, Alexandra Tursi, who edits the journal's visual-art component, works at Kelliher Samets Volk.) An enthusiastic localvore, Borondy says B'town feels like home.
Identity Theory may sound like something in a sociology paper. But the point, says Borondy, is to give writers a chance "to put their own identity out there." With content ranging from John Cusack's views of torture to a wickedly satirical short story about a marketing consultant, IT defies demographic niches, and proves that you can do serious reading on a screen.