File: Luke Awtry
Acting Police Chief Jon Murad
Updated at 7:47 p.m.

Burlington city councilors of all political leanings are questioning the leadership of acting Police Chief Jon Murad after he allowed off-duty officers to moonlight as private security at the River Watch condo complex amid a department staffing crisis.
Murad didn't sign the contract — a lieutenant did — but Mayor Miro Weinberger confirmed that the acting chief has known about the arrangement since it was signed last fall. Murad didn't tell the mayor.
The councilors' concerns could put in jeopardy Weinberger's plan to install Murad as the city's permanent police chief, a post that's been unfilled since December 2019. Murad previously seemed to have the six votes he needs to be confirmed, but at least two of those votes aren't a sure bet.
failed effort
to appoint him permanently a year ago, said his trust in the chief is shaken. And Councilor Ben Traverse (D-Ward 5) said his vote has always hinged on Murad demonstrating a "broad, diverse coalition of community support" but acknowledged that benchmark might now be harder for the acting chief to reach.
"Signing this agreement was an error in judgment and a breach of the public's trust," Traverse told
Seven Days
in a text message last week. "The community needs to hear directly from AC Murad as to why this arrangement was permitted."
Murad, however, hasn't addressed that question.
In a short conversation with a reporter at a community meeting last week, he defended officers' right to make extra money while off-duty, and said Seven Days' coverage cast the side gigs in a negative light when officers already have low morale.


The acting chief has ignored repeated interview requests, and in a statement released Tuesday night, reiterated his concerns about police staffing.
He wrote that the "greater concern" than the contract "is what drove the residents of River Watch to seek this extra-duty contract at all."
"It is these [staffing] deficits, together with the attendant rise in some crimes, that creates a feeling that service is inadequate throughout the city as a whole," he wrote. "These unresolved issues remain our top priority."
Members of the Burlington Police Officers' Association were hired last fall to conduct private patrols at River Watch, a 215-unit development off Riverside Avenue. The off-duty officers reported for duty in marked cruisers, wearing department-issued uniforms, badges and guns.
New public records shed some light on the arrangement. An accounting of the union's "extra-duty events" shows that officers logged about 221 hours at River Watch between October 28, 2022, and January 16, 2023. At $81 per hour, officers were paid at least $17,893 to patrol the neighborhood, which had been dealing with a rash of thefts. Residents blamed the guests of one problem tenant, who has since been evicted.
Seven Days
reviewed four years' worth of extra-duty contracts and found that the River Watch contract was the only one of its kind. The other agreements were mostly for one-off events, such as fundraisers, parades, bike or running races, and construction projects. In one instance, a New North End couple asked for a police officer to attend a January 2019 ceremony to raise a new Trump 2020 flag after vandals burned their previous one. The event garnered national media coverage, though it's unclear if the shift was filled.
Moonlighting by police officers is common across the country and has been in Burlington, too. But in 2018, when the city negotiated a new contract with the police union, the pact included language that added a layer of oversight to the practice. It requires a chief or their designee to sign off on any such details, and says officers can work "street or private events" and side jobs as long as they don't interfere with regular duties. That language was included in the union's latest three-year contract, which was signed in July
.
The River Watch contract has since lapsed, and Weinberger has told Murad to not renew it. A property manager for River Watch sent residents an email two days after the story ran, saying that the complex is "not able to hire off-duty officers at this time."
Residents may notice "yet another increase in criminal activity," the property manager wrote in the email, which was obtained by
Seven Days
. "We suggest that you take any necessary precautionary measures as you see fit to protect your personal safety and property. We are currently evaluating how best to provide safety going forward."
File: Luke Awtry
Burlington Mayor Miro Weinberger
The River Watch deal was inked at a time when the acting chief, mayor and police union were repeatedly complaining that staffing woes have left the department unable to respond to calls for service. The union and Murad have both blamed the council's Progressive caucus, which led a June 2020 vote to cut the police force by 30 percent through attrition.
The council has since agreed to hire more officers and offer them sizable pay raises and recruitment bonuses.
The revelations about the contract coincides with a push for civilian oversight of the police. Voters in March will consider a ballot item to create an independent "control board," whose members could investigate officer misconduct and mete out punishment. Both Weinberger and Murad have urged voters to reject the measure, which Progressives support.
Seven Days
.) Murad won't face any discipline for how he handled the matter, the mayor's office confirmed.
City officials, including Weinberger, have expressed concerns that the River Watch contract amounts to an unfair pay-to-play public safety system. In his memo, Weinberger wrote that the contract "competes with other priority volunteer overtime shifts and assignments."
That includes patrols that the city is currently farming out to the Vermont State Police to battle crime downtown. The city has paid off-duty troopers a cumulative $13,480 since the contract began on October 5, 2022 — two days after Burlington cops signed the River Watch agreement, records show. Weinberger said the union was offered the downtown patrols but turned them down.
Seven Days
published its first story on the issue.
Officer Joseph Congdon, the police union's spokesperson, said in a text message to
Seven Days
on Monday that the union has "no further comment on this matter."
Weinberger still plans to bring Murad back for reappointment, though it's unclear if he'll succeed. A year ago, the council's Progressive caucus sank the acting chief's nomination with a 6-6 tie vote. But when two Progs resigned from the council — and lost one of those seats to a Democrat in a December special election — Weinberger and his party suddenly had the numbers to appoint the chief. The mayor has said he will try the vote again but hasn't indicated when.
Meantime, at least one Dem — Traverse — is concerned about Murad's decisions. The South End councilor said his constituents are frustrated.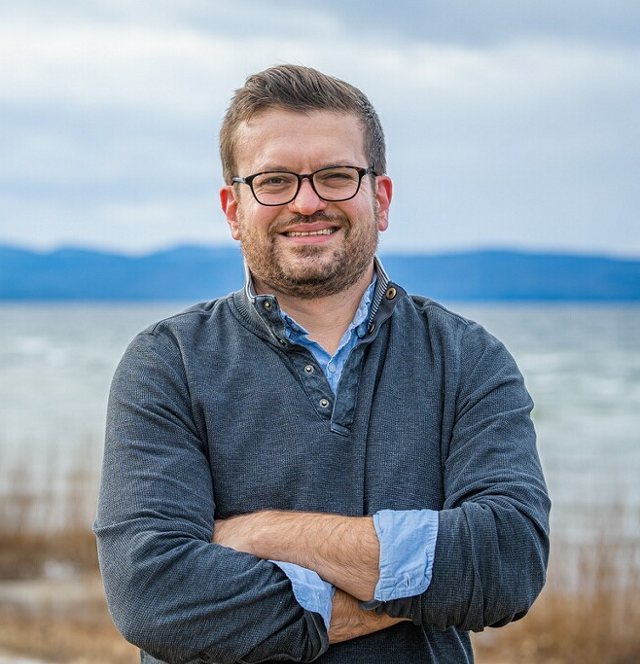 Courtesy
City Councilor Ben Traverse (D-Ward 5)
"They were told in one breath that there's not enough resources to respond to them, only to find out that there are enough resources to pick up this department-approved side gig," Traverse said.
"I don't understand how something like this was signed off on," he added.
Two other Democrats — Council President Karen Paul (Ward 6) and Sarah Carpenter (Ward 4) — didn't respond to multiple interview requests. Councilor Joan Shannon (D-South District), in a text message, declined an interview until she learns more about the situation and didn't respond when asked whether she would still vote for Murad.
Newly elected Councilor Maea Brandt (D-East District) was noncommittal, first saying she would support Murad because "there are no other candidates at this time," and then that she'd need to discuss the matter with her constituents.
Councilor Mark Barlow (I-North District) said he's supporting Murad regardless, but Dieng, his fellow New North End councilor, isn't sure. Dieng said "it's definitely very problematic" that Murad didn't inform the council about the contract.
"That 100 percent commitment I had before, I'm not sure if I'm still there," he said.
Progressives, meanwhile, say these doubts only validate their decision to reject Murad a year ago. Councilor Joe Magee (P-Ward 3) said allowing the patrols while the city pays state troopers for extra duty was "an astonishing lack of judgment and an example of poor leadership."
Outgoing Councilor Perri Freeman (P-Central District) agreed, saying even if the contract allows such patrols, Murad's decision to let them proceed was unethical.
"It makes me wring my hands a little bit," Freeman said. "It frustrates me that it did not raise a red flag."
Clarification, February 8, 2023: This story was updated to better describe the council's decision to approve the hiring of more police officers.