Courtesy
Stephen Cramer
Stephen Cramer's affinity for hot sauce goes back to his years in graduate school. The award-winning poet and senior lecturer in the University of Vermont English department was living in Harlem, N.Y., "cooking my first meals in my life," he said in a recent phone conversation.
"I made a lot of rice," he continued. "One side of the bowl seasoned with soy sauce, one side of the bowl seasoned with hot sauce."
His choice of hot sauce at the time was essentially a default to Goya, which he described as "Louisiana-style, vinegar-forward; just vinegar, peppers and salt."
These days, the fridge in Cramer's Burlington home contains a wider array of hot sauces. "I have 10 to 12 open at any time," he said. "There's one kind for rice and beans, one kind for Asian dishes."
Cramer said he's always been a collector. When he was young, he amassed minerals and Star Wars figures. "Collecting flavors was something new," he said.
He also collects information.
Once hot sauce hooked him, Cramer started digging and discovered "a surprisingly rich hot sauce literature out there." Though it's not that surprising, he added, when you think about hot sauce's star ingredient: "The story of the pepper is the story of global exploration."
Cramer's latest volume of poetry, The Hot Sauce Madness Love Burn Suite, delves into that topic and more in "814 couplets about hot sauce." It is informative, laugh-out-loud funny in places and more thought-provoking than one might expect from a food-themed collection of verse.
The opening poem, "Chili," sets the scene with gems both educational and amusing. The reader learns that the word comes from the Aztecs. During periods of spiritual fasting, they "abstained from sex // & chilies, & only conjecture / can tell us which was harder // to renounce."
In "You'll Always Remember Your First," Cramer shares the story of his initial foray into hot sauce during graduate school. Toward the end, he vibrantly articulates the experience of imbibing the spicy condiment as "the Death Valley // of the throat, my / mouth caught between two high // noons."
If the Eskimo really do have more than 50 words to describe snow, Cramer possesses a similar abundance of ways to describe the "heat" of peppers on the other end of the temperature range. Though, as he explains in "The Scoville Scale," "there's no // actual heat in this / equation, just spiciness, // which hoodwinks / our bodies into thinking // physical flames are / licking our // tongues, throats, lips)."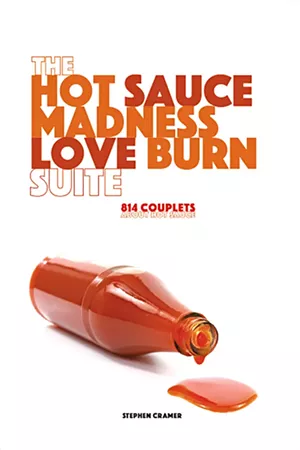 Courtesy
The Hot Sauce Madness Love Burn Suite by Stephen Cramer, Serving House Books, 124 pages. $15.95.
Cramer's words elicit frequent chuckles, but I was literally laughing out loud a few stanzas later in the Scoville poem when he reveals a true, personal tale testifying vividly to the oft-repeated warning not to touch your eyes (or other sensitive body parts) after working barehanded with hot peppers.
Spoiler alert: The tale involves a container of sour cream and might evoke for some a certain scene in the 1999 movie American Pie. It illustrates that fat, rather than snow or ice, is the best remedy for a body part inflamed with chile spiciness, as Cramer explains in a later poem, "Antidote."
That poem is among many that impart useful information, including one that details how Cramer makes and bottles his own hot sauce.
Then there's the series of poems that helpfully describes more than two dozen chile peppers, labeling them with their "heat" rating by Scoville unit. They range from the cherry bomb (3,000 to 5,000 Scoville units), which Cramer describes as a "little bin / of little capsaicin"; to Pepper X (3,100,000 Scoville units), after a taste of which "you see your own // panicked look multiplied / a thousand // times in / a broken // mirror that you'd / inadvertently swallowed."
The Hot Sauce Madness Love Burn Suite is Cramer's eighth volume of poetry, including an anthology he edited and a translation. It is one of his "project books," he said. These provide respite from work on "more intimate books" such as his 2016 Bone Music, a Louise Bogan Award winner that writer David Jauss described as "elegant and gut-wrenching."
The project books are fun to research and write — and, Cramer hopes, to read. "They require less emotional bandwidth," he explained. "I can't always live with daily introspection."
But even when he's spinning poetry out of hot peppers, Cramer's talent for introspection is evident.
In a poem titled "Pain," Cramer writes: "Most of us mess with pain / in the most secure ways: // roller coaster, bungee / jump, horror movie, // because suffering so often links arms / with pleasure."
One of the pleasures of this slim, spicy volume of verse is its blend of utility, humor and flashes of insight into how the allure of hot sauce and chile peppers illuminates the human condition.
Mistakes
Columbus mistook, we
all know, the natives he
found when he landed for
"Indians," though where
he landed in Venezuela
is 9,439 miles from India.
Then he called
the spice the natives used
pimiento (black pepper)
though it's never
been even closely
related to the peppercorn that he
had hoped to find (piper
nigrum, black pepper,
the so-called
black gold,
the most prized
spice
of the day). What he
found instead was capsicum. We
all make
mistakes,
dousing food with
sauce before first tasting it,
only to find
that it turned
the plate of piled nachos
almost
inevitably
inedibly
molten. Proverb: don't test
the river's depth
with both feet.
Be cautious, it means,
but do we
listen? No. Like early
explorers, we survive
by jumping to conclusions. We dive.
Jalapeño
2,500-8,000 Scoville units
The Nahuatl word Xalapa—
From the roots xlli (sand) & pan
(water place) —
is the source
of the name
of Veracruz's capitol, which became
the source
of this pepper.
Some call it
chili gordo (the fat
chili), & it's often
picked green
before it's fully
ripe. Corking: those grey
lightning-like lines
you might find
on a jalapeño, those thin
streaks formed because the skin
can't keep up with
the pepper's growth.
Some call them scarring
or stretch-marks, & many in
the U.S. see them as
flaws,
but south of the border
they're considered
tokens of excellence — the more
corking
the more
heat. They like their peppers
the way I like my
people: scarred but still fiery.