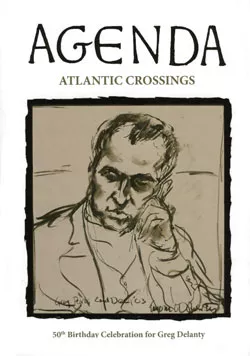 Most of us are lucky to get a bunch of cards or an inscribed book on our birthday. This year, award-winning poet and St. Michael's College artist-in-residence Greg Delanty got a rather more substantial gift of words: A 260-page issue of the U.K. poetry journal Agenda celebrates his 50th birthday.
Cofounded in 1959 by British modernist legend Ezra Pound, Agenda is just a year younger than Delanty himself. The current issue, called "Atlantic Crossings," features new verses by the Irish-born poet, six essays about him commissioned by editor Patricia McCarthy, and nearly 100 pages of poems in his honor. Their authors range from Nobel winners Seamus Heaney and Derek Walcott, to former U.S. Poet Laureate Billy Collins, to Bread Loaf director Michael Collier, to Vermonters Galway Kinnell and David Cavanagh. A drawing of the strong-featured poet by artist Eamonn O'Doherty adorns the cover.
Delanty has published numerous poetry collections, most recently The Ship of Birth and The Blind Stitch; his Collected Poems appeared in 2006. The recipient of a 2007-'08 Guggenheim fellowship, he recently returned to Burlington from travels that took him to Greece, Paris and Mexico. The Agenda issue has been in the works for "a good year and a half," he says. "They selected people to write prose articles; they asked me for friends, people whose writing I admired. It's very moving, really."
In general, Delanty says, he finds it "hard for me to talk about myself" and "very strange to be talked about; I just like to get on with the work." But he's elated by the Agenda issue, saying, "I don't think anything nicer than this book has happened to me in my literary life."
In his verse, Delanty combines the resources of a formidable classical education — he's translated Aristophanes and Euripedes — with playful neologisms, slang and a strong political consciousness. The founder of a St. Mike's environmental council and a regular presence at the antiwar vigil on Church Street, he doesn't see himself as writing from an ivory tower: "The poems wouldn't be true if I didn't follow true in my life," he says.
Delanty's new work in progress, The Greek Anthology, mimics the format of a famous 10th-century compilation that spanned centuries of verse. Each of his poems is attributed to a different fictitious author — a method that, as he writes in Agenda, gives him a chance to experiment with personae.
Despite the classical Greek frame of reference, Delanty says, the work includes "poems set in the Northeast Kingdom and Burlington." Agenda includes one called "In the Daily Planet," where the poet describes regulars at the Burlington resto's bar as they bicker and watch the news, "everyone glued to the latest Iliad."
Judging by the evidence, Delanty's prominence in the poetry world is growing: The National Library of Ireland recently purchased his papers and manuscripts. The essay in Agenda by David Cavanagh — a local friend and fellow poet — offers a rather less august and more intimate view. "His focus on writing poems and ability to concentrate in almost any setting are extraordinary," writes Cavanagh. "I've found him writing in crowded bars and restaurants, on the beach, at the tennis court . . . in cars, at the grocery, hunkered in the corner of a locker room at the YMCA . . . He can often be found there, standing buck-naked outside the showers, working on draft poems strewn across a shelf used for towels and soap, wearing only a pair of reading glasses and a pencil . . ."
Delanty cops to scrawling verse in the locker room, straight out of the pool: "Sometimes when I come in after my swim, the endorphins are up," he says, adding that he carries a "little black notebook" wherever he goes. "I write my poems anywhere. I've been doing this for 30 years. You have to be adaptable."