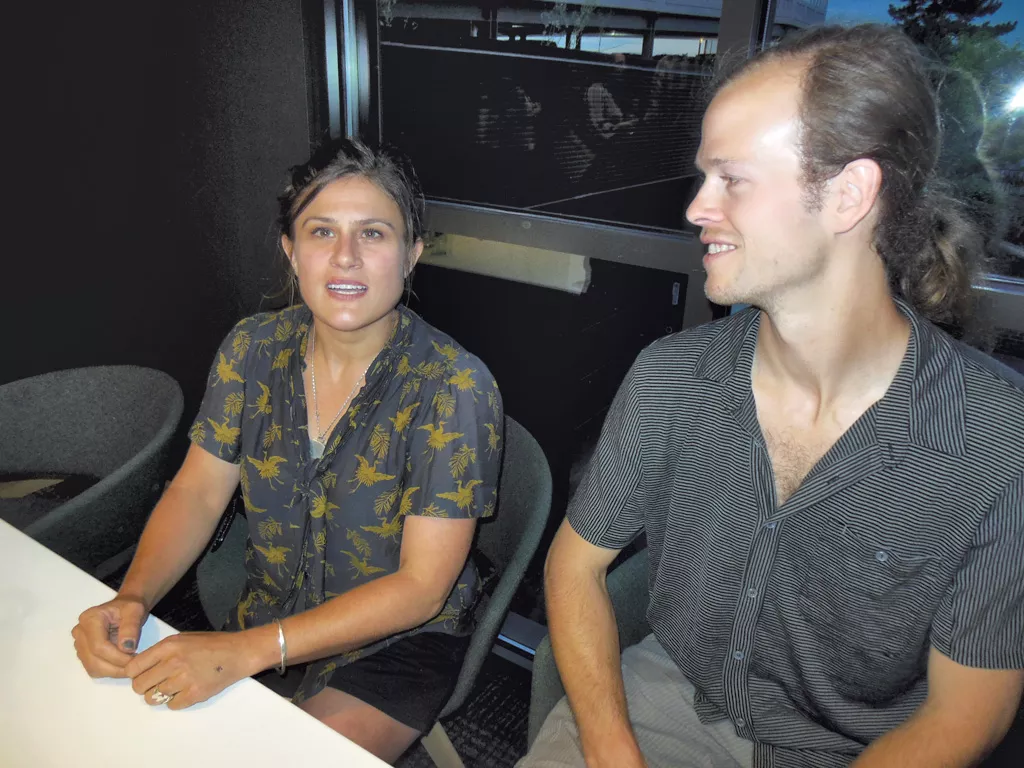 Abby Manock and Ethan Bond-Watts
If you're a young artist in Vermont aiming to succeed financially, Steve Conant has some advice for you: Move away.
A pioneering figure in the South End creative scene, Conant offered that blunt recommendation at a panel discussion last week at Hotel Vermont called "Burlington on Burlington — the Art Scene." The second of a five-part series sponsored by ArtsRiot, a gallery/restaurant/performance space on Pine Street, the evening was focused on making a living as an artist in Burlington.
"You go to a big city," suggested the owner of Conant Metal & Light (although his own local success belies his advice). "You pound the pavement." The competition may be fiercer in New York, but artists will find far more opportunities working in Gotham than in a place like Burlington, Conant added.
None of the five other panelists disagreed. But street artist Scottie Raymond did point out that he and his artistic partner, Brian Clark, enjoy a local status as "really the only two street artists out front with who we are and what we do." Leaving Vermont "would make us no one," Raymond said. "In New York City, we'd be two of 2,000 street artists."
It's tough to find a market for artwork in Vermont's only urban center, the panelists all acknowledged. Events such as last weekend's South End Art Hop draw lots of lookers, but relatively few ante up to become art owners.
"Burlington does a great job of getting people out to shows," commented Rich Arentzen, co-owner of AO Glass Works. "But they don't necessarily buy things."
Despite the absence of a sizable set of patrons, many young artists still try to launch their careers in Burlington. Among them is glass blower and sculptor Ethan Bond-Watts, a native Vermonter. "Let me say up front that I'm a 30-year-old man living with my parents," Bond-Watts told 50 or so listeners at the September 2 discussion and social hour. He added, however, "I can see how I could get to the point of having a house and a family."
Three sales routes could potentially enable him and other artists to reach that destination, Bond-Watts said. Selling directly to the public is the best of those options because "there's no middleman," he noted.
An audience member asked Bond-Watts how an artist finds potential buyers. He suggested wrangling invitations to "high-end cocktail parties" attended by guests willing to write four-figure checks for works they like. "Get there early," Bond-Watts advised.
Making an initial sale can set an artist's career in motion, he added. "The likeliest person to buy a piece of your art is someone who has already bought a piece of your art. The second likeliest is a friend of that person."
Commissions from government arts agencies for major public displays can serve as another avenue leading toward solvency, Bond-Watts continued. But to even be considered for such a gig, he cautioned, an artist must complete "a convoluted proposal process" that will consume time and resources.
Representation by a gallery enables an artist to avoid the challenges of self-promotion, Bond-Watts said. The disadvantage of this option is that galleries pocket up to 50 percent of the price of works they sell. But, he added, "They definitely earn it. They work hard for you."
Producing commercial work can allow artists to survive and establish reputations while remaining true to what they view as their actual vocation: creating fine art.
Arentzen, for example, started out making holiday ornaments — "little snowmen and penguins" — after returning to the United States from Norway, where he worked as a glass blower for 10 years with his partner and fellow glassmaker, Tove Ohlander. The couple now has a studio on Pine Street and sells their wares in a small boutique on College Street. Arentzen said the business might provide him with the security to focus on making art glass "maybe in five years."
Some artists, by contrast, are unwilling to make compromises with their work to please the market. "I'm not going to make something just so people will buy it," declared Abby Manock, who defines her work as being about the production process. She got her start, Manock related, by organizing a performance piece called "Volley of the Nuts" at a 2003 Phish concert in Limestone, Maine. Work for other Phish shows and musical festivals followed.
That has helped Manock, 37, lay the foundation for her career while living in Vermont, she commented after the panel discussion. But she said she plans to return to Brooklyn "now that I know a lot more about how things work."
Katharine Montstream, a Burlington-area fine artist who earns a living solely from her work, noted in an interview that she generally agreed with Conant's proposition. "You can start out here, but if you're serious about making it, you probably need to go somewhere else," said Montstream, who described herself as "kind of an anomaly."
She began working 25 years ago as a commercial artist, selling handmade greeting cards to shop owners throughout New England. "I got brave enough to gently ask" merchants to please take a look at her cards, Montstream recalled. One day a woman asked her, "Can you make this image any bigger?" Montstream was eager to oblige, and she soon sold 10 original paintings of Vermont landscapes and Church Street scenes. "It's just so extraordinarily satisfying to have someone pay a good amount of money for your art," she said.
Following the no-middleman route, Montstream sold her work for many years from her studio in Union Station and at the Saturday farmers market in City Hall Park; her husband, Alan Dworshak, manages the business. The two opened a store across from the park on St. Paul Street 15 months ago with the aim of catching the eyes of tourists who might otherwise never see her work, Montstream explained. "It's going very well," she reported.
ArtsRiot aims to add "more voices to conversations about Burlington," said co-owner Felix Wai of the series. A panel discussion on Tuesday night addressed artist representation. Two more talks are scheduled this month on other arts-related topics.
INFO
"Burlington on Burlington — the Art Scene" addresses "The Money" on Tuesday, September 16; and "Not Just on Gallery Walls" on Tuesday, September 23. Both 6 to 10 p.m. at Hotel Vermont in Burlington.
The original print version of this article was headlined "'Burlington on Burlington' Addresses Persistent Issues for Local Artists"