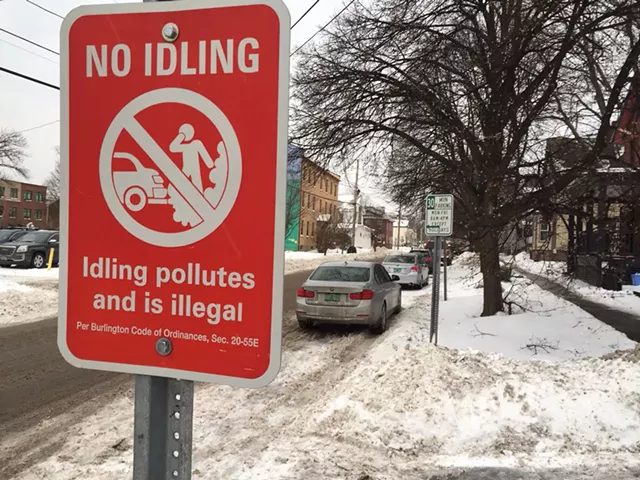 Sasha Goldstein
A "No idling" sign in Burlington
The recent run of bruising cold temps broke records and burst pipes — but did not bust the bank for anyone caught idling their car engine in Burlington.
In an effort to reduce air pollution, the Queen City has an ordinance on the books that prohibits idling for more than three minutes. During the two-week cold snap, though, officials apparently looked the other way.
That was good news for Burlington-based long-haul trucker Daniel Cohen, who owns a 2000 diesel Freightliner with a sleeper cab. The older-model rig doesn't have an auxiliary power unit or engine block heater to help it start in cold weather.
"If I don't idle it in severe weather such as what we just had, it won't start," he said. "So when it's freezing cold, the truck runs all the time."
Cohen was on the road ferrying paper and other products between the Midwest and Burlington during some of the cold snap. When he's in town, he keeps his truck outside Queen City limits, he said. He apparently didn't know the state, too, prohibits idling.

And he would have been relatively safe in Burlington, anyway. Authorities issued only six idling tickets in the last 53 weeks, city records show. Each ticket carries a measly $12 fine.
Furthermore, city parking manager John King noted that the idling ordinance has several exemptions, including to protect the health or safety of passengers and drivers.
So was the cold really life-threatening? You betcha.
Burlington hit a record low of minus 20 degrees on Sunday, according to the National Weather Service. And the city spent a whopping 52 consecutive hours in subzero temps between Friday and Sunday.
"In this situation, we would be more relaxed on the idling," King said. "We can't expect you to turn your car off and then freeze to death."
Correction, March 10, 2019: An earlier version of this story neglected to mention that Vermont prohibits allowing vehicles to idle statewide.