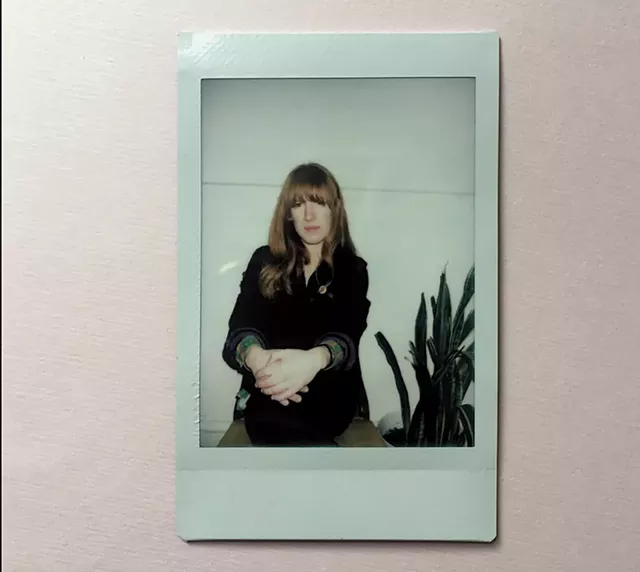 Not all music venues are created equal. But whether it's a 1,000-person stadium or a tiny stage in a bar that fits 30 people, the purpose tends to be the same: to bring people together to experience the joys of music. That's the rationale behind Inspirational United, a Burlington-based venue that offers music lovers and musicians the opportunity to spin records they love for a global audience. Here's the thing: Inspirational United is online only.
The website streamed for the first time in October 2017, says founding member Lucy Prouty. The Burton designer is one of three young creatives behind the site, along with DJ Ross Travis and web designer Nick Campolo.
"It was really created out of this desire to share music with friends," Prouty says. "The core group of us, we love sending each other songs and whatnot, and it just evolved into this thing of 'Hey, why don't we try to share it with the world?'"
The website is only "active" when a show is scheduled. Otherwise, the home page features alternating backdrops such as a fantasy cityscape, marine life or aliens.
To date, the trio has booked four daylong shows, Prouty says. Each one consists of a live video and audio stream of their friends and acquaintances spinning records or sharing songs from a prearranged playlist.
The last show was staged at the residence of designer Jasmine Parsia of Alder, a Burlington creative studio. She performed under the name Lucky Cloud along with eight other female DJs, including Mercedes Mack, aka Crystal Jonez; and Prouty, aka Lucille Sunday.
"I've been treating these as a mini concert or a mini festival," Prouty says. "It really just happens — so far — for one day for six or 10 hours, and we pretty much promote it through social media leading up to that point, reach out to local artists to create the lineup poster, grab some friends, set up all the gear, and hit go and share it with the world."
The idea is to present all types of music. The designer says the group has "hit most genres so far. It could be whatever you want, and we're not worried about it flowing together seamlessly. It could go from dance music to light jazz."
Prouty says Inspirational United has had as many as 1,000 views on a show. Most listeners are local, but she reports some international hits, as well.
So far, the shows have happened on Thursdays. "We were thinking more people would watch from their work computer," Prouty says. "Most of our friends are designers or people who can listen to music while they work."
The group doesn't archive the performances and has no plans to do so, though clips are available on the site. The idea is to tune in and appreciate what's happening in the moment, as you would at a live concert.
"The really great thing about this is, it's been giving people the opportunity to play music and express themselves who normally wouldn't be able to do this through traditional radio broadcasting," Prouty notes. "The majority of people who have done it so far have no prior experience deejaying. They show up with some records or their playlist; we give them a lowdown [on the equipment] and then say, 'OK, looks good, you're going to do great.'"
This laid-back approach seems to be working. And, though the group's Instagram boasts cool-looking Polaroids of the DJs and an artsy, edgy vibe, Prouty maintains the shows aren't meant to be exclusive.
"I've explained to people that we're an online collective with a focus on sharing music," she says. "[Inspirational United is] about bringing all these great people from the community together to create something as great as we can, but have the most fun that we can, as well."