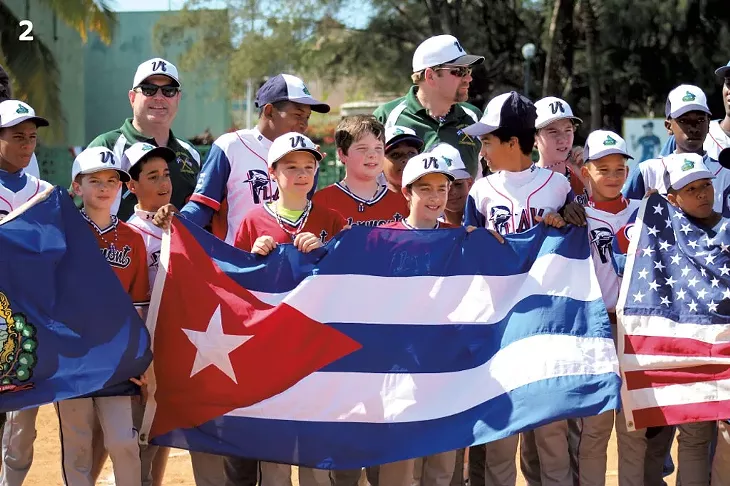 8 slides
When the American national anthem sounded across the baseball field in Havana, Cuba, Vermont Little League coach Jim Carter was moved to tears. It was only the third time since the 1960s embargo that an American team had played baseball on Cuban soil; the last was in March, when President Obama watched the Tampa Bay Rays play the Cuban National Team. That Major League Baseball game marked progress in bringing two politically estranged countries together.
This time, members of the younger generation were at bat.
In April, Carter accompanied a team of 11- and 12-year-olds from Burlington, Shelburne, Bristol and Essex Junction to Havana to play a series of five games against their local counterparts. The trip was organized by Burlington Little League coach Tom Simon, who is good friends with a member of the Cuban American Friendship Society and thought Cuba would be an incredible place to visit.
Following each game, the players traded shirts with the opposing team. "When we exchanged jerseys ... I felt like we were really making bonds with the Cuban people," said Cyrus Perkinson, 12, of Burlington. "It was really cool to be a part of this experience."
The two teams and their families enjoyed post game meals together at a nearby restaurant, which allowed players and coaches to connect and form friendships. "I liked overcoming language boundaries and getting to know Cuban players my own age," said August Rinehart, 11, who lives in Burlington.
At the end of the week, the Vermonters didn't win on the field — it was "one of the funnest games I've been in to lose 9-0," Carter said — but they succeeded in forming bonds with their Cuban hosts. Jesus Barroso Gutierrez, project director for the Cuban Baseball Federation, summed up the mutual goal: "It is very important that we tie these knots of friendship and baseball between the two countries."
Reporter and multimedia journalist Alexandre Silberman is a junior at Burlington High School and a contributor to the Burlington Free Press. He will represent Vermont in June at the Al Neuharth Free Spirit Journalism Conference in Washington, D.C.