Molly Walsh
Neil Riley, left, and Nancy Roucoulet
Patrons checked out books, thumbed through periodicals and composed résumés on computers last Thursday at the Fletcher Free Library.
But Burlington's community living room wasn't as tranquil as it looked. Like many urban libraries, it has become a haven for individuals who have nowhere else to go during the day: people who are homeless, mentally ill, or battling drug or alcohol addiction. Library leaders are seeking more authority to ban visitors who are violent, make threats, use or sell illegal drugs, or engage in sex or lewd behavior on the property.
Current library rules don't have enough teeth to address the most egregious behaviors promptly, according to library director Mary Danko. A patron can start a fight or threaten someone and, if it's a first offense, return the very next day.
It takes two offenses to justify a 90-day no-trespass order and, in some cases, that penalty is too late and too little to guarantee a safe and orderly environment for other library goers and staff, Danko said.
The goal? "Let's try and match the level of consequence with the level of behavior," she said.
The proposed new rules of conduct spell out in much greater detail which behaviors are prohibited — ranked from the most serious Class A to the least serious Class D — and lay out corresponding fines. More importantly, they authorize designated staff to issue no-trespass orders almost immediately: up to 180 days for a Class A violation, 60 days for a Class B violation and one day for a Class C violation, such as sleeping.
The proposal also creates some new prohibitions, including a Class D rule that would make it unlawful to use or store bedrolls, sleeping bags, suitcases and large bags inside the library. Patrons who refuse to comply would have to leave the premises for the remainder of the day.
Opponents of the proposed changes said they pick on shelter-seeking poor and homeless people. Danko said new rules are needed to create a safe environment for everyone who uses the public resource, including children.
"You just want to make it so that everybody feels comfortable at the library," Danko said. She pointed out that the maximum amount of time an individual can be banned under a single no-trespass order would decrease from one year to six months in the amended municipal ordinance.
The proposals have been under discussion for more than two years among library staff and a volunteer commission that helps oversee operations at the 1904 beaux arts building and its 1981 addition on College Street. They reflect an effort to keep things copacetic at a public space where visitors can read their favorite large-print mystery, rent a meeting room for a citizenship class or borrow a metal detector through the library's nontraditional item loan program — all for free.
Do the proposed changes threaten that democratic mission? Councilor Jack Hanson (P-East District) voted against the first draft of the new rules at a Burlington City Council meeting on August 26. He wants to see an emphasis on restorative justice instead of the fines and no-trespass orders, he explained to Seven Days.
Councilor Perri Freeman (P-Central District) joined the majority in voting to forward the draft changes to an ordinance committee for further work, but she expressed reservations during the meeting and again in an interview.
"I think, in general, they are too punitive," Freeman said of the proposed rules.
The new ban on bedrolls and sleeping bags — which would extend to both the library grounds and the building — is particularly troubling, Freeman said. She worries that the rule would signal that Burlington is "potentially falling into the same pattern of criminalizing poverty and mental illness and homelessness" as some other cities.
Rita Markley, executive director of the Committee on Temporary Shelter, agreed. "I'm not sure why suitcases, bedrolls or large bags would be prohibited unless they're obstructing a walkway. What's the harm in those items if they're not blocking the aisles or physical access to books?" she asked in an email. "Are diaper bags or student backpacks a problem, or is it just the kind of items that might typically be carried by someone who doesn't have a home?"
The bedroll ban is an attempt to get at "what is reasonable," said Danko, noting that some libraries — but not Fletcher Free — have developed bedbug problems as a result of liberal policies that allow camping gear.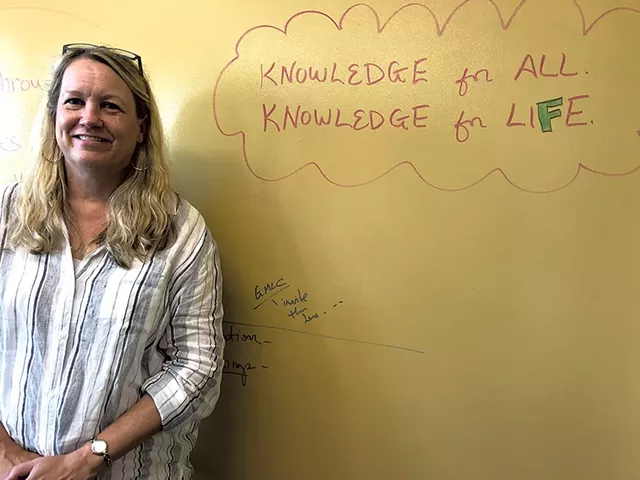 Molly Walsh
Library director Mary Danko
It's tricky territory. In July, the City of Burlington agreed to settle a lawsuit brought by the American Civil Liberties Union of Vermont over a 90-day no-trespass order issued to Jason Ploof. He was twice cited for open container violations in a different spot — City Hall Park — in 2015.
The ACLU contended that the city's no-trespass ordinance did not provide sufficient due process for the banishment. As part of the settlement, the city is required to redraft no-trespass rules for all city buildings and parks, not just the library. A proposed draft of the overarching ordinance was approved on first read by the council on September 9.
Like the library conduct proposal, it will be reviewed and possibly changed by the council ordinance committee before it returns to the full body for final consideration. As of last week, neither set of amendments had been placed on the subcommittee's agenda.
The two sets of changes will be reconciled in the final ordinance, but even then, the rules governing conduct in the library can be different than in some other public places, according to Burlington city attorney Eileen Blackwood. Some U.S. case law holds that a library is a place of "limited public forum," for example.
The ACLU will be watching, staff attorney Lia Ernst wrote in an email, "to ensure Vermonters' First Amendment rights are respected."
No specific event at the library triggered the proposals, according to Danko, who was hired in 2017. They are the latest in a long effort to reduce misbehavior in the building.
"I do think that there are a lot of problems at the library that need to be addressed," said City Councilor Joan Shannon (D-South District), who supports a stricter no-trespass policy. She's open to debate on the finer points but noted that "setting up camp in the library is not OK."
Like many urban libraries, Fletcher Free has taken steps that seem designed to walk a line between supporting needy people and cracking down when patrons break rules.
Last year, the library began staying open on holidays partly out of recognition that people might need a place to go. This summer, the Howard Center, which provides mental health and other services, assigned an outreach worker to a help desk in the library on Tuesday afternoons. Danko hopes to host a rotation of other social service organizations there in the future.
Three years ago, the library contracted a private security firm to provide an officer just inside the front door. The officer on duty last Thursday, Morgan Gillespie, sat at a desk with security camera footage beaming onto a screen. Patrons occasionally fight, Gillespie said, but the most common violation is against the no-smoking rule on the grounds. When it's necessary, he and other employees call police.
Between January 1 and August 1 of this year, cops responded to the library building, grounds, parking lot and a bus shelter near the entrance more than 100 times, including to 18 calls about inebriation, 18 calls related to mental health issues and seven calls regarding quality of life ordinance violations such as public urination, according to department records.
People who have been on the receiving end of enforcement and no-trespass orders at the library include Nancy Roucoulet, who was sitting behind the building with her boyfriend, Neil Riley, last Thursday. Some of the existing rules are unreasonable, she said. After falling asleep inside the library earlier this year, Roucoulet said, she was hit with a 90-day no-trespass order that recently expired.
"She literally had her head down for 10 minutes, and she got a no-trespass," Riley complained.
It's unclear whether that version of events is accurate. Under current rules and practices, a patron would likely have received multiple warnings and more than one violation to be issued a 90-day trespass, especially if it involved sleeping, said Gillespie, the security guard. He could not immediately provide details to confirm the nature of any such order issued to Roucoulet.
Meanwhile, the homeless couple said they are on a wait list for subsidized housing and hoping to get back to work. Alcohol addiction makes it difficult for them to meet sobriety rules at local overnight or day shelters, Riley said: "I'm gonna be honest with you, we do drink."
The library provides community and protection from the elements, they said. To show her appreciation, Roucoulet said, she picks up trash regularly around the library grounds.
Despite their own lack of shelter, the couple agree with the proposed rule about bedrolls. While it's difficult for homeless people to cart their belongings and sleeping gear about, they said, it still doesn't belong in a library. "It's not fair for the children," Roucoulet said. "It's not fair to the general public."
They also agree that people who are threatening, violent or using hard drugs should be bounced, and not just for a day. They've seen blood and syringes in the bathrooms inside the library, an indication that people are injecting drugs.
"It's not cool," Riley said.
Class A Prohibited Acts
Fighting
Physical threats
Sexual behavior
Use, sale or possession of regulated drugs
Damaging library resources
Class B Prohibited Acts
Disruptive behavior
Misusing library resources
Possessing or using alcohol or marijuana
Smoking or vaping
Class C Prohibited Acts
Flouting library rules
Unattended personal belongings
Sleeping
Improper restroom use