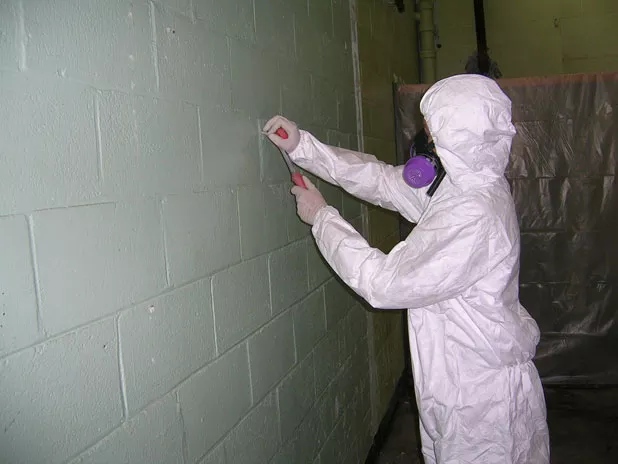 Lead-abatement worker at a local property
Last November, Burlington received a $2.8 million federal grant to remove lead-based paint from 180 of the city's aging housing units. That's nearly twice as much as the city received five years ago for its first-ever lead-abatement project.
But despite newspaper advertisements and a direct-mail campaign targeting 600 area landlords whose tenants qualify for Section 8 rental vouchers, as of last week the Burlington Lead Program had completed just seven abatement jobs.
While two-dozen new lead-abatement contracts are currently "in the pipeline," Jeff Tanguay, coordinator of the Burlington Lead Program, worries that the city's most vulnerable residents aren't receiving the help they need. Failure to meet the goals of the grant, which comes from the U.S. Department of Housing and Urban Development, could also hurt the city's chances of securing future funding for lead abatement.
"We know that there's a problem, we have $2.8 million to deal with this problem, and we can't use it because people aren't applying," Tanguay said. "It's extremely frustrating."
In 2005, the U.S. Conference of Mayors ranked the city's lead program, which was created in 2003, among the best in the country. Burlington's lead program aims to reduce the health risks associated with lead poisoning in a city with the seventh-oldest housing stock in the United States (nearly half the units were built before 1950). Breathing air polluted with lead dust from soil and paint can cause permanent neurological damage in children, including learning disabilities and behavioral problems.
The HUD grant allows the city to loan landlords the projected cost of the abatement, which can average $16,000 to $22,000 for a house and $5000 to $9000 for an apartment. Landlords of single-family homes are eligible for a 50-percent debt reduction after 10 years, unless the property is sold before then; loans on Section 8 properties are completely forgiven after eight years.
Yet landlords have been reluctant to sign up for the city's program. Two Burlington landlords who manage both Section 8 and market-rate units offer divergent explanations.
Stu McGowan, an Old North End resident who owns many of the brightly colored residential buildings in that neighborhood, attributes landlords' lack of interest in lead abatement to "a fear of the unknown." Local awareness about lead has increased " tremendously" in recent years, McGowan noted. But, he added, landlords are often wary of government regulation and compliance requirements.
Landlord Bill Bissonette blames the lead program itself. He claims Burlington's Office of Community and Economic Development, which administers the lead program, has done a "piss-poor job" of marketing it. Bissonette, who owns more than 200 housing units in Burlington, said he recognizes both the economic and safety benefits of lead abatement. But other landlords, he said, still don't understand how the program works (Bissonette admitted he doesn't have any specific suggestions for how CEDO could reach more landlords).
Lead experts have their own theories about the program's woes. Tanguay, the program coordinator, speculates that landlords are worried about incurring debt in uncertain economic times, no matter what the long-term benefits are. Christine Finley, deputy commissioner for Public Health at the Vermont Department of Health, points out that Burlington's 4-year-old program is still relatively new.
"I know they've done a lot of awareness stuff," Finley said. Perhaps, she suggested, the program isn't "ingrained" enough in the public's consciousness to the point where landlords feel compelled to take advantage of it.
Last fall, the Vermont Housing and Conservation Board received $3 million to remove lead in 230 units across the state. Since 1995, VHCB's Lead Paint Hazard Abatement Program has rehabilitated more than 1250 Vermont homes and apartments.
The VHCB's Ron Rupp said tenants also inhibit lead-abatement work. Since 2004, HUD has required tenants to prove that they meet certain income requirements before their landlords can qualify for lead abatement. But, Rupp said, tenants in private-sector housing are often reluctant to deal with the paperwork required to establish eligibility.
Since VHCB gets the bulk of its lead-abatement contracts through Vermont's nonprofit housing community, Rupp doesn't have trouble getting tenants to provide information - it's usually in their interests to comply, he said. Private-sector tenants, by contrast, "have some side benefits of getting a lead-safe apartment, but oftentimes, they don't understand, or they don't really care."
The Vermont Lead Law, passed in 1996, requires landlords to take steps to reduce children's exposure to lead in rental housing and to abide by "essential maintenance" practices. Landlords who fail to do so could be held liable under state and federal law.
That would seem to provide additional motivation for landlords to take advantage of the city's lead-abatement program. But Paul Dettman, executive director of the Burlington Housing Authority, said Vermont's poor record of enforcing its lead regulations has hurt the effort to rehabilitate the state's housing stock.
"In reality," Dettman said, "there have been very few enforcement actions around the state, so landlords generally disregard the issue to a large degree."
This spring, Vermont's lead law was amended to require landowners to provide lead-disclosure information before selling pre-1978 units. That's the year lead paint was banned in residential use. The Department of Health has also been working with the state's Attorney General's office to focus on enforcing lead regulations. Given those recent developments, Dettman, who is helping Tanguay market the Burlington Lead Program, hopes abatement will begin to look more attractive to Burlington landlords.
"I expect landlords would welcome the opportunity," he said, "to have someone pay to have most of the work done and reduce their liability."
For more information about the Burlington Lead Program, call 865-LEAD or email jtanguay@ci.burlington.vt.us