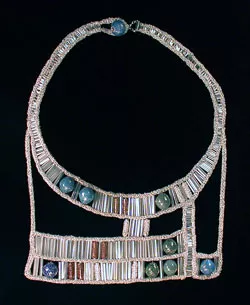 Burlington jewelry designer Jane Koplewitz has had a rough year. She endured not one but two serious health challenges, along with those of her parents and sister. In an insult added to injury, her business, Jane Koplewitz Collection, inexplicably didn't show up in the phone book's white pages. These challenges — and a declining economy — dictated some changes at the upper Church Street shop she operates with husband Peter Torrey: The couple invited other designers into what has long been a "one-woman show." Also, Koplewitz has decided to make available some extraordinary, museum-quality pieces from her private collection.
The new lines at the store come from jewelers around the country that Koplewitz and Torrey met during their nearly 30 years of attending design shows. "When I realized that I wouldn't be able to make inventory for the gallery," Koplewitz says, "Peter got on the phone, and people said, 'Absolutely, glad to help out. Wholesale is tough right now anyway.'"
Currently, JKC is carrying 10 outside designers, whose work varies widely in style — from whimsical to elegant — and price. "Our philosophy has been sort of low-end, high-end for different incomes," Koplewitz explains. "We brought in some beautiful work starting at under $50 and did not compromise our standards one iota."
The price points of her private-collection pieces are another matter. One stunning necklace with an ancient-Egyptian look — Koplewitz calls it "Ode to Nefertiti" — goes for 18 grand. (Where's Elizabeth Taylor when you need her?) The designs of these one-of-a-kind pieces tend to be more ornate than the modern, organically inspired lines for which Koplewitz has long been known.
As her friends and fellow jewelers at Grannis Gallery liquidate their Bank Street business, Koplewitz is acknowledging the current climate by offering steep discounts on her own work. "I have to make sacrifices in giving up the private collection," she says, "making up for me having been out of work for so long . . . When you deal with two life-threatening situations in one year, and the economy is like this, you just have to keep it all in perspective."
A sense of humor helps, too. That breast lump she discovered last August? "Best-case scenario," Koplewitz reports. Found early and successfully treated, it was just "the size of a half-carat diamond."