Matthew Thorsen
Model: Corey Grenier
Great fanfare greeted the first L.L.Bean to arrive in Vermont, and a long line snaked out the door when it opened on Friday, November 7, in the Burlington Town Center. That same weekend, the Maine-based company attracted another crowd on the Church Street Marketplace. Promotional announcements blared from its giant Bootmobile — a vehicular version of Bean's iconic rubber-soled boot — while a boot-tossing game earned winners small prizes such as lip balm.
The showy entrance was no surprise from such a retail superpower. Yet, half a block away that same afternoon, foot traffic was light at Fjällräven, another international outdoor-gear supplier. The Swedish company, which has a smattering of shops across the U.S. and Canada but is better known in Europe, had opened in Burlington just a few months earlier, without any ballyhoo.
While each of the stores brings new, signature products to Vermont, neither could be said to fill a gaping market void. Shoppers seeking cold-resistant coats and recreational equipment already had locally owned Outdoor Gear Exchange, right next door to L.L.Bean. And the two North Face stores downtown. And Skirack, Patagonia, Burton, the Alpine Shop and other outdoor-apparel purveyors in the area. They're all doing business as usual, more or less. And that's to say nothing of the fitness-oriented clothing stores such as City Sports, lululemon athletica and Yogarama Athletica.
Still, the addition of L.L.Bean and Fjällräven marks something of a retail tipping point in Burlington. In a state already known for its sporty, outdoorsy lifestyle, the Queen City has become a mecca for consumers of the clothing and gear it requires.
Without question, that's a boon for shoppers; in downtown Burlington alone, they can park once and walk to eight different outdoor stores. Ron Redmond, executive director of the Church Street Marketplace, says the stores' close proximity also makes it easier for managers to hire employees. Clustering, he notes, "is a natural thing that humans do."
It's far from a new idea: Since there have been markets, like-product sellers have tended to hang together. Customers want to go where they have the most and best choices. But will the proliferation of outdoor stores remain a healthy situation for downtown Burlington, where 40 percent of the retailers are national brands? Will smaller, locally owned retailers continue to prosper alongside them?
Most observers seem to think so. "The chain stores have a powerful brand and attract customers," says Redmond. He maintains that the proximity factor ends up benefiting local boutiques: "It's not unusual to see shoppers with a Banana Republic and a Sweet Lady Jane bag." Shoppers are also likely to feed the city's parking meters and seek sustenance at downtown restaurants and coffee shops. Redmond concludes: "There are no downsides for the city."
Real estate appraiser Stephen Allen, a partner in Allen & Brooks in South Burlington, thinks that the city is developing as "a power center." While it "has been losing its market share [to the suburbs] over 10 years," he says, Burlington's status is now improving. "Vacancy is at 1 percent," Allen notes. "The demand is super strong." As for the attraction of national retailers to the Queen City, he points to the "bookend of demand": 10,000 to 15,000 students on one end and "a vibrant tourist economy" on the other.
The marketing consultants for major brands have clearly, and accurately, pegged Burlington as a robust location for selling outdoor wear and gear. But what about the individual stores themselves? Will their multiplicity justify the aphorism "a rising tide lifts all boats," or will it generate too much competition?
The store representatives interviewed for this article were loath to admit that the competition was anything but good, and expressed confidence in their individual brands and services. The "outdoor mecca" phenomenon defines Burlington and Chittenden County as a market and "the lifestyle of Vermonters," suggests Andy Kingston, co-owner of the Alpine Shop on Williston Road. Yet "all the stores serve very different purposes. The goals and objectives of the chains are different than [those of] the local specialty stores," he adds.
One key difference from Kingston's point of view: He believes that national chains set up bricks-and-mortar stores primarily to enhance their online business. By contrast, he says, "The local outdoor specialty store will cater specifically to Vermonters — we can fine-tune what we know people are interested in."
As for that online competition, Redmond observes that "about 60 percent of stores nationally have some component of internet sales" these days. "But customers still like to go to stores and touch things." Of the Marketplace as a whole, he adds, "We're in the experience business."
While retailers may aim to satisfy an infinite number of different demands, consumers typically have a finite amount of money to spend in any one shopping expedition. "I'm not wary about competition in terms of my brand," says Will Vinci, who sells exclusively North Face — an internationally dominant brand — at three locations: North Face @ KL Sport on College Street, North Face Lifestyle Store on Church Street and KL Mountain Shop on Shelburne Road. "It's just about the dollars spent," he adds. "Most people have a budget."
Analyst Allen puts it this way: "When the competition gets really intense, there will be some winners and losers."
Locally owned Burton — long an international brand itself — maintains a more optimistic philosophy. "We look at Burlington and the Northeast as a whole, and it's just growing, from an outdoor enthusiast's perspective," says chief product officer John Lacy. "It's drawing a lot of new customers — vacationers, students, Canadians. It's not competition, it's more opportunity."
Vinci says he is "super positive" that the proliferation of outdoor retailers "will draw more people, and more tourism." But, he concludes, "I don't think everyone will necessarily be successful. They have to have a good story and a good brand."
Seven Days asked eight Burlington-area outdoor retailers for their stories, and photographed a "quintessential look" from each one.
Outdoor Gear Exchange
Matthew Thorsen
Model: Sarah Heerhartz
Address: 37 Church Street
Business model: independently owned
Opened in Burlington: 1995
Number of stores: 1
Number of Burlington employees: 90-plus
Percentage of sales online: 30 percent
Target demographic: college age and up
Interesting fact: When the owners of Outdoor Gear Exchange, Marc Sherman and Mike Donohue, moved from Cherry Street to their current location on Church Street three years ago, building owner Tony Pomerleau wrote into their lease an option to buy the building outright within three years. On September 26, OGE launched a crowdfunding campaign that invited customers to help the store raise a down payment. In return, investors could earn up to 130 percent back in store merchandise, discounts and other perks. To date, at least 150 customers have contributed more than $90,000 toward that goal.
How OGE distinguishes itself from the competition:
Store manager and 10-year employee Brian Wade says one of OGE's greatest strengths is its base of customers who put a premium on shopping locally. As a result, he says, the store strives to offer a wide spectrum of prices, from consignment items to last-year's closeouts to manufacturers' newest designs. Also, OGE will nearly always price-match if a customer sees an item sold more cheaply elsewhere.
Wade admits that the company could likely make more money by replacing all its equipment and gear with more apparel. "Everybody needs clothing; not everyone needs a climbing carabiner," he says. "But we try to never lose sight of the gear side of things."
Burton
Matthew Thorsen
Model: Corey Grenier
Address: 80 Industrial Parkway
Business model: Locally owned by Jake Burton Carpenter and Donna Carpenter; offices in Austria, Japan, Australia, California, Canada and China
Opened in Burlington: started in 1977, moved Burton HQ here in 1992
Number of stores: 1 flagship store in Burlington and 10 other cities (owned by Burton); 6 partner stores (co-owned with retailers) and 8 resort stores (owned by resorts)
Number of Burlington employees: 401, including 24 in retail store
Percentage of sales online: unavailable
Target demographic: 18 to 35 from aesthetic perspective, but sizes run from 2T to adult
Interesting fact: The store is built into the Burlington headquarters. "On any day, customers might bump into Jake or Donna, or a pro snowboarder," says chief product officer John Lacy. And on Tuesdays and Thursdays, he adds, the company offers public tours of "Craig's" — the 10,000-square-foot snowboard research and development facility. "We're connected to the product," says Lacy. "It's kind of jaw-dropping when customers come through the door."
How Burton distinguishes itself from its competition: A young, hip look — design that often draws inspiration from street and skateboard style. And, of course, snowboard manufacture. "Our heritage sets us apart," says Lacy. "We're grounded in Vermont but committed to the heritage of snowboarding. The other stores are mostly soft-goods oriented. We're both soft and hard — [and have] a youthful aesthetic with apparel and boards."
North Face @ KL Sport
Matthew Thorsen
Model: Colby Roberts
Address: 210 College Street, North Face LifeStyle Store, 90 Church Street, and KL Mountain Shop at 2613 Shelburne Road in Shelburne
Business model: locally owned partner store with North Face exclusively
Opened in Burlington: 11 years on College Street; added Church Street store in April 2013
Number of stores: 3
Number of Burlington employees: 31
Percentage of sales online: 50
Target demographic: male and female, 13 to 65
Interesting fact: "That we have over 1,600 different models of North Face in stock; the average ski shop might have 10," says store owner Will Vinci. His Burlington shops offer the largest amount of product of any outlet in North America, he says.
How North Face @ KL Sport distinguishes itself from its competition: Vinci is clear that it's all about the brand, which has been around since 1966. "It's stood the test of time; it's a super-high-end product that gets refined all the time," he says. Customers keep coming back to it, or return to it, because of "the warranty, the value, the price, the quality — North Face is No. 1."
Fjällräven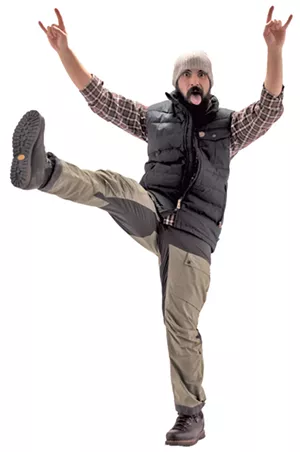 Matthew Thorsen
Model: Mike Blandina
Address: 50 Church Street
Business model: Swedish international retail chain
Opened in Burlington: 2014
Number of stores: 8 in the U.S.
Number of Burlington employees: 7
Percentage of sales online: undisclosed
Target demographic: any purchasers of higher-end outdoor apparel
Interesting fact: Fjällräven is the world's largest producer of down, all of which comes from contracted farms that slaughter their geese for food.
How Fjällräven distinguishes itself from the competition: Fjällräven is a single-brand retailer whose ethical business practices are governed by a code of conduct for all its operations. It has operated stores in the U.S. for only four years — Burlington became the sixth American "flagship store" when it opened in August — but many overseas travelers quickly recognize the company's ubiquitous red-fox logo. (In Swedish, fjällräven means "Arctic fox.") The company was founded in 1950 by Åke Nordin and earned its reputation by being the first to mass-produce external-frame backpacks.
Today, the company is still widely known for its signature line of square-shaped Kånken backpacks and leather-detailed rucksacks, as well as its trademarked G-1000 organic cotton/polyester blend apparel. Nearly all their products with G-1000 come pretreated with a blend of beeswax and paraffin waterproofing. The Burlington store has a "waxing station" where customers can have products re-waterproofed, or learn to do it themselves.
Fjällräven prides itself on its ethical business practices. Says Burlington assistant manager Casey Arnote: "We're trying to be the most sustainable and socially responsible apparel company in the world."
Skirack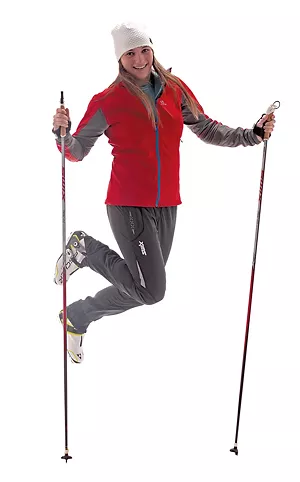 Matthew Thorsen
Model: Laura Gardner
Address: 85 Main Street
Business model: independent and locally owned
Opened in Burlington: 1969
Number of stores: 1 (also owns Patagonia Burlington, see below)
Number of Burlington employees: 55
Percentage of sales online: about 10, varies seasonally
Target demographic: a wide cross-section of people motivated by the outdoors and the pursuit of physical fitness
Interesting fact: Skirack's funky, four-level retail space at the corner of Main and Pine streets was actually two buildings that were joined in 1991. One of them once belonged to the daughter of Vermont founder Ethan Allen and her husband. During the War of 1812, the house survived a cannonball shot fired from a British ship on Lake Champlain.
How Skirack distinguishes itself from the competition: Co-owner Zandy Wheeler says that, unlike many downtown retailers that benefit greatly from drop-in foot traffic, Skirack is primarily a destination store that local-conscious consumers seek out for the staff's expertise on apparel and outdoor-recreation products.
"People come in because they're looking for selection and they're looking for advice," he says. "If you know everything about everything, you don't need us."
Skirack has earned its reputation, he adds, by having staff test all of their apparel and gear, and not carrying items that don't perform well under Vermont's diverse conditions.
"If you want to enjoy the winter, the summer, the spring, the wet, dry, the freezing, the cold, there is stuff made that's pretty elegant and effective and it doesn't have a lot of crap on it," Wheeler says, "meaning, it doesn't have 30 whistles and 41 pockets or 13 things you can't find, don't know how to use and won't work."
Patagonia Burlington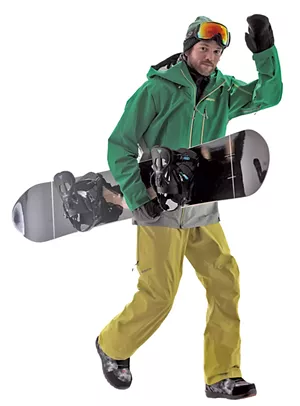 Matthew Thorsen
Model: Cody Mears
Address: 157 Bank Street
Business model: Locally owned partner store (with Skirack)
Opened in Burlington: 2011
Number of stores: 30 Patagonia outlets across the U.S.
Number of Burlington employees: 10
Percentage of sales online: difficult to ascertain for Burlington store alone
Target demographic: anyone from the avid outdoorsman to the super-technical climber to the local college kid
Interesting fact: Patagonia founder Yvon Chouinard, a longtime critic of unbridled consumerism, once wrote, "The more you know, the less you need." He was so opposed to the concept of Black Friday that, in 2011, the company placed a full-page ad in the New York Times showing a Patagonia jacket beneath the words, "Don't buy this jacket," and outlining the true environmental costs of manufacturing it. Since then, Patagonia's stores have, on the day after Thanksgiving, invited customers to "celebrate what you already own" and urged them to repair worn Patagonia items rather than purchase new ones.
How Patagonia distinguishes itself from its competition: Burlington store manager John George-Wheeler explains that, as a company, Patagonia strives to have the world's most environmentally responsible code of conduct. That means using its business as a way to inspire other corporations toward environmental change, whether it's transparency in the sourcing of garments, or where they're produced, or acknowledging that the entire industry is among the world's dirtiest for environmental degradation and human rights abuses. "Not a lot of people want to talk about that," he says. "Patagonia does."
L.L.Bean
Matthew Thorsen
Model: Ken Picard
Address: 49 Church Street (Burlington Town Center)
Business model: family owned since 1912; founder and namesake was Leon Leonwood Bean
Opened in Burlington: November 2014
Number of stores: campus of four stores in Freeport, Maine; 22 others in U.S., 19 in Japan, 53 in China and 10 outlet stores primarily in Northeast
Number of Burlington employees: 100
Percentage of sales online: unavailable
Target demographic: outdoor enthusiasts ages 25 to 65
Interesting fact: The flagship store in Freeport, the birthplace of L.L.Bean, is open 24 hours a day, 365 days a year. "We never close and none of our doors has locks on them," says public affairs representative Mac McKeever.
How L.L.Bean distinguishes itself from its competition: "Our rock-solid, 100 percent satisfaction guarantee is one of the best in the industry," says McKeever. "We want you to return anything purchased from us at any time if it proves unsatisfactory." And the company "empowers the customer" to determine what satisfaction means to that person.
L.L.Bean not only promotes but teaches the outdoor lifestyle through its Outdoor Discovery Schools, which offer "a variety of demonstrations, clinics, seminars, courses, trips, tours and outings out of each of our retail stores," says McKeever. These schools, he adds, "are our brand personified, our brand in action." Finally, he notes, L.L.Bean donates hundreds of thousands of dollars each year to environmental, conservation and outdoor sporting nonprofits that are "working hard to make the outdoors a better place for all of us."
The Alpine Shop
Matthew Thorsen
Model: Corey Grenier
Address: 1184 Williston Road, South Burlington
Business model: family/locally owned
Opened in Burlington: 1963, by Chuck and Jann Perkins; passed to their children in 1993 and sold to Andy and Becky Kingston in 2011
Number of stores: 1
Number of Burlington employees: 30-60 depending on season
Percentage of sales online: about 20
Target demographic: 25 to 64, but generations of families including children
Interesting fact: "What jumps out to new customers is that it's not just a ski shop; we cover a lot of areas," says co-owner Andy Kingston. By which he means that the store carries not just apparel and gear for skiers and snowboarders but also bicycles and tennis equipment and clothing. Kingston says that people are often surprised, too, "by our fashionable clothing-boutique approach." Never mind the slopes; women and men "looking for clothes for a night on the town" can find them at the Alpine Shop, he says. A Vermont-style night on the town, anyway.
How the Alpine Shop distinguishes itself from its competition: The store has attracted multiple generations of loyal customers in part because of a leasing program for kids' equipment. The family-friendly tone is also set with quirky events such as free-waffle weekends and offering a discount to customers who show up wearing lederhosen. And though the company is not alone in making philanthropic contributions, Alpine Shop promotes, in store and out, the Flyin Ryan Hawks Foundation — named for a late Vermont freeskier — and is actively involved in Special Olympics Vermont. Mostly, though, Kingston says the Alpine Shop sets itself apart from national chains by carrying brands that are "specifically selected for Vermonters."