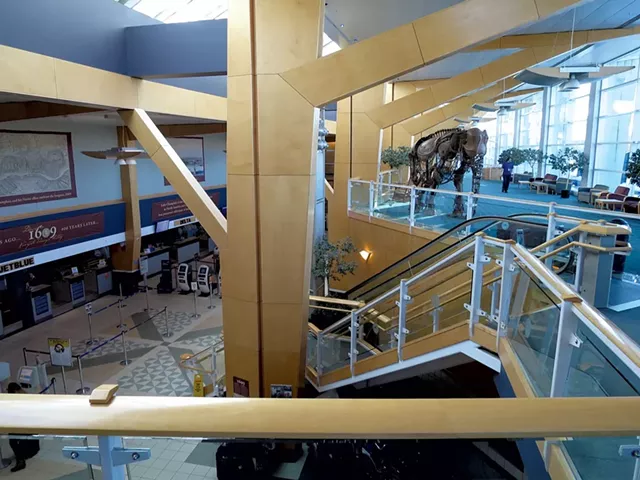 For many adults, airports evoke stressful memories of lost luggage and prolonged layovers, so it's easy to forget the intrigue they hold for a child. To them, airports offer expansive corridors to run, elevators and escalators to ride, and floor-to-ceiling windows for watching massive jets arriving from and departing to exotic locations.
When you're not rushing to catch a flight or schlepping 100 pounds of luggage, Burlington International Airport is a perfect place to kill an hour or two with the little ones.
I took my kids — Manya, 7, and Ezra, 4 — to BTV in South Burlington on a recent evening when their mother worked late. We parked in the garage, took the elevator up to the second-floor skyway and crossed over to the main concourse, where the "What's that, Daddy?" questions commenced immediately — about the control tower, baggage carts, whirling radar, even an aluminum chimney.
While Manya cartwheeled past a row of rocking chairs that faced the runway, Ezra studied a blue-green mural, one of four airport murals by local artist John Anderson, that surrounds a skylight.
Ken Picard
Manya and Ezra taking in the view from the observation deck.
From there, we climbed the stairs to BTV's rooftop observation deck. Built in 1950, it offers a spectacular panoramic view of the Champlain Valley and Green Mountains, from Camel's Hump to the Georgia Mountain wind turbines. It's a great place to watch planes take off and land, as well as ground crew refuel planes, unload luggage and shepherd planes to their gates. You can also see the current air-traffic control tower that — along with hard-to-decipher audio of controllers communicating with nearby planes — inspires conversation about how pilots navigate the skies.
More serious aviation nerds, or those with older kids, may want to download the smartphone app Plane Finder AR beforehand. Based on your location, it identifies every plane's flight number, airspeed, altitude, destination and distance from the airport.
After the observation deck, we explored the rest of the terminal's less visited second floor. There we found a piano for Ezra to bang on, a Ping-Pong table (with extra balls!) and model antique aircraft hanging from the ceiling.
We ended our visit by riding the escalator to the first floor. "Woo-hoo!" the kids shouted as they carefully stepped on. Watching their delight, a red-haired woman smiled and remarked, "Simple pleasures."
Indeed.
Details
Pros
Parking is cheap — $1 for the first hour, $2 thereafter — safe and relatively plentiful.
Public bathrooms, with changing tables, are ample and clean.
There's a private room for nursing mothers.
Burlington City Arts curates public shows in a second-floor gallery.
Cons
Not many food options unless you pass through airport security.
Grumpy travelers may not appreciate your raucous kids, or their piano playing.
Kids might be disappointed when they realize they're not boarding a plane; warn them ahead of time that you're just there to explore!
Burlington International Airport, 1200 Airport Drive, South Burlington