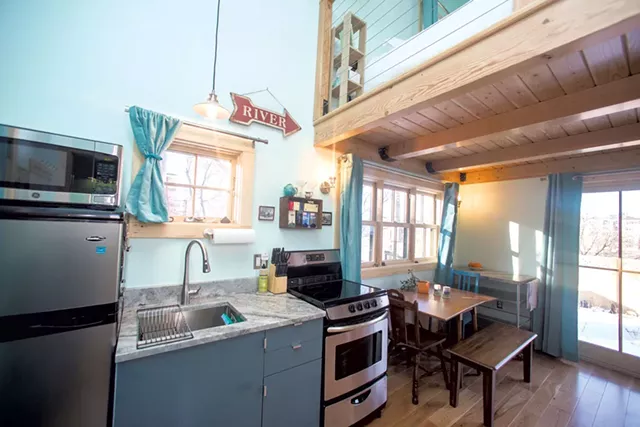 Courtesy Of James Buck
Kitchen with dining nook
Eva Sollberger didn't set out to become an innkeeper. But shortly after construction began last year on an addition to her Burlington home, the idea of renting out her tiny backyard house as an Airbnb property started to make dollars and sense.
Sollberger, 44, lives in an 1890s-era home overlooking the Winooski River that likely once housed workers from the nearby woolen mills. When she purchased the property in 2007, it included a stand-alone garage and tool shed, which she knew would one day need to be renovated or removed.
Initially, she planned to demolish the outbuildings and erect an "accessory dwelling unit," aka a mother-in-law apartment, for her mom. But due to some legal snafus, the construction and permitting costs ran much higher than Sollberger had anticipated — about $150,000.
Then some friends who operate a traditional bed-and-breakfast nearby suggested that she'd get a better return on her investment by renting out the space to short-term visitors through Airbnb. (Sollberger's mother now lives with her in the main house.)
Today, Sollberger is one of 3,700 Airbnb hosts in Vermont. For those unfamiliar with the concept, the online booking service connects travelers to short-term rental lodgings in people's homes, apartments, vacation cottages and other properties. Though at least 10 other online hospitality sites provide similar services, Airbnb is the world's largest. In 2017 alone, Airbnb properties hosted 232,500 visitors to Vermont — for an average stay of 2.6 days — and paid $3.5 million in state room and board taxes, according to company-provided data.
Sollberger's rental house is small and cozy — just 270 square feet, including the loft bedroom — but uses its space efficiently. It features beautiful cherry hardwood floors, Douglas fir beams supporting the loft, and a bathroom with a full shower. Ample windows let in plenty of light, making the place feel spacious and airy.
A downstairs couch converts into a bed, so the house can sleep as many as four. The kitchen is small but includes a fridge, microwave, sink, four-burner stove, oven, coffee maker and quartzite countertop, all of which exceed the offerings found in most hotel kitchenettes.
Sollberger said she decorated her rental unit "with a nod to the historic" and to highlight its proximity to Winooski, which is visible through the back windows. Her eclectic décor includes large prints of historic black-and-white photos of female workers from the nearby Chace Mill, a historic map of the city of Winooski, and an aerial photo of the neighborhood taken shortly after the Great Flood of 1927.
Sollberger, who is the senior multimedia producer for Seven Days, also stocked the house with plenty of books and work by local artists — including at least half a dozen she has featured in her video series "Stuck in Vermont." She's even put together a binder about all the people who've lived in her house, as well as links to her videos.
"For me, the history and the neighborhood is why I love it here," Sollberger said.
She's admittedly still an Airbnb "newbie" — she just hosted her first guest last month. But Sollberger has clearly done her homework on what will attract guests and eventually get her rated as a "superhost," an elite rating for hosts who go above and beyond for their visitors.
To that end, she provides her guests with a continental-type breakfast of granola, coffee and juice the first day. She also stocks the kitchen with other basic necessities and the bathroom with toiletries.
"It's like a home. What would I like if I were traveling?" she said. "Hopefully, this has everything you would need."
What advice does Sollberger have for other homeowners who are thinking of converting spaces into Airbnb rentals?
First, be prepared to make an investment in the little things that add up to making travelers feel at home. Sollberger said she didn't skimp on the quality of her sheets, towels, glasses and flatware, because all will need to be washed often. She noted that she'll even pick up travelers at nearby Burlington International Airport, which is less than 10 minutes away.
Finally, Sollberger insisted on doing everything by the book, including getting short-term renters' insurance and ensuring that all construction was up to code.
"I personally would do all the permitting," she advised. "I know that's not to everyone's taste, but it makes me feel better that I've dotted my i's and crossed my t's."
It's anyone's guess how many other Vermonters are currently building additions or converting old barns and carriage houses into short-term rental properties. Neither the state nor national home-builder associations, nor Airbnb, could provide data on this trend.
That said, the City of Burlington's code enforcement office is well aware that many such rental properties are out there, some flying under the radar.
David White, director of Burlington's Department of Planning and Zoning, had no hard data, either, on how many local homes are being used to host guests of Airbnb and other online booking sites. "But I think what we're seeing is just the tip of the iceberg," he surmised.
According to White, enforcement actions and fines against unpermitted bed-and-breakfasts have become "a pretty common occurrence." Oftentimes, immediate neighbors will file complaints with the city about excessive traffic or cars taking up parking spaces reserved for permanent residents.
White recommended that homeowners who are considering following in Sollberger's footsteps start the permitting process early, as it can take weeks, if not months, to complete. Failure to do so can be costly, he cautioned. A single zoning ordinance violation can result in a fine of up to $200 per offense. Violations of building and life-safety codes — such as missing fire extinguishers or nonfunctional smoke and carbon monoxide detectors — are even more serious and can result in criminal penalties.
To head off such problems, Vermont lawmakers are now considering a bill that would require all Airbnb hosts, as well as those of other short-term lodging services, to register with the state.
Despite her big up-front expenses, Sollberger sounded cautiously optimistic that charging $120 per night with a two-night minimum will give her a solid return on her investment.
"God, I hope so!" she said with a laugh.