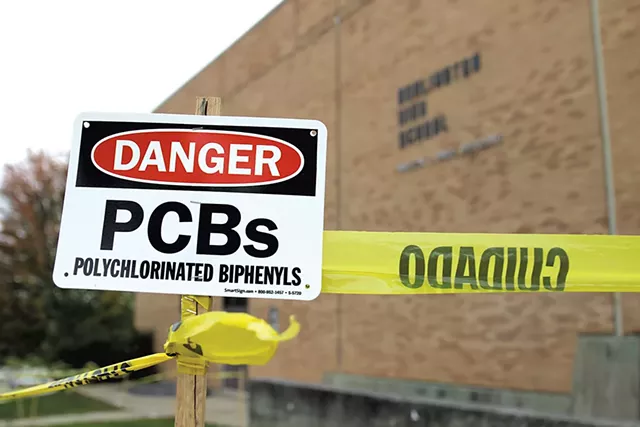 Courtney Lamdin ©️ Seven Days
Signs warning about PCBs at Burlington High School
Linden Bronz-Russo was ready to return to Burlington High School's aging buildings this month, even though she'd only be there part time. The school on Institute Road had planned a hybrid teaching model in which groups of students would alternate between in-person and virtual classes. The 17-year-old senior was excited to see her friends after months of isolation during the coronavirus pandemic.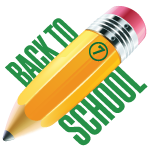 On September 9, the day before students were to return, Bronz-Russo and her classmates got disappointing news: The school would remain closed for days. Tests had detected high levels of polychlorinated biphenyls (PCBs) in the air of one school building.
The tests were done in preparation for a $70 million renovation of the high school campus, and the results were concerning. Readings in the F Building — which houses the Burlington Technical Center and classrooms for students with intensive special needs — detected the cancer-causing chemicals at levels 10 times higher than the safety standard set by the U.S. Environmental Protection Agency.
The news got even worse last week, when tests showed PCBs in the air of every building on campus. Superintendent Tom Flanagan announced that school won't reopen until at least January. All classes will be taught online while the district investigates the air quality issue. Bronz-Russo was crushed.
"It's very demoralizing and exhausting to do day after day of online school," she said. "At some point, it feels like we're not learning; we're just turning in assignments."
The discovery of PCBs has thrown an already chaotic school year into complete disarray. School officials are fielding health questions from anxious parents and teachers while scrambling to find space off-campus where they could resume in-person classes. Meantime, between COVID-19 and the chemicals, the plan to break ground on the renovations by summer 2021 is quickly slipping away.
Flanagan, who's been on the job just three months, has a decision to make: Does he spend the school's limited funds on testing and remediation, or does he fast-track construction, knowing that could displace students even longer? Either choice will likely require the school board's approval. Flanagan hopes to have a better answer when the body next meets on September 29.
"This is just a big decision," he said. "I can't say where we're headed."
Burlington High School was built in 1964 as a maze of six buildings. Since then, the buildings have deteriorated. The enclosed ramps that link them are too steep to comply with the Americans with Disabilities Act, and not every building has an elevator. The heating and ventilation systems need upgrading, too.
City voters approved a $70 million renovation bond in November 2018. Known as the ReEnvisioning Project, plans call for C Building to be demolished and a new three-story structure to connect the existing A and B buildings. Every school building will get a new roof and sprinkler system and improved stormwater control. Inside, students will enjoy many larger classrooms, and teachers will have access to more conference rooms.
The EPA requires testing for hazardous materials before any major school construction project. School leaders are familiar with asbestos, the fibrous material once used in insulation and flooring, but are less used to encountering PCBs. The term is a catchall for more than 200 man-made chemicals frequently found in window caulking and light fixtures in buildings constructed between 1950 and 1979, after which time they were banned by the EPA. The chemicals have been shown to cause cancer in animals and can wreak havoc on the reproductive, endocrine and nervous systems. Materials containing PCBs can be removed and disposed of, but often at a high cost.
Burlington High School first discovered PCBs in June 2019. The chemicals were widespread in window caulking, exterior walls and soils.
"That got our attention," project manager Tom Peterson told school commissioners last week. "That first finding led to more testing, and that further testing led to more questions. There were some anomalies in the data that ... even our environmental consultants were scratching their heads."
The district brought in a Connecticut-based firm to sort out the wonky data, but not until this spring. The project team was more focused on designing the renovations, which had come in $20 million over the $70 million budget and in turn had prompted a monthslong discussion on how to cut costs. The redesign was finally approved in March 2020 but no longer included F Building, which would later show the highest levels of PCB contamination.
Then the coronavirus hit, delaying the Connecticut consultants' arrival in Vermont. Their final report wasn't complete until mid-August, at which point regulators allowed the school to perform air quality tests. Those were conducted on September 2 and 3, just days before the start of school.
Some of the numbers were staggering. One room in the F Building registered 6,300 nanograms per cubic meter, while the EPA standard is between 500 and 600 for high-school-age students. Other readings ranged from an infinitesimal 1.1 nanograms per cubic meter in the A Building's gymnasium to 300 in the D Building's home economics classroom. While none of those measurements exceeded EPA standards, many were above the Vermont Department of Health's limit of 15 nanograms per cubic meter. Regulators suggested Flanagan close the school.
"I don't think there was a lot that we could have done to affect the timing of this," Flanagan said, adding, "I know our community's disappointed ... but I think it's the right decision."
Megan Munson-Warnken, who is the mother of two Burlington high schoolers, is skeptical. She's read Flanagan's memos and a list of frequently asked questions about testing on the school website. The timeline doesn't add up, Munson-Warnken said. She thinks school leaders could have pushed harder to complete sampling this spring when the school was empty.
"COVID as an excuse feels convenient," she said.
Adam Bluestein, also the parent of two high school students, wonders why the district didn't investigate PCBs' health effects when they were first found in June 2019. "Where was the urgency?" he asked.
School faculty are worried, too. "Every single teacher was googling [PCBs] this week," said Josepha Austin, a special education and science teacher who has worked in F Building for five years. A classroom near her office measured 1,300 nanograms per cubic meter, more than twice the EPA's limit. While she's concerned for her own health — and may schedule a blood test — Austin worries more for her special education students, whom she described as the most vulnerable in the school.
Austin's colleagues have raised concerns about air quality for years. In 2004, the Burlington Education Association filed a grievance on behalf of three high school teachers who were hospitalized with health conditions they blamed on poor air circulation. The district denied their request for additional sick days, the Associated Press reported then. Tests the high school performed in 2004 and 2005 "concluded the building had no significant air-quality problem," according to the Burlington Free Press.
PCBs are present in at least one other Burlington school. Champlain Elementary was one of four schools that participated in a state testing program in 2013, after several New England schools reported high concentrations of PCBs. Four of 20 samples came out higher than health department standards, with a high reading of 65 nanograms per cubic meter in a teacher workroom. Officials at Champlain replaced old light fixtures and adopted new cleaning protocols based on state recommendations.
State toxicologist Sarah Vose said there's no way to know how long the chemicals have lurked in the air at Burlington High School. Some PCBs are volatile, meaning they tend to migrate from a solid state into the air, while others stay put. Contamination levels can change over time.
"It's impossible to go back in time and try to predict what the indoor air levels were a month ago, six months ago, one year, five years," Vose said. "Since we know there is a source inside the building, it's likely that people who spent time there were exposed to some level of PCB, but it's impossible to say how much."
Andrew Styles, president of the Burlington Education Association, is concerned about any exposure to the chemicals. Last week, the teachers' union issued a joint statement with the union representing maintenance workers, calling on Flanagan to conduct air quality tests in all nine schools.
"We have a lot of older buildings in the district," Styles said, adding, "People are concerned that they may have been breathing those elevated levels in for years at this point."
The proposition is an expensive one. Burlington High School has spent more than $100,000 on testing to date. If the other schools were found to have high levels of PCBs, the cost to remove them could run into the millions of dollars. As it stands, the high school project budgeted just $1.3 million to abate hazardous materials, including asbestos. That was before officials knew the extent of the PCB contamination; asbestos was also found in some buildings.
"I don't think that [amount of money] will hold up under these circumstances," Peterson, the project manager, said, "but I really have no way of knowing until the investigation continues."
Despite regulating PCBs, neither the state nor the federal EPA offers grants to test for the chemicals or to clean them up. Flanagan worries that spending school funds on costly tests and a lengthy abatement process would eat into the renovation budget and further delay the project. And the longer a project is put off, the more inflation drives up the cost.
That's why Flanagan is considering another option: relocating all 990 high schoolers and 240 tech center students to other indoor spaces around Burlington. If traditional teaching could resume elsewhere, construction could possibly begin on time and the school system could avoid costs associated with delay, he said.
The district has already found a temporary solution for the 27 students who attend OnTOP, a program for students with emotional and behavioral disabilities. The Rock Point Center, a conference center and wedding venue owned by the Episcopal Diocese of Vermont, agreed to host the program until the beginning of October. The district is paying $1,750 per week to rent the facility, which is less than a mile from the high school, Flanagan said.
"I think we can probably find them a place long-term, too, pretty easily," he said. "It's the high school that's going to be a challenge."
Some students and parents are already rising to it. The day after Flanagan's announcement, Munson-Warnken started circulating a Google Sheet titled "BHS Alternate Sites Brainstorm." In just 48 hours, she and other contributors listed dozens of possible makeshift classrooms. The suggestions range from the practical, such as unused college classrooms and churches, to the cheeky: "Build a new downtown high school in the big hole?" one person wrote, referring to the infamous CityPlace Burlington pit.
"We could be thinking outside the box," Munson-Warnken said. "Sort of like COVID, there's incredible potential here to actually create something better than what there was."
Munson-Warnken didn't know that Flanagan was also crowdsourcing classrooms until she told a school board member about her own project. It was welcome news, but Munson-Warnken thinks school administrators need to reassure parents that they're trying to get kids back into school. "Communication would do a lot to bolster morale," she said.
Mariposa Davis, a 16-year-old Burlington senior, also wants to put the pressure on. Last week, she started a petition on change.org demanding that school leaders find another option for in-person learning. Her friend, Bronz-Russo, was among the first to sign.
"This is a solvable problem," Bronz-Russo said. "We totally understand that this is not going to be an instantaneous change that happens overnight, but if we rally together, I think that this can happen relatively soon."