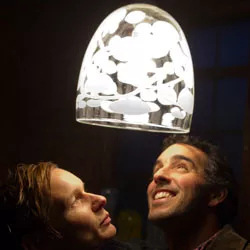 Matthew Thorsen
Tove Ohlander and Rich Arentzen
Once you fire up the furnace in a glass workshop, you can't just shut it off. You might turn it down a bit once a year to give the beast a rest — from its scorching 2100 degrees — but for the most part, it rages day and night.
Glassmaking is a hot business, and pricey, which is why Tove Ohlander and Rich Arentzen, owners of Arentzen & Ohlander Glass in Burlington, are trying out an unconventional way to keep afloat in an unforgiving economy: a CSArt.
"The CSA for agriculture makes so much sense," Ohlander says of community-supported agriculture. "It resonates well with us; we invested in all this, we believe in what we do. We want to spread the passion, the joy of what we do."
The CSArt works like this: Members can invest at different levels — from $300 to $1500 annually — and four times a year receive a selection of seasonal glass art, from vases and ornaments to wine glasses, salad bowls and pitchers, or take glassblowing classes.
"This is a serious business," Ohlander says. "There's a big overhead. The furnace has to be on all the time. To be able to plan our production is amazing, it takes off so much pressure."
To encourage the public to engage with the glassmaking process, the married artists are consolidating their business — which also includes glass production, a shop, glassmaking classes and events — into a single workshop in the Howard Space behind Speeder & Earl's on Pine Street. The new space will be called Clear Story Arts.
On pick-up nights, members will be treated to an artist demonstration at the workshop, and Ohlander says she might toss some pizzas into the annealer, the oven used to slowly bring down the temperature of a finished glass piece. The one at Clear Story is painted to resemble the flag of Ohlander's native Sweden, where the couple met.
The studio, with its brick walls and vine-covered windows, will be open to the public five days a week so visitors can see how the glass is made and feel the furnace's heat. The new space is small but airy, thanks to the row of clerestory windows along a raised section of the roof.
Those windows are also responsible for the workshop's new name. "I was seeking some clarity last summer, sitting in Sweden overlooking a lake," she says. That's when her husband called and told her about the space. The architectural term is pronounced "clear story."
Working on glass with Arentzen "is a little bit like dancing," Ohlander says. "You've got the flow of the moment, you only have a certain amount of time, you have to trust the other person."
To create a piece of graal — using a Swedish technique developed in the 1920s and one of the couple's specialties — Arentzen begins with a small, colored glass egg. His wife then covers it in protective matting and carves an illustration onto the surface of the egg. Then she gives it back to Arentzen, who reheats the egg, blowing it up like a balloon until it "hatches" as a bowl or vase.
It's difficult to know exactly the size and shape the piece will take, and how the illustrations will expand, until the moment he takes it out of the furnace, Ohlander explains. So they make decisions quickly. And they don't always agree.
These artists came to glass from different perspectives. Arentzen began as an apprentice to Alan Goldfarb in Burlington, working from the start on elegant, Italian-style wine glasses.
Ohlander learned her craft at Sweden's Orrefors Technical Glass School, about an hour from her hometown in the heart of what she calls Sweden's "kingdom of glass." The place served as a kind of pipeline for the local glass factory. Students were told to "their artistic dreams on the shelf," she explains.
Now the couple's dreams — using their art to create a community hub — are center stage in Burlington. "There have been signs of a lot of glassblowers quitting," Ohlander says of the tough economic climate. "For us, we've been lying low, but we didn't want to give up."