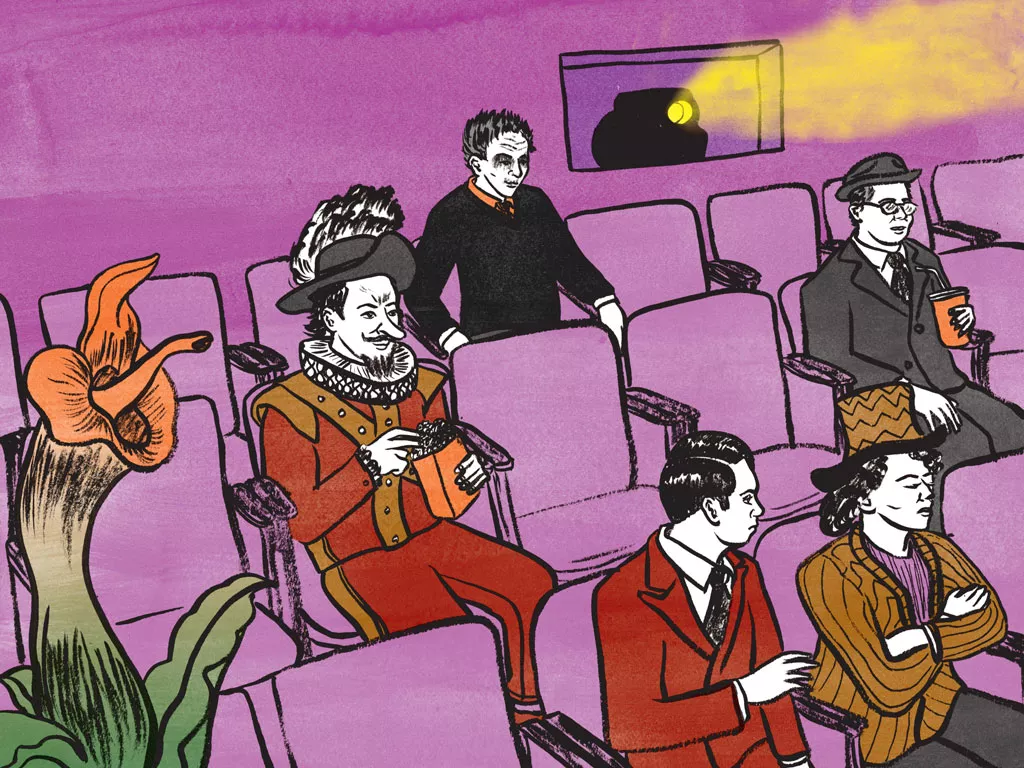 When television made major inroads into the American lifestyle in the 1950s, big Hollywood studios reacted with panic. The rabbit-eared box in the living room was sure to spell ruination for motion pictures as we knew them. Of course, that was before the studios realized that TV was the perfect way to spin their film libraries into gold. The broadcasting of old movies generated profit for the studios, filled up stations' programming schedules and introduced millions of Americans to "vintage" cinema.
Now, two Burlington groups have taken a page from history in striking up a similar arrangement. A new series on the city's Regional Educational Television Network (RETN) is showing classic films — with a local twist.
For each episode of "Burlington Film Society Presents" — the first of which aired on February 8 — a prominent local arts figure selects a classic film and records a brief spoken introduction to it. Among the presenters are Orly Yadin, executive director of the Vermont International Film Foundation (VTIFF); John Killacky, executive director of the Flynn Center for the Performing Arts; and Barry Snyder, cofounder of the Burlington Film Society (BFS). Each host speaks about the ways in which his or her chosen film is personally significant.
Snyder hosted the show's initial broadcast of the 1963 sci-fi classic The Day of the Triffids, about an alien race of carnivorous plants. An adjunct film professor at Burlington College, he's one of the co-creators of the series with BFS cofounder Eric Ford. They partnered with RETN to develop the show, which aims to put a Vermont spin on vintage Hollywood.
Drew Frazier, content manager for the community-focused network, says that signing up prominent local arts figures was a vital component of the show from its inception. "We've long wanted to put a [film] series together," he says, "but we really felt like we needed a local context for that. It's more relevant to our mission when we can distribute films like these through some kind of local context. That was always the question: How do you get a local angle out of these films? We thought, Well, let's talk to the film society. They can bring some ideas to the table."
Frazier adds, "We're able to fulfill our mission better when we partner with community organizations. Partnering with Burlington Film Society, whose mission is to cultivate film culture in the area, just made perfect sense."
Snyder concurs, and says the taped introductions from passionate cinephiles fit RETN's educational mission.
Presenters can't select just any film they happen to love; all titles are licensed from longtime independent distributor Corinth Films, which specializes in non-mainstream cinema. The movies Corinth makes available to TV stations span many genres and tend toward Hollywood's past. Future episodes of "Burlington Film Society Presents" may highlight such gems as the western One-Eyed Jacks (1961), the only film Marlon Brando ever directed; the atmospheric 1948 film noir He Walked by Night; or even the schlocky 1951 Lon Chaney Jr. B-picture Bride of the Gorilla. Viewers will have plenty of chances to catch any films they miss: RETN has negotiated two-year unlimited-broadcast licenses for every film in the series.
Underlying the enterprise is a genuine cinephilia. If the show is "about" anything, it's about the ways that movies of all kinds inspire local audiences. Snyder says the purpose of "Burlington Film Society Presents" is to spark "a broad discussion about how we're all attached to movies in different ways."
Curious viewers can get a sense of the show's flavor by visiting RETN's website to watch trailers for the films and teasers for the locally produced intros.
The series' initial run — in which Yadin will present Ida Lupino's The Bigamist (1953) and Ford will present the low-budget horror classic Carnival of Souls (1962), among other films — will last six weeks, but RETN already plans to renew it for at least another six. Snyder says he's reached out to other potential hosts in the local arts community.
Frazier and Snyder are well aware that the new show evokes the bygone goofy-accented, cape-wearing oddballs who often introduced public-domain monster movies on local network affiliates in the 1950s and '60s. They revel in that association and hint that a possible Halloween episode could deliver the same thrills 'n' chills.
At press time, no one had yet assumed host duties for a showing of the campy 1932 Bela Lugosi picture White Zombie.