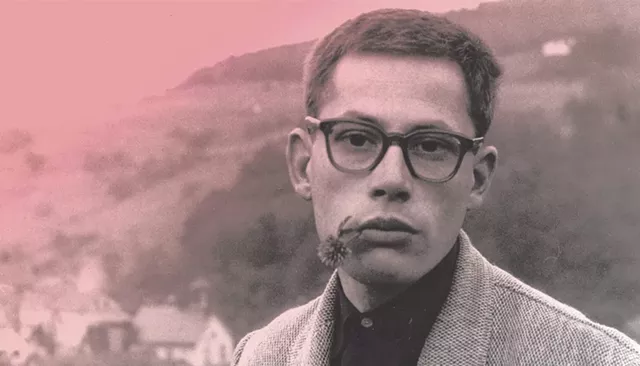 Courtesy Photo
Dieter Rams circa 1960
One learns about German industrial designer Dieter Rams at one's peril. First, I investigated the chairs and shelving system that he created for Vitsœ, whose website has an extremely tempting "Get a system like this" button. Next, I checked out the everyday products he made for Braun, each of which is better designed than the ones I own: hair dryer, coffee maker, watch. Which tempted me to explore eBay.
Finally, I learned Rams' 10 principles of good design, originating in the radical idea that making a product destined for obsolescence is a crime. Which led me to the despairing thought: Why aren't we living in a Rams-designed world instead of our unsustainably disposable one?
The designer shares that despair, as viewers will learn at a screening of the documentary Rams on Wednesday, November 13, at Burlington City Hall Auditorium. The third of eight films in this year's Architecture + Design Film Series, the movie explores not only the 86-year-old's design philosophy and iconic products but his regrets.
Film series cofounder Lynda McIntyre quotes Rams' surprising words from the film: "If I had to do it over again, I would not want to be a designer [...] There are too many unnecessary products in this world."
McIntyre, a painter and retired University of Vermont studio art professor, adds, "If your philosophical approach is to not be wasteful, you run up against [the imperative] to make things more trendy in order to sell more. I think that's one of the important aspects of this film. We need to have a discussion about this. How much do we really need?"
Rams' influence on design cannot be overstated. He excelled at integrating function with beauty while adhering to the most austere minimalism.
"Look at his radios, for example," Vermont architectural historian Devin Colman writes in an email. "The decorative and functional elements are one and the same. There's no extra trim, no decorative patterns, no excess material — only what is necessary both visually and functionally."
Rams is often cited as the inspiration for today's Apple products. Burlington resident Jerry Manock, who worked for Apple from 1976 to 1985 and designed the Macintosh computer, first studied Rams in 1968 while earning a master's in product design at Stanford University.
Manock recalls Rams' principle that good design is long lasting: "He didn't believe in style. The product ought to function clearly and move well beyond the fashion world."
Ironically, Apple now issues new iterations of its products almost biannually. "When they came up with the iPhone, that was incredibly innovative," Manock says, "but now, when the software goes out of date, yours becomes obsolete. Company profits take precedence over long-term goals. It's very regrettable."
Manock says that, beyond individual product design, Rams is significant because he "extended the Bauhaus into the modern age" — referring to the multidisciplinary German school of design and architecture that the Nazis shut down in 1933.
Rams, born the previous year in Wiesbaden, trained as an architect and took his first job in 1953 with Frankfurt architect Otto Apel. He later headed a collaboration of the Ulm School of Design — Bauhaus' successor, established in the 1950s through the Marshall Plan — and Braun, where he was product-design director for four decades.
"Much like Frank Lloyd Wright designed architectural structures and furniture and the whole experience of living in a house," Manock says, "Rams has done the same thing: designed the shell, the chairs, the shelving."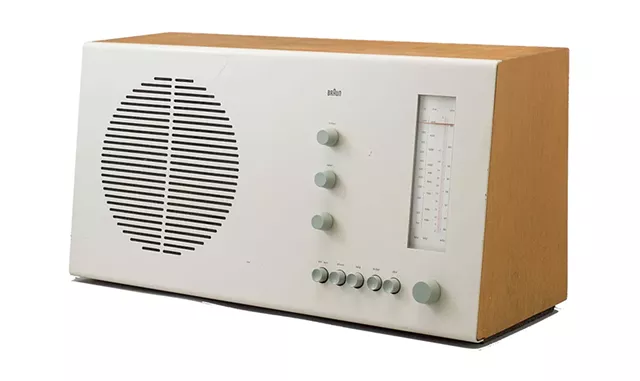 Courtesy Photo
Tischsuper RT 20 Radio, 1961, by Dieter Rams for Braun
Manock, who teaches a class on integrated product development at UVM, gives his students a list of the 12 most influential designers to study. They include Ludwig Mies van der Rohe, Charles and Ray Eames, Buckminster Fuller, and Rams.
"He's an iconic, brilliant, brilliant designer," agrees Michael Jager, cofounder and creative director of the Burlington design firm Solidarity of Unbridled Labour. Like Manock, Jager says Rams' larger influence came from his "system-based sensibility in which form, packaging and messaging were harmonized and synchronized."
That sensibility "undoubtedly infiltrated" the design for the Microsoft Xbox, a project of Jager's former design firm, Jager Di Paola Kemp, he says. "The Xbox was thought of as an entirety: The logo is related to the form factor of the console, which is related to the animation of the games, which is related to the packaging."
Jager notes that Rams' design principles came from his awareness of impending environmental disaster. "He could see consumption escalating through the '60s and '70s, and he knew we were going down the wrong path.
"It's worth seeing the film just to hear Rams express his principles of good design," Jager adds. "He's like a German Yoda."
McIntyre already knew about Rams when she worked for Condé Nast's art department in the late 1960s, doing layout and graphics for Vogue and Mademoiselle. "I've always been a real fan of Rams' work from the time I was cognizant of beauty," she says.
McIntyre still enthuses over her first Braun product, a hair dryer, purchased in the late 1960s. "The design was simple, small, no excesses — and it worked for more than 15 years," she says. "I would probably still be using it if I still dried my hair."
The film series team — McIntyre, architect Andrew Chardain and eco-flooring business owner Karen Frost — hopes to display Braun and other Rams-designed objects onstage at City Hall Auditorium for viewing before the film. McIntyre asks anyone who can locate any "turntables, electric shavers, Oral-B toothbrushes, hair dryers, coffee makers, calculators, speakers or alarm clocks" designed by Rams to email the team at adfilmseries@gmail.com.
McIntyre and Jager are also fans of Rams' director, Gary Hustwit. The documentarian's previous films include Helvetica, about the iconic font; Objectified, about industrial design; and Urbanized, a look at city planning with a global scope.
"The film is beautiful and engaging," McIntyre says of Rams.