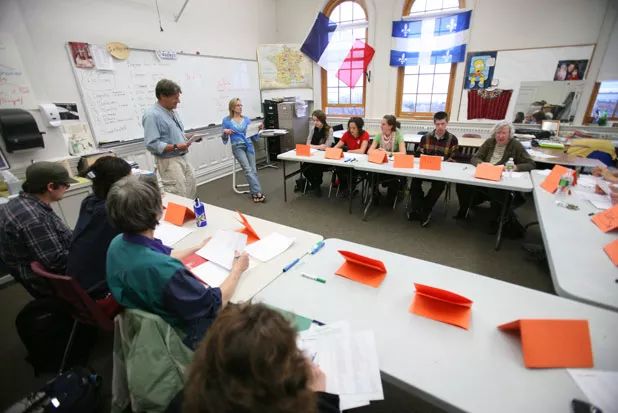 Jean-Paul Farineau (left) and Kim Chase teach free French lessons for downtown workers.
Geoff Bennington encounters French-speaking Canadians almost every day at Burlington Guitar & Amp, where he works as a sales clerk. He'd like to greet the visitors in their own language and maybe even understand what they're saying as they browse. But Bennington doesn't speak a word of French.
That's why he's enrolled in a free, five-week French class for downtown retail and hospitality workers organized by Alliance Française of the Lake Champlain Region. Bennington and 14 other students from across the downtown service sector are learning phrases and tips to help them engage French-speaking tourists from Québec.
The timing of the sudden welcoming effort may seem odd, considering Canada's cross-border commerce predates Samuel de Champlain. But the classes grew out of an effort to accommodate our northern neighbors during last summer's Quadricentennial celebrations, says Steve Norman of Alliance Française. Retailers rose to that occasion. Many Church Street Marketplace businesses put stickers in their windows proclaiming, "Bienvenue Québecois," and one of the information kiosks on the pedestrian thoroughfare hired French-speaking staff.
Also in preparation for the Quad, the Lake Champlain Regional Chamber of Commerce translated part of its website into Québecois French. More recently, LCRCC produced a pamphlet answering 20 common tourism questions in French. "This has really been a grassroots effort. There's really a need here," says Gen Burnell, the Chamber's director of communications.
Offering French lessons for merchants is a logical next step in courting the coveted Québecois. Speaking French "is a sign of respect and an acknowledgment of their unique culture," says Ron Redmond, director of the Church Street Marketplace. If they feel comfortable in our city, he says, Francophones are more likely to visit, and that's good for all Burlington businesses.
It's difficult to determine just how many Québecois journey south to Vermont. The only hard numbers come from the Burlington International Airport, where between 35 and 40 percent of air travelers hail from Canada. They come seeking cheaper fares, and many stay overnight thanks to hospitality packages designed to attract their business, notes Burnell.
Apart from those figures, the Chamber has only anecdotal evidence to suggest French Canadians make up a large percentage of visitors to the state, Burnell admits. "On a gorgeous day, you'll definitely hear a lot of French on Church Street," she says.
Reports from merchants — bolstered by the favorable, at-par exchange rate — are such that Vermont business organizations are starting to take the French Canadian influence seriously. Local realtor and honorary French consul Ernie Pomerleau ponied up $1500 to make the Alliance Française classes happen. His company is the largest property owner on the Church Street Marketplace.
On a recent Tuesday night, adult students from across the city's service sector gather in Jean-Paul Farineau's French classroom at Edmunds Middle School to learn some termes de commerce. Some of the students, like Bennington, are new to French. Others, like City Market cashier Cynthia Montana, are returning to the language after a very long hiatus.
"Ecoutez et répétez," says instructor Kim Chase who is of Québecoise heritage. "Une piastre," she calls out.
"Une piastre," the class repeats.
"I tell my students you'll have to cough it up like a hairball," Chase says with a laugh, trying to get the baristas, the shoe salesmen and the waiters to properly pronounce the Québecois slang term for a Canadian dollar.
Soon the class moves from terms of commerce to specific questions that come up in individual businesses. Montana, who says she has wanted to brush up on her French for a long time, inquires how to ask shoppers whether they want a paper or plastic bag.
"If you want to be formal, you can say, 'Voudriez-vous papier ou plastique?'" Farineau says.
"But you can just say, 'Papier ou plastique?' and they'll understand," Chase adds.
Another student, who works at Muddy Waters, wants to know how to ask if the coffee is for here or to go. Pour ici ou pour emporter? Another who works at the information kiosk on Church Street wants to know how to tell someone that the bus runs every 15 minutes.
Chase and Farineau pepper their instruction with tidbits of French Canadian history. Not only do their students get the French version of "O Canada," with Farineau on vocals, but they get a serious lesson in Québec culture from Chase. She tells them about "la revanche du berceau" — the revenge of the cradle — a period before Québec's "Quiet Revolution" when French Canadian women were effectively turned into baby mills in an effort to outgrow the English-speaking political majority.
"It was a very sad period in our history," says Chase.
Interest in the language classes has been so great — there is a waiting list — that the Alliance Française will offer two five-week sessions instead of one 10-week session. Norman acknowledges that five weeks isn't enough time to make anyone fluent, but he points out that the classes do show the city is trying. In May, the Chamber will start offering French classes, too, though those will not be free.
Burlington's efforts have not gone unnoticed in Québec. Several French-language media outlets have run stories on the classes, giving them publicity that Pomerleau says is worth way more than the money he donated. "You take a $1500 investment, and you get tens of thousands of dollars back, in effect," Pomerleau says. "We couldn't buy that much advertising. That message is huge. It says that Burlington is welcoming to our friends from up north."