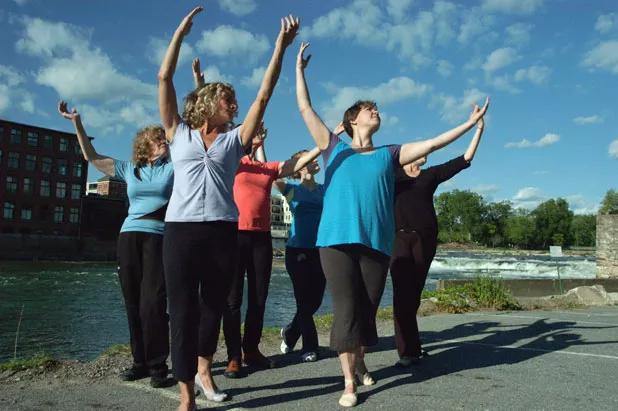 Water has been a hot topic in Vermont this spring. But mostly because there's too much of it. On Saturday, seven dancers will gather at the Winooski River beside Burlington's Chace Mill to draw attention to a different water issue: that an estimated 884 million people around the world lack access to clean drinking water, according to the United Nations.
The local dancers won't be alone. At 60 other locations around the globe, dancers will perform when it is 5 p.m. in their time zones. As the sun rolls away from the Pacific Rim, the very same movements will unfold in performances from South Korea to Egypt to Germany to Ecuador.
The project, called Global Water Dances, has been in the works since 2008, when a group of Laban movement analysts — who use a notation system created by Hungarian choreographer Rudolf Laban to study and interpret human movement — met at an environmental-dance conference in England. They felt they could use dance to spark a global conversation. "Everybody can't talk at the same time; that just creates bedlam," says artistic director Marylee Hardenbergh, a choreographer based in Minnesota, in a video promoting the event, "but everybody can move together at the same time."
Lucille Dyer, owner of Burlington Dances, a year-old dance and Pilates studio in the Chace Mill, says the project is based on another Laban creation developed in early-20th-century Switzerland: the "movement choir." Dancers in Laban's choirs would participate in the same movement, each with a slightly different personal style. The community-oriented dance events were designed to enhance social cohesion. A certified Laban movement analyst herself, Dyer heard about the global dance project about a year ago and immediately knew she wanted to take part.
Over 24 hours this weekend, dancers around the world will perform not only the same work — choreographed by participating groups around the world who submitted phrases to the event's organizers — but site-specific pieces choreographed locally. On the Winooski waterfront, performers will present a piece by Burlington Dances intern Megan Davis and another by Dyer, set to music by Vermont composer Paul Webb. The work will be filmed and uploaded to the website, where organizers will edit together dances from around the world and broadcast a single, cohesive performance.
During a recent rehearsal at the Chace Mill, the dancers hammer out their choreography. Davis reads aloud from the score, which is available on the Global Water Dances website to anyone who wants to participate. The language is lyrical and, well, watery. The dancers hunch down and huddle, "pooling together." They separate and then, with "upper bodies sinking," regroup, shoulder to shoulder, and begin to sway like a wave. "Now we empty to the ocean," says Davis.
Dyer sees the dance as an opportunity to participate in a global conversation about water, and also to celebrate the beauty of the Winooski falls. "Without beauty, we're diminished," she says, just as "without water, we are extinguished."