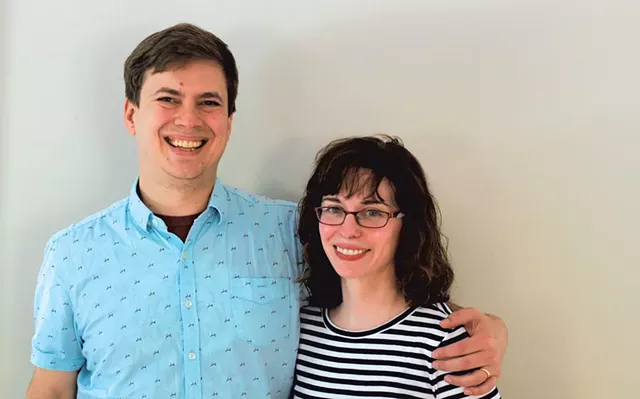 Sara Tabin
Nick Crawford and Christine Mancuso
Two years ago, Christine Mancuso was a school psychologist and her husband, Nick Crawford, was a biology researcher at the University of Pennsylvania. Now they work from home, writing books about boot-clad young women who discover magical powers, fight otherworldly monsters and swoon before "disturbingly" seductive demons.
The couple has been self-publishing urban fantasy novels under the collective pen name C.N. Crawford since 2014. Last summer, after paying off the last of Mancuso's student loans, they finally quit their day jobs and moved to Vermont, where Crawford grew up, to write full time. They spoke with Seven Days at their home in downtown Burlington, in front of a bookshelf sporting Brian Jacques' Redwall novels and stories about witches.
Self-publishing wasn't always the couple's plan. Mancuso originally wanted to seek out an agent and follow a traditional publishing path. But Crawford, inspired by the success of self-published sci-fi writer Hugh Howey, convinced her to give the indie route a shot.
It's a choice they now enthusiastically endorse. While their e-books cost less than trade-published ones, and they don't receive an advance on royalties from a publisher, self-publishing allows them to keep 70 percent of their list price, according to Crawford. Trade-published authors generally keep less than 15 percent of book sales.
Mancuso and Crawford cowrote the couple's first successful novel, Infernal Magic. Mancuso has taken the lead on subsequent books and co-authored the Dark Fae FBI series with crime author Alex Rivers.
Mancuso and Crawford started writing urban fantasy because of a preference for the genre — Crawford is a lifelong fantasy fan — but they have plans to branch out. Crawford is currently writing a techno-thriller, while Mancuso plans to start a young-adult fantasy romance series.
The plots of C.N. Crawford novels fit a formula, said Mancuso, who believes sticking to certain genre expectations is necessary for obtaining wide readership. She said the couple's first book, one that delved into colonial history and featured a male lead, was a marketplace failure. Since then, the couple has stuck to the basics of the urban fantasy genre — heroines in their mid-twenties who find magic and romance while living in real-world cities.
"Study the genre you want to write in, and don't presume that you are going to turn the genre on its head," Mancuso advised anyone considering a career in self-publishing.
Working exclusively through Amazon, the couple has sold 125,300 e-books, they said; C.N. Crawford is currently ranked No. 24 for authors in Kindle's horror category. They also have more than 121,300,000 page reads on the subscription service Kindle Unlimited, which comprises 65 to 70 percent of their income, according to Mancuso.
Amazon allots $20 million per year to Kindle Unlimited, then splits that money among authors based on page views. Mancuso said some authors find ways to pad their books and scam the system, but such foul play has not hindered the couple's ability to support themselves.
"Your chances of earning a livable wage while being traditionally published are minimal," Mancuso said. Her work style is also suited to self-publishing: "I like publishing fast; I think I would go crazy if I had to work on a book for a whole year."
But she admitted that self-publishing is only becoming tougher as more authors take that route and start putting out books as quickly as they can. So far, C.N Crawford has published 19 books, grouped within five series.
Self-publishing also means that Mancuso and Crawford are responsible for their own marketing. They pay for Facebook ads and cooperate with other authors to cross-promote one another's work. Mancuso spends time interacting with fans on Facebook, which she said is one way to make writing a less isolating career.
Sara Lynn Block, a Facebook fan of C.N Crawford who currently lives in Tennessee, told Seven Days she reads many self-published books that Kindle recommends to her based on her preferred genre. Block has written three books of her own, she added, which she is considering self-publishing.
Mancuso and Crawford hire artists to create the brooding images of weapon-wielding witches on their covers, as well as a designer for their cover font. Mancuso said the cover, blurb and first chapter of a book are what readers focus on when deciding whether to purchase it.
Editing is another up-front expense: They hire a copyeditor and a proofreader for each book.
Although publishing quickly is critical to success in the independent world, Mancuso and Crawford said they aim to match the quality of trade-published books, which receive months of editing. One method they employ to keep reader interest high is stockpiling books in a series as they write, then releasing all of the titles within a few weeks, making binge-reads possible.
The couple normally publishes every other month. Their latest title came out June 12, and they plan to release a new series in August.
Mancuso and Crawford's 4-year-old son is too young to read his parents' work or understand the concept of e-books, but he still gets a taste of the genre during his bedtime routine.
"At night, all the stories I tell him are basically children's versions of urban fantasy stories; there's always a female heroine, because I want him to grow up thinking women are badass heroes," said Mancuso. "I tried telling him 'Snow White,' and I was like, This story is awful. It's about this older woman who is jealous of the appearance of a younger woman, so I changed them into sword fighters."
The women became more like C.N. Crawford's character Cassandra (Agent of Enchantment), who keeps busy by fighting maniacal murderers and solving magical mysteries.