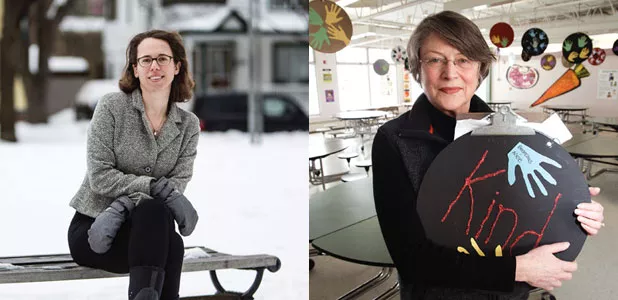 Left to right: Emily Lee at Pomeroy Park, Jane Knodell at the Integrated Arts Academy
Burlington's most closely watched election race this year reverses the narrative that long prevailed in Queen City politics. On this year's Town Meeting Day, a young Democrat and an old-guard Progressive will be battling for a Ward 2 seat on the city council.
A Democrat making her first bid for elected office would seem like a long shot against Progressive and former city council president Jane Knodell, who won seven elections in Ward 2 before she left public service four years ago. And newcomer Emily Lee's career as a banker won't endear her to some voters in the neighborhood that birthed the Progressive movement. Merrill Lynch, where Lee works as a local vice president, took nearly $7 billion in taxpayer bailout money after the 2008 crash, before Bank of America subsumed it.
But Lee, 31, is no rapacious capitalist. In an interview last week at the Skinny Pancake, she described her job as "helping people refinance and get mortgages." She argued that her six-year stint at Merrill Lynch Wealth Management provides her with hands-on understanding of financial matters, such as the city's wobbly pension system.
Lee notes that she worked her way up Merrill's ladder from a low-rung data-entry job. Far from being silver spooned, Lee says she grew up in Westford with "a lot of instability" in a family that was "constantly on the verge of financial collapse." Her mother, who had given birth to Lee and two other children in the hippie haven of Goa, India, subsisted for years on food stamps and other government assistance programs. Lee adds that she worked nights as a caregiver while attending the University of Vermont. During that time, and afterward, she lived in a series of different homes in the Old North End.
Self-confident and articulate, the candidate depicts herself as an accomplished neighborhood activist. On Bradley Street, where she now lives with her husband, Stone Soup co-owner Tim Elliot, and his two sons, Lee says she has "put in a lot of work to keep things in check."
She helped organize a group of homeowners who successfully lobbied the council to extend into a part of her own neighborhood the city's prohibition against more than four unrelated individuals living in the same residential unit. That rule is meant to limit noise and other disturbances from student housing. Lee criticizes Knodell for voting against the occupancy limit when she was on the council.
Knodell's campaign manager, Progressive city councilor Max Tracy, counters that student housing isn't a big issue for a large chunk of Ward 2. He's counting on the assumption that his candidate is far better known in most of the neighborhood than is Lee.
The compressed campaign season stemming from Democratic councilor Bram Kranichfeld's late decision not to seek reelection "makes it harder for a new candidate to get name recognition," Tracy comments. With the next mayor's election two years away, the March 5 contest will likely draw fewer than 1000 residents of Ward 2. Tracy, who has run twice for the council, is confident he can identify most of those voters. He has compiled a data-rich list of Prog-inclined residents that "pays dividends on Election Day," Tracy says.
Knodell, however, may have her own name-recognition problem. Many residents of Ward 2 didn't live there during the 14 years Knodell represented the neighborhood on the council. Charlie Giannoni, a leader of the Wards 2 and 3 Neighborhood Planning Assembly, suggests that "Emily has been more in the public eye recently than Jane." Lee attends every NPA meeting, he notes.
Interviewed in the Charles Street home she shares with longtime Burlington housing activist Ted Wimpey, Knodell says she's not coasting on her reputation and has been knocking on hundreds of doors. The former UVM provost, who is 58, touts her local political experience, arguing she will bring needed "institutional knowledge" to the council. Half of its members have served one term or less, while Mayor Miro Weinberger is also still new to his office, Knodell points out. "I won't need any on-the-job training," she says.
Asked to cite a few key achievements of her city council career, Knodell points to her work in helping transform the academically challenged H.O. Wheeler School into the Integrated Arts Academy, a magnet school that now attracts a more diverse student body from around the city. She also touts her unyielding advocacy for the Onion River Co-op's move downtown. Some of her constituents wanted Shaw's to become Burlington's downtown supermarket, Knodell recalls. "I stood and delivered on City Market. I didn't fold under pressure," she recalls.
Knodell also credits her council work on "strengthening the city's noise ordinance," though she acknowledges erring in opposing the effort to bar more than four unrelated persons from living in the same household. "My civil liberties side kicked in," Knodell said during a debate with Lee last week on Channel 17. "I didn't think the government should tell people who to live with." Extension of the ordinance to parts of Ward 2 has worked well, Knodell conceded, saying, "I'd probably vote for it now."
Aiming to blunt Lee's contention that the council needs a fresh perspective from Ward 2, Knodell says she's fired up for the race and will present "lots of new ideas." One of them: encouraging residential development downtown and on empty or underused parcels in Ward 2. Calling herself a "Peter Clavelle type of Progressive," Knodell says she'll support "green urbanism" — what former Progressive mayor Bob Kiss called "density with amenities."
"I'm not an ideologue," she adds. In fact, Knodell worked collaboratively with Republican former councilor Kurt Wright on development issues, such as construction of the office building at the corner of Battery and King streets. Wright accompanied Knodell to last week's Channel 17 debate and calls her a friend and ally.
"Jane has worked effectively across party lines," he says, "whether Progressive, Republican or Democratic."
Weinberger is "generally doing a good job," Knodell affirms. "There's a lot of overlap between me and Miro" on downtown and in-fill development, she says.
But the Democratic mayor is supporting the Democratic candidate in Ward 2 and says he will be campaigning on Lee's behalf. That could steer a few votes her way because "Miro's quite popular in Ward 2," according to Kranichfeld, who says he'll be door-knocking with Lee, as well.
Ward 2 was long aligned with Progressives — but not so much in recent years. The first city councilors who went on to form the Progressive Party came from the Old North End, following Bernie Sanders' election as mayor in 1981. In 2010, however, the Democrats narrowly won both of the ward's council seats, one of which Tracy recaptured for the Progs last year.
In the November election, two Old North End Progs running in a two-seat House district — one of them longtime former city councilor Gene Bergman — were wiped out by the Democratic candidates in an outcome influenced by President Obama's landslide vote in Burlington.
The stakes are high in this seemingly minor election. A Knodell win would give Progressives and their allies five of the council's 14 seats. Democrats, meanwhile, are vying for an outright majority on the council; they now have seven seats.
The Progressives won't be able to cast Lee as a rich yuppie. For one thing, they asked her to run for the House last November on their ticket. And while Lee may be a bank vice president, Knodell has been making $270,000 a year as UVM's provost for the past three and a half years. She's taking a big pay cut — down to $150,000 — to return to teaching in the economics department, but she doesn't have to go back to class until the fall of 2014, owing to an 18-month sabbatical she got after stepping down from the provost post.
Her Charles Street home, while comfortably furnished, isn't ostentatious. And Knodell says she chose to stay in Burlington despite suggestions from colleagues that she could probably get a college president job somewhere else.
Personalities, reputations and political affiliations may determine the decision voters make in a race in which there's little daylight between the candidates on most issues.
Both Knodell and Lee pledged $250 each in support of making Burlington Telecom a member-owned cooperative. And each says she wants to ensure full public access to whatever may be built at the site of the Moran Plant on the downtown waterfront.
The two are also in solidarity on the proposed ban on assault weapons and high-capacity ammo clips recently approved by the council on a 10-3 vote. Both say they would have supported it, though each argues the council has more urgent matters to address.
Lee does distinguish herself from her opponent by noting that Knodell voted in 2009 against a proposal to decriminalize marijuana. That measure applied only to Burlington and was therefore "meaningless," Knodell says in response. She notes that she did support the ballot item this past November in which Burlington voters, by a huge majority, are calling on the state to legalize marijuana and hemp.
There's also a spot of difference on the issue of student housing. Lee applauds UVM for building 400 student apartments on the Redstone campus but suggests the university ought to construct 4000 in order to get undergrads out of homeowner areas of the city. Knodell says that building more on-campus housing won't solve the problem of "walk-by noise" that troubles many residents of Bradley and other streets close to the downtown bars.
Instead, Knodell says, the city should consider building student housing in a commercial area on or near Church Street, as is proposed in the Plan BTV vision for the city drafted by the Weinberger