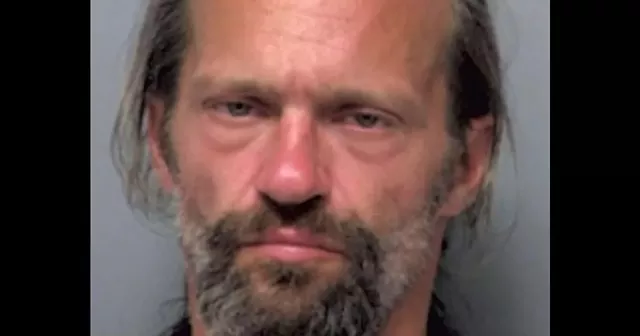 Courtesy Of The Burlington Police Department
Jason Breault
Before dawn on September 30, Burlington police officers descended on the downtown corner of Church and Main streets, where a man was reported to be waving a knife. They surrounded Jason Breault, a homeless man who already faced nearly two dozen low-level criminal charges. Breault followed orders to drop the knife — which was later discovered to be a gardening tool — but when cops told him to lie down on the sidewalk, he ran away. Officers tackled the 41-year-old in nearby City Hall Park. During the struggle, a cop's hand was cut by a small knife that Breault was holding, police said.
Such incidents rarely get much media attention, but Burlington police quickly trumpeted it in a detailed news release as part of an unusual, aggressive public-relations campaign. Breault was charged with assaulting a law enforcement officer and other offenses, but the release focused on the fact that police had busted him for 29 crimes since December 2016.
The Burlington police union, which does not generally comment on arrests, also issued a lengthy statement prompted by the early-morning encounter. "Day after day, on a near-constant basis, officers who police Chittenden County encounter the same people, violating the same laws again and again," Burlington Police Officers' Association president David Clements said in the union's news release. "Their criminal charges are often met with excuses and justifications ... The public should be outraged that a known offender with more than 20 active criminal cases has been allowed to walk the streets armed and free to endanger the lives of law-abiding citizens and their loved ones."
A judge's decision to set bail at $750 represented a failure to "recognize the gravity of the situation," Clements wrote.
In his own statement about Breault, Burlington Mayor Miro Weinberger said it was "unacceptable" that somebody with his record had been "in a position to threaten the public and harm a police officer."
The coordinated effort had the desired effect: It generated a round of stories in the Burlington Free Press and VTDigger.org and on WCAX-TV about Burlington's population of repeat offenders, many of whom are homeless or transient people prone to congregating downtown.
Burlington Police Chief Brandon del Pozo is leading a charge to crack down on repeat petty criminals. With the backing of Weinberger, police have complained in official statements, releases and interviews that people who they arrest repeatedly are being released on little or no bail, without receiving adequate treatment or punishment.
Matthew Thorsen
Brandon del Pozo
The day after the union released its statement about Breault, the department publicized another case, involving Nicole Coolum. Officers were asked to pick up the 35-year-old homeless woman at the University of Vermont Medical Center emergency room and take her to a detox facility. While police led her away, she spat in an officer's face. At the local jail, she kicked a guard's leg, police said.
The department's news release lamented that Coolum had been "routinely released" on pretrial conditions. Police said she has been arrested 79 times since January 2016, including for 14 "assaultive crimes."
"This incident is an example of rising concerns for the safety of law enforcement, fire department personnel, hospital staff and correctional officers," the department's release said.
The implication: The Vermont judiciary is bungling how it handles people in crisis.
That's put the people who work in the courts — prosecutors, defense attorneys and judges — on the defensive. They say that police are focusing on the wrong problem.
"If law enforcement wants to get into the business of criticizing judges, I think that the criminal justice system has a bigger problem, because that's not a police officer's job," said American Civil Liberties Union of Vermont staff attorney Jay Diaz. "Judges are supposed to be impartial and dispassionate and hear the facts and make decisions."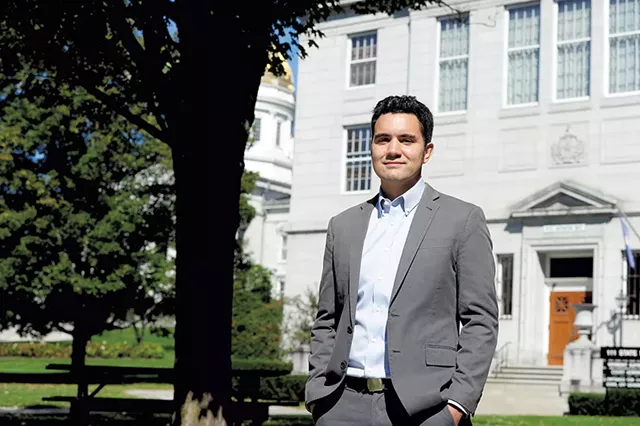 File: Jeb Wallace-brodeur
Jay Diaz
Contrary to popular perception, bail decisions are not intended to protect the public in the majority of cases. When cases do not involve violent felonies, bail is designed to ensure that defendants appear for court hearings. Many of the defendants whom police encounter back on the streets usually show up for court, attorneys say.
The defendants are ordered to abide by conditions of release, such as avoiding new charges or staying away from alcohol and drugs, because that's what the law calls for, said Chief Superior Judge Brian Grearson, who oversees the state's superior courts.
"Repeated violations of conditions do not, in and of itself, create a risk of flight," Grearson said. "What [police] are really asking for, and what our bail statute doesn't provide for, is preventive detention."
"I absolutely understand the cops' frustration, and I agree with their concerns, but the problem ... is, the judiciary is not the right target," Chittenden County State's Attorney Sarah George said.
In numerous cases involving repeat offenders, court officials said, prosecutors, judges and defense attorneys have sought mental health evaluations or treatment for offenders, only to find resources limited or unavailable. Generally, defendants must be deemed a danger to themselves or others to be admitted into the mental health system, but legal officials say that standard is unevenly applied.
In 2015, Seven Days documented the case of a Burlington refugee who tried to commit suicide by cop during one of his many law enforcement encounters. He jumped off the Winooski bridge in a second attempt and still did not receive intensive mental health services. He eventually killed himself while living in the community.
"The bottom line is, this isn't a judicial system problem," Defender General Matt Valerio said. "The problem is, you've got a deficient mental health system, and there are insufficient beds for the court to put people in who are going to be evaluated."
Breault, whom Burlington police have offered as exhibit A in their argument, probably doesn't belong in prison, George said.
After Breault was arrested in August, George noted, a judge ordered him to undergo a psychiatric evaluation to help determine whether or not he was competent to stand trial. Breault missed his appointment, though, and it was rescheduled, George said. He could eventually be diverted to a treatment program.
"He should be hospitalized based on his mental illness," George suggested. "But that seems to be harder and harder to accomplish based on the bed space."
Because he couldn't come up with $750 for bail, Breault is being held in the Northwest State Correctional Facility in Swanton. He bemoaned his repeated arrests in a court document.
"I lose money for being harassed by the police," Breault wrote. "And everything gets stolen while I'm unjustly sitting in jail."
Coolum is also incarcerated for not having $300 to make her bail.
Before advocating for tougher treatment of repeat offenders, del Pozo and Weinberger spent years espousing criminal justice reform principles that don't involve traditional punishment. For example, del Pozo has repeatedly lamented the lack of substance abuse treatment in prison and called for addiction to be treated as a public health problem.
"It's easy to talk about addiction as a disease and mental health issues needing to be addressed, but ... it's harder to walk the walk," said Tom Dalton, executive director of Vermonters for Criminal Justice Reform. "There are legitimate concerns police are raising, but what we should be demanding is not that we increase criminal penalties. That approach isn't going to make a difference."
As Diaz put it, "Putting people in cages is not effective in making communities safer."
Del Pozo rejected that analysis. For some defendants, the chief said, treatment is needed. But others who are repeatedly breaking the law by flouting conditions of release need to be incarcerated. That particular misdemeanor — the most common crime in the city — accounts for nearly 1,100 of the charges Burlington police have brought since 2011. At least one of those was Breault's; he'd been told by a judge not to possess weapons.
"I'm not dogmatically clinging to one solution," del Pozo said.
Clements said police plan to keep up the public pressure for change. In late August, the city council instructed two committees to draft a proposed local ordinance targeting repeat offenders and to review the city's social safety net. That work is ongoing.
"This is a failure," Clements said, "and it ... falls on our shoulders to make life-or-death decisions, usually when it's beyond just a mental health concern, and [these offenders are] a risk to themselves or others. That is a recipe for death. It's a recipe for somebody getting shot. Nobody wants that."