Nate Wildfire often tells people, "Parking is emotional." As assistant director of Burlington's Community and Economic Development Office (CEDO), he should know. In recent months, Wildfire has been asking downtown business owners, arts organizations, neighborhood groups and members of the faith community how they feel about parking in Burlington. The question rarely evokes warm and fuzzy responses.
Vinny Lizotte, owner of LeZot Camera Repair, can say in three words how his customers felt about parking downtown.
"They hated it," he says. For 36 years, Lizotte did business on upper Church Street. Last week, he notified his customers via email that he'd relocated his repair shop to Williston, specifically because of Burlington's parking headaches. (LeZot Camera Center, a separately owned retail store, remains at its original Church Street location.) Lizotte heard from customers how much they detested spending 20 to 30 minutes searching for parking, then hiking several blocks to his shop, often with bulky photography gear in tow.
"It was really an eye-opener," Lizotte says. "Every day, at least two or three customers comments, 'I'm so glad you're out here [in Williston].'"
LeZot isn't the first business driven out of downtown by parking hassles. In September 2010, Gallagher Flynn & Company relocated all 70 of its Burlington employees from 77 College Street, where the financial firm had offices for more than three decades, to Technology Park in South Burlington.
Greg Bourgea, co-managing partner of Gallagher Flynn and a Burlington native, explains that while the parking situation wasn't the "driving factor" behind the move, it was definitely "in the mix" of the decision-making process. Before the move, he says, Gallagher Flynn was spending $50,000 to $60,000 a year for its employees to park in the city-owned garage across the street from its offices. Yet, despite the convenience, the perk wasn't worth the price for many employees.
Matthew Thorsen
Marketplace garage
"I do not miss parking downtown one iota," says Michelle Cann, another Gallagher Flynn partner who worked in the Burlington office for more than a decade. She describes the parking situation as "personally uncomfortable for me." Car break-ins were frequent, she recalls, as were reports of employees' vehicles getting damaged. Cann and others felt so uncomfortable in the garage that the office implemented a program whereby women leaving work after-hours walked each other out — or found a male employee to escort them to their cars.
"We don't have covered parking where we are now," Cann adds, "but I'll take that far and away over the parking situation in Burlington."
It's not exactly breaking news that people have strong, usually negative feelings about parking in Burlington. But there's another emotion around parking that's starting to spread, too: excitement.
Last summer, Wildfire, along with Kelly Devine, executive director of the Burlington Business Association, and Chapin Spencer, director of public works, began building a diverse coalition of public and private entities to address the parking problems in a holistic way. As Devine first discovered in 2011 when the BBA started polling its members, parking was the primary complaint of downtown business owners.
So last November, the city hosted a national "parking summit" that included representatives from 10 other U.S. cities to hear how they've tackled their own parking issues. The summit featured a keynote address by national parking guru Jeffrey Tumlin from Nelson/Nygaard Consulting Associates of San Francisco, who suggested some intriguing solutions to Burlington's parking woes (see sidebar).
Soon thereafter, the city council passed a resolution creating an 11-member Downtown Parking Advisory Committee to come up with a "comprehensive approach to parking management." Since then, the city has commissioned four separate studies, with nationally recognized consulting firms, to examine different aspects of Burlington's traffic and parking system. One currently under way is assessing the physical state of the city's four publicly owned garages. Another will analyze the residential parking program, and yet another will explore ways of moving commuters in and out of downtown quickly and more efficiently.
Also in the works are several pilot projects scheduled to begin later this year that involve some nifty 21st-century digital solutions (see sidebar), such as parking meters that can be paid with credit cards and cellphones.
Ultimately, the goal of all these studies, emphasizes Devine, is to identify "real solutions for how parking can work best in Burlington."
But before any of these changes are adopted citywide, Wildfire, Devine and Spencer are listening to the public about what's working and what's not.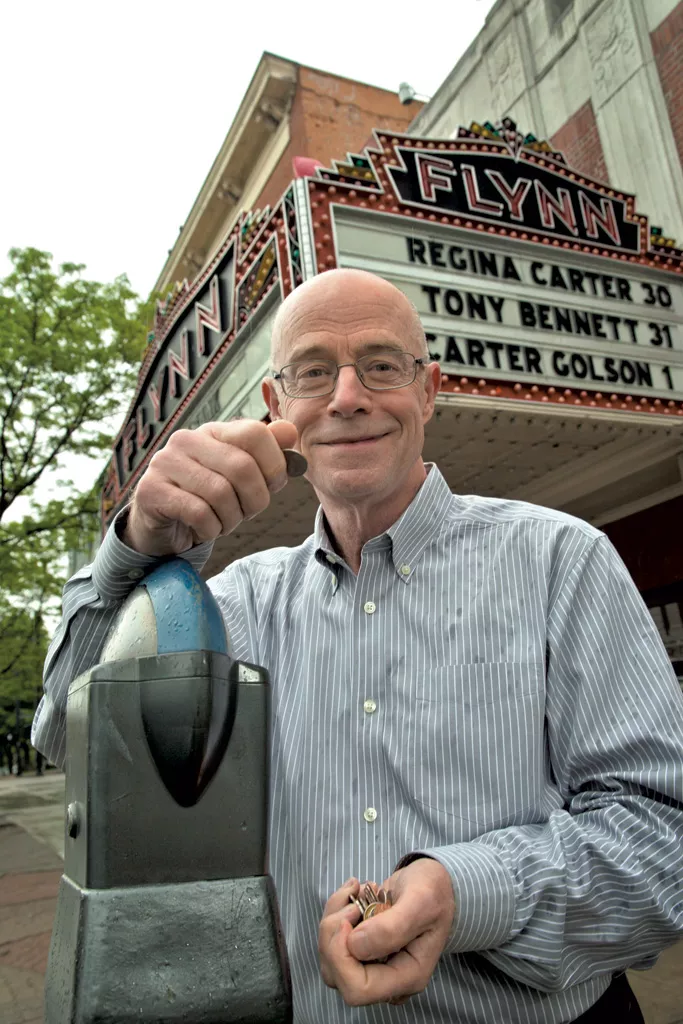 Matthew Thorsen
John Killacky
Two weeks ago, John Killacky, executive director of the Flynn Center for the Performing Arts and a member of the parking advisory committee, hosted a meeting of about 35 representatives of local restaurants and performing arts organizations, including the Vermont Symphony Orchestra, Vermont Youth Orchestra and Lyric Theatre Company. As DPW's Spencer emphasized at the beginning of the meeting, "We want to hear the good, the bad and the ugly."
That they did. Among the most frequently heard words were "confusion" about where people can park and how much it costs; "frustration" when the garages back up; "disgust" with the garages' uncleanliness, "sketchiness" and overall state of disrepair; "fear" about parking in remote, dimly lit and seemingly unsafe locations, especially at night; "stress" about rushing to feed meters; and "anger" when drivers discover a parking ticket on their windshield or, worse, that their car has been towed. The No. 1 complaint, according to Wildfire: the hassle of finding, or making, change so drivers can feed parking meters.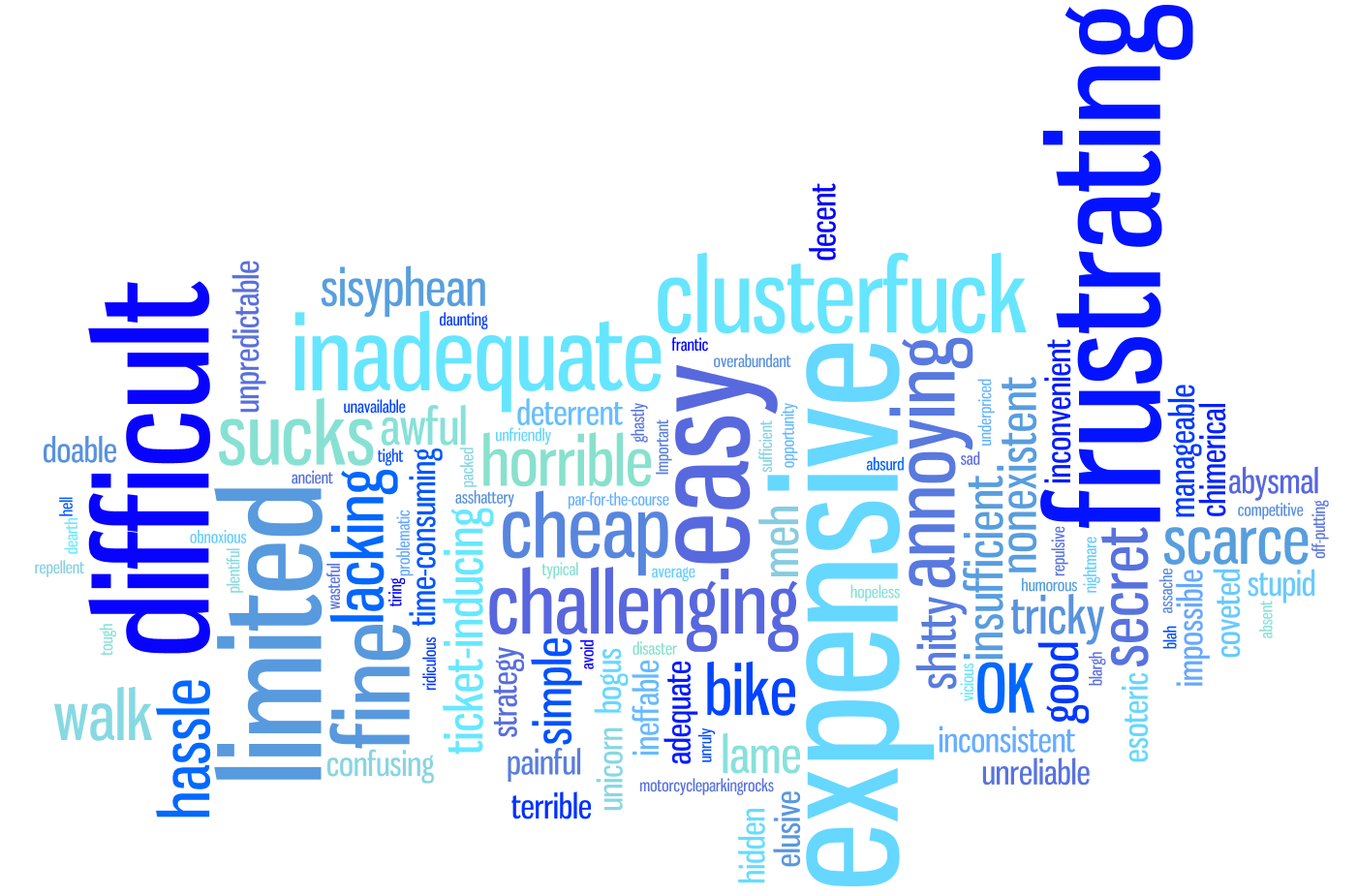 Andrea Suozzo
We asked Seven Days readers on Facebook and Twitter to give us one word they'd use to describe parking in Burlington. We grouped the 278 responses we received by general sentiment and presented all of those as a word cloud. The larger the word, the more people mentioned it.
Indeed, when Seven Days asked its own readers online to describe Burlington's parking situation in just one word, a few described it as "adequate," "easy" and "plentiful." But far more chose words such as "ghastly," "abysmal," "Sisyphean" and "clusterfuck."
The importance of such feedback, Wildfire emphasized, is to identify problems that city planners and even outside consultants might not discover on their own. For example, Syndi Zook, executive director of Lyric, which holds its performances at the Flynn, noted that about 200 of her members self-identify as needing handicapped parking. That's far more than the city will ever be able to provide on nearby streets.
But as Wildfire explained, one of the biggest problems Burlington faces with parking is that of perception, including the widely held belief that the city has a severe parking shortage that can only be fixed by building more garages. That's not likely to happen anytime soon. What Burlington needs, he emphasized, is not necessarily more parking but smarter parking.
Ken Picard
Jon Kohn and his mother, Viola, feeding a meter on College Street
Wildfire points to the Corporate Plaza parking garage on St. Paul Street, between College and Bank streets. This garage typically has more than 100 spaces available on Friday and Saturday nights. And because it's a block and a half from the Flynn's front door, he says, many theatergoers are "really comfortable" using it. In fact, one perk of being a Flynn donor of more than $250 is a free pass to that garage on "Flynn nights."
However, another 200-space parking garage is equidistant from the Flynn — the Courthouse Plaza garage on South Winooski. Yet it typically remains underused, even on nights when a Flynn show is sold out. Why? Wildfire suggests it's because it's located in a less-familiar location.
"If your experience is, 'It smells, it's dark, it's scary, I'm not sure who I pay or how much I pay or when,' that's six more reasons why people don't park in that structure," he said.
Last week, Seven Days talked with Wildfire, Devine, Spencer and Mathew Chabot, general manager of the Burlington Town Center and chair of the Downtown Parking Advisory Committee, about some of the myths and realities of Burlington's parking situation.
One thing was clear: The "change" needed for parking in Burlington will take more than just nickels, dimes and quarters.
Myth: Burlington has a severe parking shortage.
Reality: Burlington actually has more than 8,500 parking spaces downtown alone, including more than 4,400 in publicly owned garages that offer two hours of free parking. Nevertheless, at any given time, about one-third of those spaces are vacant. That's true even during peak usage times, such as the July 3 fireworks display and the Burlington City Marathon. Why? Because many drivers don't know where they are.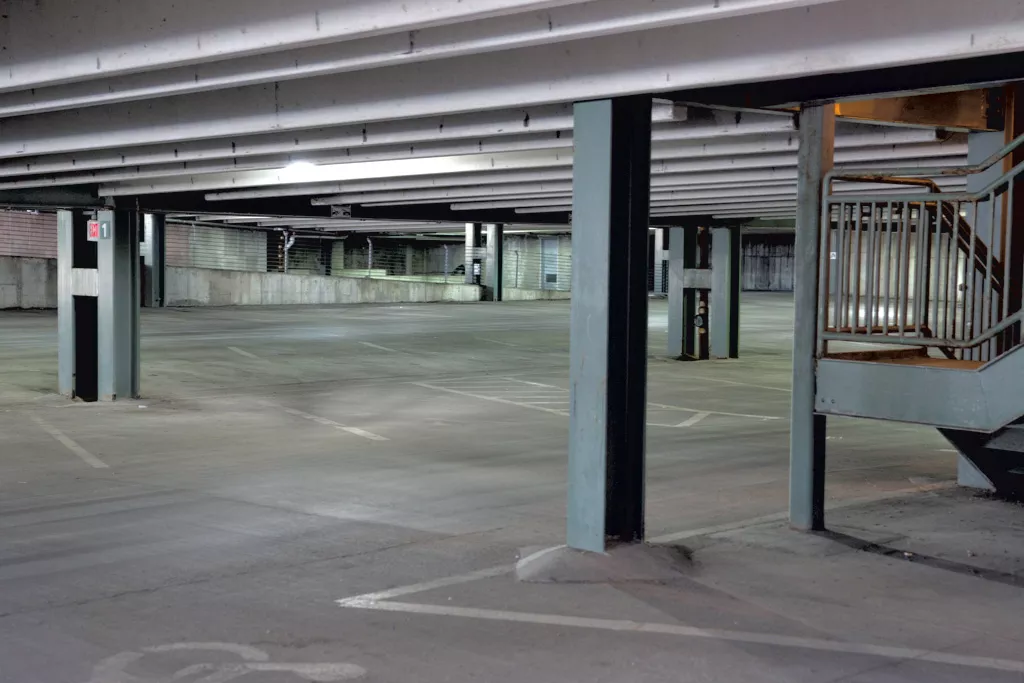 Matthew Thorsen
Empty spaces in Burlington Town Center Garage
Meanwhile, most private parking lots, such as those owned by downtown businesses and churches, are prominently signed with warnings that unauthorized vehicles will be towed, 24 hours a day. That's because there's no incentive for their owners to make them available to the public — or be absolved of liability if an accident occurs there.
In the next few weeks, Desman Associates, a national parking consulting firm, will be in Burlington gathering and analyzing data in order to help the city develop a "downtown Burlington parking and travel management plan." Desman will be looking at how the city can integrate various new technologies and work with private asset holders to use existing parking more efficiently. The city council expects to see the results of that study by March 2015.
Interactive map: Parking in Burlington
The data for this map come from the
PlanBTV transportation study
and the Burlington Department of Public Works. Parking meter placement is approximate.
Map by Andrea Suozzo
Myth: Burlington is phasing out its two-hours-free parking program.
Reality: Burlington cannot eliminate the two-hour free parking program without first changing the city's charter — something city officials neither need nor want to do.
As Devine explains, the two-hour free parking program was first implemented in 1999 by then-mayor Peter Clavelle as a way to get people to use the parking garages. The program gave the city the authority to collect about $306,000 annually in fees from commercial properties in a 19-block "downtown improvement district" to subsidize the two-hours-free program in the city's three public garages as well as the privately owned Burlington Town Center (BTC) garage.
Great idea, but the program has become a victim of its own success, Devine explains. Today, between two-thirds and three-quarters of the motorists who use the garages never pay a dime, according to the Department of Public Works. As a result, the revenues from the 25 percent who do pay — even with the $306,000 annual subsidy — don't cover the garages' operating and maintenance expenses. They now operate at a deficit of more than $250,000.
Some of the recent confusion about the program going away, explains BTC's Chabot, is that the mall has been paying $20,000 a year into that parking fund, while also paying to maintain its own garage — in a sense, getting double-dipped. So last month, the city council gave BTC permission to withdraw from the two-hour-free program. That change is expected to take effect by July 1. But Chabot emphasizes that the Town Center is exploring a program that would allow stores to validate patrons' parking tickets.
DPW's Spencer also notes that another current study, to be completed by July, is looking exclusively at the city's three downtown parking garages — the Marketplace garage on South Winooski, the College Street garage behind the Hilton Burlington Hotel and the Lakeview garage adjacent to Macy's. All are 30 to 40 years old, as is the BTC garage, and are operating at a deficit, resulting in long-deferred maintenance.
"We need a sustainable parking system," Spencer adds. "We do not have one right now."
Myth: The only way to improve downtown parking is to charge more for it.
Reality: The city is exploring various options to pay for long-deferred maintenance, improvements and upgrades. They may include parking rates that change seasonally or even by day of the week; longer hours of parking enforcement, but perhaps even lower flat rates for high-volume days, such as marathon day and July 3. Depending upon what the consultants recommend, says Spencer, parking rates may increase in some areas but decrease in others.
Currently the city has to go before the public works commission and ask permission to change its parking fees, and then send a worker out to physically change every meter by hand, Spencer says. Adopting new technologies would allow that all to be done with the touch of a button.
No matter what the consultants come back with, Devine emphasizes, the goal is to create a parking system that's "dynamic, changing, and constantly being tweaked depending upon the need and traffic flow."
And, Wildfire adds, whatever new system is adopted will still accept spare change.
What Should Burlington Do to Improve its Parking? One Expert's Advice May Surprise You
Courtesy of Jeffery Tumlin
Jeffery Tumlin
In November 2013, national parking expert Jeffrey Tumlin, of Nelson/Nygaard Consulting Associates in San Francisco, gave the keynote address at Burlington's national parking summit. Tumlin, who has helped bigger cities including Washington, D.C., Portland, Ore., Denver, Colo., Vancouver, B.C. and Seattle, Wash., address their parking troubles, offered some intriguing, and at times counterintuitive advice for the Queen City.
"Parking is expensive," Tumlin pointed out, putting the price at about $20,000 per space. "Empty parking spaces are a spectacular waste of money." Upon learning that as much as one-third of Burlington's downtown parking spots are vacant at any given time, he added, "That's a lot of money that could have gone to something else to benefit your downtown businesses."
Nationally, as much as 30 percent of all traffic in downtowns is generated by people driving around looking for parking. Eliminating just 10 percent of those cars, through such programs as car-share incentives, typically makes the city's traffic and parking woes go away.
What should Burlington do? Below are some of Tumlin's tips for creating a "smarter" parking system: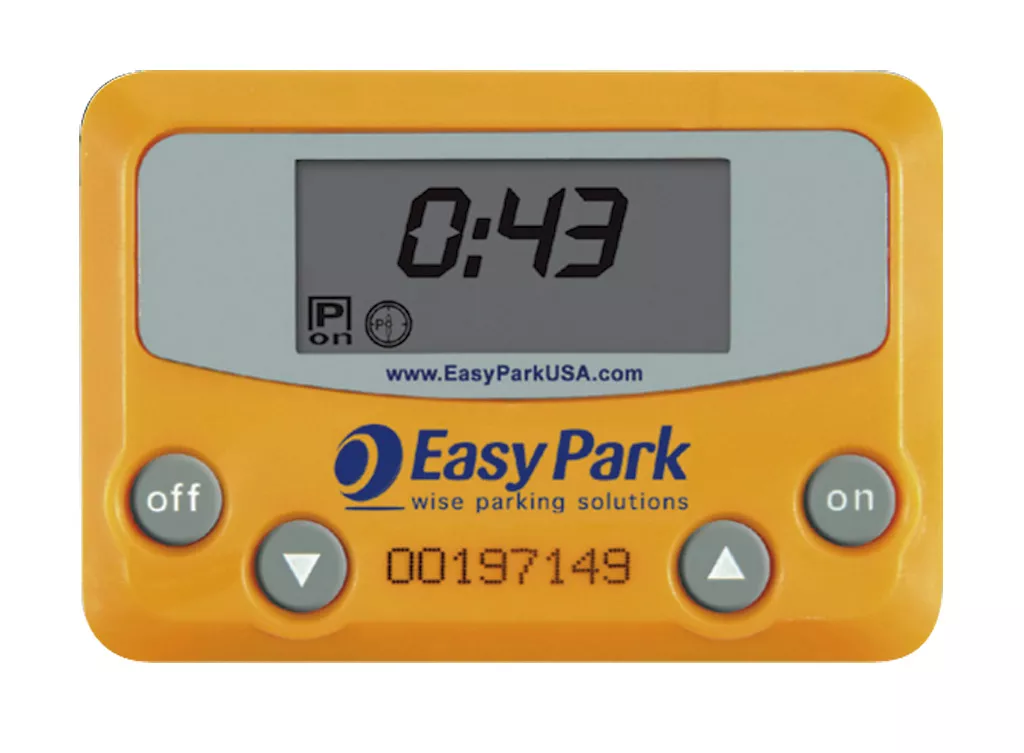 Adopt "smart" parking meters. "How many of your businesses," Tumlin asked, "only accept coins for payment?" Unlike Burlington's 1930s-era meters, 21st-century parking meters should accept all forms of payment that "normal people" have on them at any given time. He suggested adopting systems such as paying by cellphone and text messaging, which would alert patrons when their meters are about to expire — and allow them to instantly feed the meter by phone at the touch of a button. Washington, D.C., first enabled drivers to pay for parking meters via cellphones three years ago; 70 percent of its drivers now do so.
As Tumlin explained, smart meters enable cities to adjust their rates daily, weekly, seasonally and for special events. Such technologies can also provide real-time data to city planners about who's visiting their city, when, from where and for how long.
In short, he concluded, "People have no problem paying $3 for a cup of coffee. If you charge $1 more for parking, it won't be a problem if you make it easy for people to pay."
According to Spencer, DPW is moving forward on a 90-day pilot project later this year to bring both single-head smart meters and multi-space parking kiosks, like the ones in Montréal, that will accept payment by debit and credit cards and, perhaps, cellphones.
Spencer says DPW is also talking about the day when meters and kiosks are unnecessary. Drivers will simply pull into a spot and use a parking app on their phone that identifies their vehicle and pays automatically.
Over the coming months, the city will also be installing debit- and credit-card payment lanes in the city-owned garages. Further down the road, Burlington might consider an automated E-ZPass-type technology, similar to the kind used on the New York State Thruway and other highways nationwide, to speed drivers through parking garages and bill them automatically.
How will all those technologies be paid for? According to Spencer, the city is "exploring all options," including private leasing and a public-private partnership.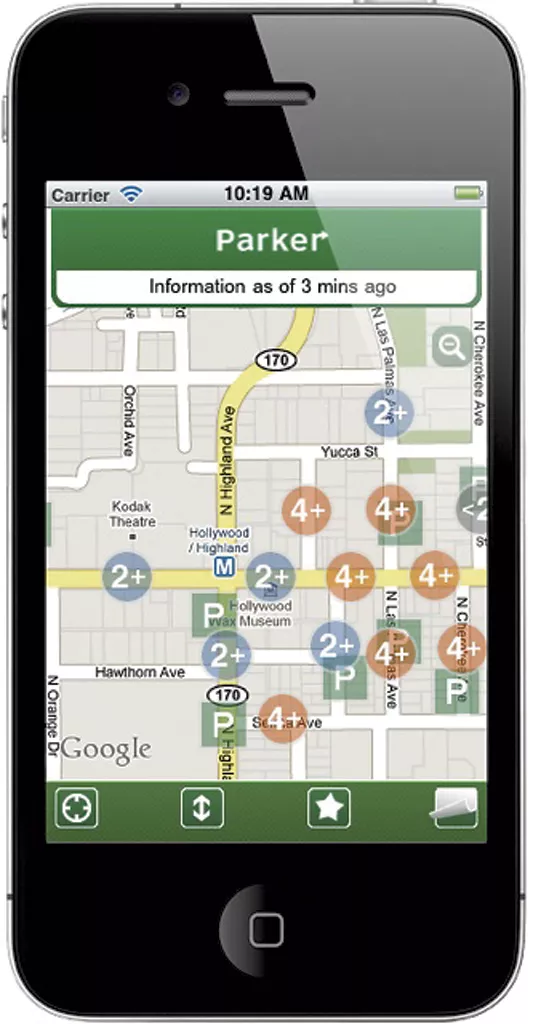 Matthew Thorsen
John Killacky
Use smart technologies to identify empty spaces. There's no reason why Burlington should build new parking structures, Tumlin noted, when it's infinitely cheaper to help drivers find the 35 percent of spaces currently vacant. Some cities, such as San Francisco and Santa Monica, Calif., have installed road sensors that inform and direct drivers, via free smartphone apps, where those spaces are located and what they cost. Such technologies can and do work in colder climates.
Right-price parking. Tumlin says that the nation's best parking systems balance supply and demand, setting parking rates based on geography. Thus, prices should be higher the closer you get to the downtown core, with rates on the street two to five times higher than in garages, as people generally prefer to park on the street. Ultimately, the goal is to have about 15 percent of parking available at any given time, he explained, which allows drivers to always find a spot — and to generate enough revenue for the system to be self-sustaining.
Right-time parking. Pasadena, Calif., extended its parking meter hours until midnight. Did that kill its nightlife, as some might fear would happen in Burlington? Nope, Tumlin explained. It actually helped the city become one of most vibrant entertainment destinations in Los Angeles County, because people are now always able to find parking. Moreover, if parking demand is the same on Sundays as it is on Saturdays, Tumlin suggested that Burlington should charge for parking on Sundays, too. "It doesn't say anywhere in Leviticus that parking needs to be free on the day of the Lord."
Reinvest parking revenues. It's critical to be conscious, and very public, about where parking revenues go, Tumlin said. Pasadena gave some of its parking revenue to downtown merchants, who use it to steam-clean their sidewalks every night. A waste of money? Not at all, he said. The city more than made up the difference with increased sales tax revenues.
Flex your parking. Parking is incredibly valuable real estate. Mountain View, Calif., designed a parking lane that allows merchants to "commandeer" spaces in front of their restaurants and stores for outdoor seating and sales. If you allow restaurants more outdoor seating, Tumlin noted, it increases sales revenues by as much as 30 percent. "Nothing attracts shoppers to a shopping district more than other shoppers," he said. "Putting people in a parking lane makes them more visible."
Eliminate minimum parking requirements for new development. Parking isn't just expensive for drivers, Tumlin explained. It's also expensive to residents, as there's a strong link between the cost of parking and housing affordability. In San Francisco, every parking space added to a new residential unit ups the price of housing by 15 to 30 percent and decreases the number of units available by 15 to 25 percent. In short, Tumlin suggested, there's no more effective tool for addressing the housing affordability crisis than to decrease the parking spaces developers are required to build.
While that idea would likely meet stiff resistance in Burlington, Tumlin pointed out that many cities around the country are now eliminating their minimum parking requirements — in fact, the UK made mandatory minimums illegal because they "only create social harm."
Get smart about residential parking. In Austin, Texas, where neighborhoods around the University of Texas had many spaces available during the day, the city allowed those neighborhoods to "sell" a limited number to university commuters — then use the revenues for neighborhood-improvement projects. Other cities, including San Francisco, are considering eliminating residential parking altogether and switching to "market-based solutions," such as parking permit auctions. Hoboken, N.J., which had 9,000 on-street spots but 17,536 residential parking permits, put car-share vehicles on nearly every corner. Residents who agreed to surrender their parking permits were offered two years of free car-share memberships, a six-month bus pass and other perks.
CarShare Vermont: Burlington's leanest, greenest parking solution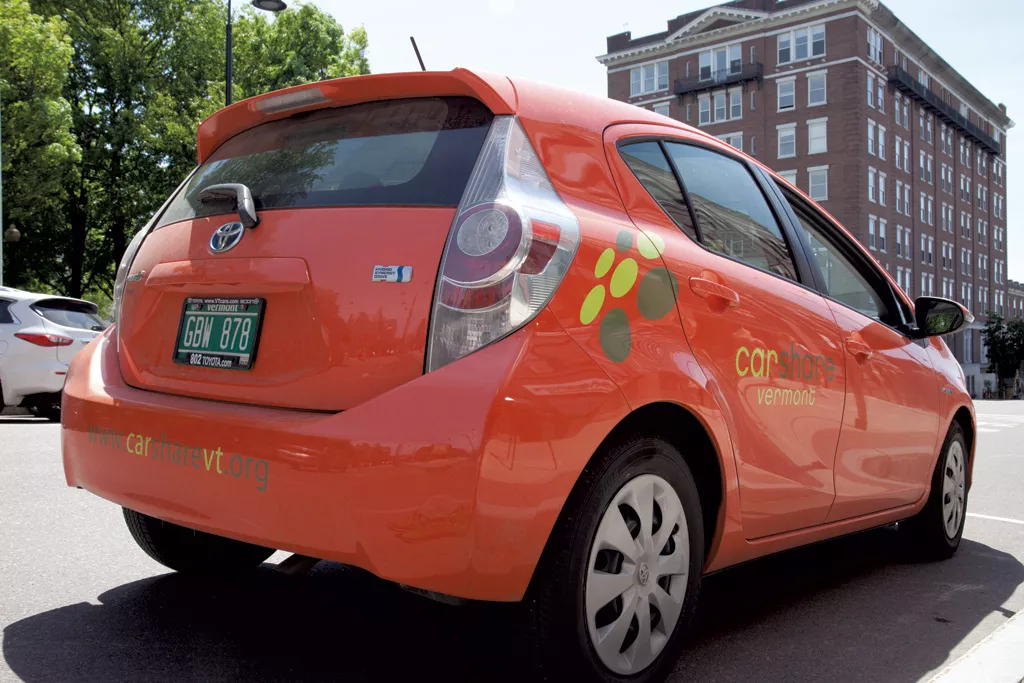 When Joanne Bottger's pregnant friend totaled a vehicle three years ago, Bottger decided she could live without her old Saturn for a few months and lent it to her friend. After all, she has a short commute from her home on Flynn Avenue to her office in Burlington City Hall.
'We'll be fine,' Bottger recalls telling her friend. "It turned out to be really fine, so we got rid of [the car] altogether."
Bottger signed up for CarShare Vermont. The Burlington-based nonprofit keeps a fleet of modern energy-efficient vehicles parked around town that its members can rent by the hour or day and pay for by the mile. The program enables Bottger to pay for a car only when she needs one — about two or three times a month for personal trips — saving her about $6,000 annually in fuel, insurance, parking and maintenance.
CarShare Vermont's parking spaces are close to her office; there's one just outside city hall. Another, about a half mile from her house, is less convenient, which she says is actually a good thing. It makes her more thoughtful about when she drives.
"When people car-share, they undeniably drive less — about 50 percent," explains Annie Bourdon, who founded CarShare Vermont in December 2008 with just eight vehicles at six locations. The fleet has since expanded to 15 vehicles, including a pickup truck and minivan, at 15 locations throughout Burlington and Winooski. A 16th vehicle is due to be added in the next few weeks.
Matthew Thorsen
Annie Bourdon
As Bourdon explains, car-sharing converts the expense of car ownership into "obvious, tangible, bite-sized pieces where you see what you're going to pay for the time you drive ... It makes that cost much more transparent and easier to compare with other modes of transportation."
Many of the organization's 900 members report reducing their household's number of cars from two to one, or from one to zero. In fact, their own data reveal that for every vehicle CarShare Vermont puts into service, 15 are removed from the road. (The organization claims to add 25 new members each month.)
Since nearly all its cars are small and fuel efficient — half are hybrids — CarShare Vermont can make a big dent in Burlington's carbon footprint and its parking problem.
Unsurprisingly, about a quarter of CarShare members are Millennials 18 to 34 years old, many of them college students, Bourdon adds. But while one might assume that car sharing is an option favored by low- and moderate-income families only, that's not the case. According to Bourdon, about 20 percent of her members earn between $50,000 and $75,000 a year, 13 percent earn $75,000 to $100,000 and 13 percent earn more than $100,000.
National parking expert Jeffrey Tumlin noted last year that every car removed from a household enables that family to afford an additional $100,000 on their mortgage. That's quite a savings, Bourdon notes, especially considering that the average American car is driven less than one hour per day.
For Bottger, there's an additional perk: "I get to drive nicer cars now," she adds, "much nicer than I could afford."
The original print version of this article was headlined "Space Race"