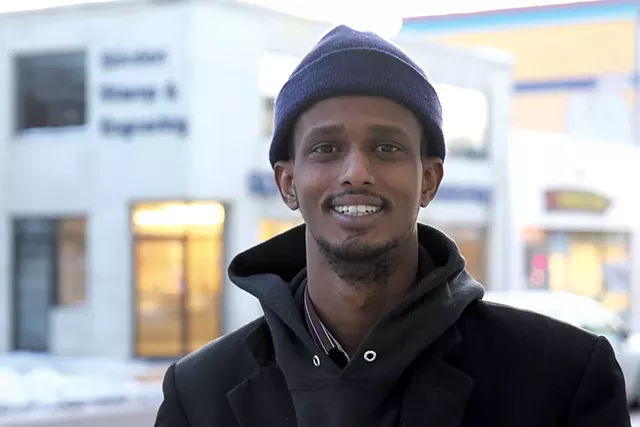 Courtney Lamdin
Zakaria Hassan
Martin Baumann and his wife, Gabriele, moved to Burlington in 1998 and sent four children through the local school system. Gabriele volunteered as the Parent Teacher Organization's fundraising chair, helping organize pancake breakfasts and silent auctions.
But when it came time to consider the school budget, the Baumanns couldn't cast a ballot. As German citizens, they had no right to vote here.
Baumann was excited when, in 2015, Burlington put a proposal on the ballot to allow noncitizens to vote in local elections. His progressive city was taking a stand; he'd finally have a voice.
"If any town can make this happen, it might be Burlington," Baumann told Seven Days then. To his disappointment, the measure failed.
This year Baumann has reason to hope again. On Town Meeting Day, Queen City residents will vote — for the second time — on whether to extend suffrage to legal noncitizens. Although immigrants provided the impetus in 2015, this year City Councilor Adam Roof (I-Ward 8) introduced the measure, unprompted.
Roof believes the right to vote is an issue of fundamental fairness for Burlington's 3,000 noncitizens who, like their neighbors, pay taxes, send their children to city schools and contribute to the community. But his proposal faces opposition — not only from those who believe voting should be restricted to citizens, but from some immigrants who worry that casting votes could expose noncitizens to unexpected legal danger.
An additional uncertainty: whether Roof has raised awareness and organized enough support to win a majority of "yes" votes.
"Maybe there are tons of noncitizen folks he's been working with who are asking for his help, but I haven't heard," Infinite Culcleasure, a Burlington resident who led the 2015 noncitizen vote drive, said of Roof. "There's been very little dialogue."
Baumann, too, worries that could spell trouble. He's been engaged on the issue since 2007, when he joined the Vermont Immigrant Voting Alliance, a group led by fellow European expats. The alliance members complained that it can take years to obtain a green card, which bestows status as a legal permanent resident, and even longer to become a naturalized citizen with the right to vote. That year, they staged a mock election at city hall — but disbanded after seeing hateful online comments on the news stories about their efforts.
"It's unfortunately one of these topics where it gets very prickly, very emotional," Baumann said last week. "I just wish we could have a more rational discussion."
The noncitizen voting drive resurfaced in spring 2014, after the city rejected a Bhutanese refugee's application to serve on the Parks & Recreation Commission because he wasn't a citizen. Jeetan Khadka applied anyway: "I wanted to make sure my voice had been heard," he told Seven Days then. Also that spring, the city published its diversity strategic plan with goals that included allowing noncitizens to serve on city government boards and to vote in local elections. Those objectives turned into ballot items; both failed at the polls in 2015.
Roof and others say times have changed. Mayor Miro Weinberger has endorsed the proposal and, in an email, wrote that he expects President Donald Trump's anti-immigrant stance will inspire voters to be "open to welcoming, pro-immigration policies in a new way." Councilor Brian Pine (P-Ward 3) agreed, saying he thinks Burlington voters won't stand for what he described as Trump's xenophobic rhetoric.
"We need to make a very clear statement that Burlington is not part of that, and those are not our values," Pine said. "I believe that will result in more support for this at the ballot box than would normally happen."
City Council President Kurt Wright (R-Ward 4) predicts the measure will pass because this year's Town Meeting Day falls on Super Tuesday, when the Democratic presidential primary will feature Vermont's own U.S. Sen. Bernie Sanders (I-Vt.).
"That may bring out more students and other voters who didn't vote the last time, who may typically support this type of thing," Wright said. "That's my theory, and that's my concern."
Wright and Ali Dieng (D/P-Ward 7) are the only city councilors who opposed the measure. Wright said he believes voting is a sacred right reserved for citizens. Dieng, an immigrant from Mauritania, said the right to vote was the ultimate reward when he became a U.S. citizen in 2014.
Baumann is not the only resident immigrant who would happily participate in the democratic process. On a recent Friday, 28-year-old Zakaria Hassan chatted with a group of young men and women at his mother's halal grocery store on Burlington's North Street. He piped up as soon as this reporter asked the cashier about the ballot item.
"I wanna vote for Trump, but I ain't got my citizenship," Hassan called out.
Hassan's family immigrated from Somalia in 2005; he got his green card the following year. He hadn't heard about Burlington's ballot drive but said he would vote — albeit not for president — if granted the right. A lot of Somalis he knows have attained U.S. citizenship but still don't go to the polls, Hassan said.
"They just go to work and come back; that's all they care about. But in reality, they've gotta come out and vote," Hassan said. "Let's save the kids, our second generation ... that's the most important."
Baumann agreed.
"Most people that come to the United States and stay here, they want to make a contribution and make [their country] better," he said, adding, "The process of integrating immigrants would be greatly accelerated if they had a voice."
Burlington would not be the first Vermont city to allow noncitizen voting — Montpelier voters approved the concept in November 2018. That measure has not taken effect because the state legislature must approve such municipal charter changes. The Vermont House approved it last year; the Senate Government Operations Committee heard testimony about it on Tuesday.
The committee chair, Sen. Jeanette White (D-Windham), declined to predict whether the panel would act on the bill, calling opinions on it "mixed."
"Even people who are really predisposed to say yes are asking questions," White said, adding, "If we do something for Montpelier, one way or another, it will definitely send a message about how we would deal with Burlington."
Winooski, the state's most diverse city, delayed action on noncitizen voting in 2018 because New Americans were noticeably absent from debates leading up to the city council's vote. The city subsequently formed a charter commission that is expected to recommend that residents vote on the issue in November, according to city manager Jessie Baker.
In both Winooski and Montpelier, some residents worried that federal immigration officials would have easy access to noncitizens' names and addresses if they registered to vote in local elections. These residents come to the United States legally, but some overstay their visas, according to Erin Jacobsen, an immigration attorney with the South Royalton Legal Clinic at Vermont Law School.

Most visa-holders, however, won't be eligible to vote under Burlington's plan because the proposal only extends voting rights to residents who are here "on a permanent or indefinite basis," city attorney Eileen Blackwood told councilors on Tuesday night.

Such concerns are central to Councilor Dieng's opposition to the Burlington plan. "We should let people go through the process safely, without any fear," he said. "I think this measure in front of us is taking that away."
Dieng said he'll lobby against the ballot item in his uncontested reelection bid. The New Americans he's met want help navigating the arduous and expensive naturalization process; none has asked for the right to vote, he said. Dieng criticized Roof's plan as coming out of nowhere.
"This resolution has no input from the community," Dieng said. "Zero."
Culcleasure, the 2015 advocate and a former candidate for mayor, agreed. He said he'd feel differently about the issue if noncitizens were leading a robust dialogue about voting rights instead of "some middle-class white folk who are thinking more strategically than anything else."
"How this coalition is going about it, to me, is a little suspect," Culcleasure added. "I need more [explanation] than Adam Roof's oversimplistic 'people are paying taxes; they deserve to vote.'"
Roof dismissed the notion that he's pandering for votes as "cheap" and "absurd."
"I don't claim to be some great white knight," Roof said. "I believe that we should, as a city government, be looking to ways to improve access to the ballot for those that don't have it."
Roof said he hopes to consult with organizations that support immigrants, including Migrant Justice and the Association of Africans Living in Vermont, before the election. Roof said the noncitizens with whom he spoke were afraid to advocate for themselves at council meetings and also declined to speak with Seven Days.
Pine, Roof's fellow councilor, said it's unreasonable to expect disenfranchised residents to lead the charge.
"People are busy establishing their lives," Pine said. "As allies, I think we need to step up and do the work."
Another prominent Progressive has reservations. Mohamed Jafar, who emigrated from Kenya at age 7, ran unsuccessfully for city council last year on a platform of giving New Americans a greater voice in Burlington politics. But as a volunteer on Election Day, he's seen new citizens struggle to navigate the polls. Jafar worries that noncitizens, if allowed to vote, could accidentally cast a ballot in a federal election. That could get them deported, Jacobsen, the immigration lawyer, said.
"It takes a lot of effort and diligence on the part of the municipality to make sure they're not putting people at risk," she said.
Jafar has gone about helping New Americans in a different way. Since last February, he has worked with the Vermont Secretary of State's Office to translate state ballots in Burlington and Winooski into six languages — Arabic, Burmese, French, Nepali, Somali and Swahili — to be used in the March presidential primary election. Non-English-speaking voters will be able to take a translated sample ballot into the voting booth and mark the corresponding English one to vote. The project kicks off with a presentation at the Old North End Community Center on January 25.
"In order to bring people to the table, sometimes we have to take the extra leap to pull them in," Jafar told a crowd at the Progressive Party caucus last month, announcing the initiative. "I think that this project is something that will pull even more people in."
Roof says the same about his initiative. The best way to increase participation in local politics, he said, is to let everyone have a say, regardless of citizenship.
"It's been a long five years since 2015," Roof said. "We'll see what voters decide in March."
Kevin McCallum contributed reporting.

Editor's note: This story has been updated from the print version in Seven Days to include comments made at the Burlington City Council session Tuesday night, after the newspaper's print deadline.