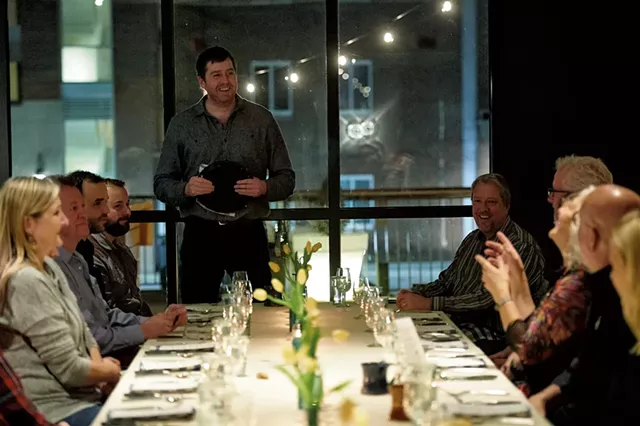 Bear Cieri
Hotel Vermont hosted a dinner as part of Zephyr Conferences' second annual Beer Marketing & Tourism Conference
The first beverage offered at the Hotel Vermont beer-pairing dinner on March 6 was not beer, but it was a vivid illustration of the state's flourishing craft brewing industry. More than two dozen guests sipped hot barley tea optionally spiked with locally distilled gin and dry-hopped simple syrup.
The tea featured malted barley from Peterson Quality Malt, a Monkton-based business founded to provide Vermont brewers with a key ingredient made locally. It was an appropriate opener for a dinner that welcomed attendees of the national Beer Marketing & Tourism Conference happening in Burlington that week.
According to the Vermont Brewers Association, craft breweries contributed an estimated $376.7 million to the state's economy in 2016, and $126.7 million of that came from beer tourism. VBA has 56 brewer-members with more on the way, firmly cementing Vermont as the national leader in craft breweries per capita. Beyond quantity, the state also claims quality, repeatedly earning top ratings on worldwide brewer and beer lists.
That sterling craft beer cred helped make Burlington the host city for Zephyr Conferences' second annual Beer Marketing & Tourism Conference, which ran March 6 to 8. The 230 conference participants traveled from 29 states, plus Australia, Belgium and Canada, for talks and panels on topics ranging from "How Beer Revitalizes Downtowns" to "Legal Cannabis Is a Brand Innovation Game Changer." Optional evening events included the Hotel Vermont dinner and another at Stowe's von Trapp Brewing Bierhall Restaurant, as well as a "ski with the brewers" excursion to Sugarbush Resort.
Matt Canning, Hotel Vermont's "beer concierge," hosted the March 6 dinner. The hotel's beer tourism program, Canning said, started in 2014, a year after the property opened. "We realized we were answering the same questions about beer every single day," he said, whether for guests who had come specifically for beer or business travelers seeking post-work activities.
The reputation of the state's beer has spread so far, Canning noted, that on a recent trip to Seville, Spain, he spotted a "Vermont-style IPA" on a menu.
Between spoonfuls of roasted carrot soup, bites of crisp fried chicken and shreds of meltingly tender beef shank, guests at the Hotel Vermont dinner drank beers from a star-studded roster of local breweries, including Lawson's Finest Liquids, Hill Farmstead Brewery and the Alchemist.
Among the conference-goers at the dinner was Charlotte Wattigny of the San Marcos Convention and Visitor Bureau. The Texas city of about 60,000, located between Austin and San Antonio, will see its seventh brewery open next year, Wattigny said. From the conference and firsthand experience of Vermont beer tourism activities, she said, she hoped to draw lessons for leveraging her city's craft brewery industry to attract more visitors.
At the far end of the table sat Stephen Beaumont, a Toronto-based author of 13 beer books, including the forthcoming Will Travel for Beer: 101 Remarkable Beer Journeys Every Beer Lover Should Experience, which features Vermont as a destination. The conference was a good opportunity to network and catch up with breweries since his last visit, three years ago, said Beaumont, who travels and samples beer extensively around the world. "I'm headed to Barcelona next," he said.
Another dinner guest, Pierre-Antoine Morin of St. Pancrace Microbrasserie, had driven 10 hours down from Côte-Nord, Québec, to glean ideas for moving his brewpub to the next level. "What's fun is to brew beer," Morin observed, "but you must be able to sell the beer."
Zephyr has been running conferences for food, wine and beer bloggers for more than a decade; it recently added wine and beer marketing and tourism conferences, said marketing director Ryan Newhouse.
"Our conferences come out of a need for people in the industries to improve and be more connected with each other," Newhouse said. With craft brewing, "we've seen incredible growth in places like Vermont," he added, "but nationally, we're seeing that growth decline."
One area of continued vitality, Newhouse said, is brewery taproom sales. And, when beer lovers trek to the source, "that's where beer marketing and tourism are very closely connected," he explained.
Zephyr's Beer Marketing & Tourism Conference is designed for brewery employees, state craft-brewing associations and guilds, brewery tour operators, and regional tourism organizations. Last year's inaugural conference was held in Asheville, N.C.
Among the responses Zephyr received to its call for a 2018 location, Vermont's quickly floated to the top. "Vermont is extremely well known both for beer and tourism," Newhouse said.
Wendy Knight, commissioner of the Vermont Department of Tourism and Marketing, said the state brewers association, the convention bureau, Ski Vermont and breweries themselves helped bring the conference to Vermont. Her department invested $5,500 in the effort.
Beer, Knight said, "has become such an important part of tourism in Vermont." She described the conference as "an awesome opportunity to highlight not only our exceptional and innovative breweries, but to showcase all of our assets."
Conference sessions at the DoubleTree by Hilton in Burlington focused on selling both beer and beer tourism.
As Julia Herz of the national nonprofit Brewers Association said in her presentation, more than 10 million people toured U.S. craft breweries in 2014, half of whom hailed from outside their destinations. More recent data show that the total number of visitors is considerably larger than the number of tour takers; according to Nielsen data provided by the Brewers Association, 40 million adults visited a U.S. brewery in the past three months. The economic rewards go beyond the breweries themselves, Herz emphasized, sharing a February 27 New York Times article headlined "How Craft Breweries Are Helping to Revive Local Economies."
Bear Cieri
Samples from the star-studded roster of local breweries
Keynote speaker Doug Campbell, president of Brewery Omeggang in Cooperstown, N.Y., gave credit to Vermont as the "mecca of Northeast brewing" before he cautioned that, in the beer market overall, "brand 'craft' has started to run out of a little bit of steam." His talk focused on helping the "small artisan craftsperson up against the man" stand out in an increasingly competitive field in which mega-breweries have borrowed the halo of craft.
Knight from Tourism and Marketing led a panel of Vermonters entitled "Working Together to Grow Beer Tourism." Last year, she said, the state's breweries saw 1.6 million visitors, of whom 75 percent were tourists. Panelist Matt Wilson of Zero Gravity Craft Brewery in Burlington noted that, since the brewery's founding in 2004, "Everything has completely changed. People make pilgrimages to Vermont."
A brewery co-owner from Cape Cod asked the panel for advice on expanding her short tourism season. Another, from Lynn, Mass., had a problem: He chose his location for water quality, but the area's gritty reputation deterred potential taproom visitors. In response, Wilson noted Hill Farmstead's remote location in Greensboro: "If there's something really good out there, people are going to find you."
Sean and Karen Lawson of Lawson's Finest Liquids, another of Vermont's most established and respected craft breweries, attended the conference and provided sponsorship support. "Landing a beer marketing and tourism conference in Vermont is a really nice sign that Vermont is one of the premier beer destinations in the U.S.," Sean said.
The couple said they were looking forward to launching their own beer tourism effort. Sean pulled out his phone to show photos of construction progress on their first taproom and store, scheduled to open in Waitsfield this fall.
"For 10 years, we had to constantly tell people there was no public brewery to visit," Karen said.
"It was great just being able to make beer, but the business model has gotten more complex," her husband added. "Competition is so intense. There's this expectation of visiting a brewery and having the beer in its best state."
Growth of brewery taprooms has also fueled beer-centered tour businesses, modeled on but distinctly different from wine tours. That was the message of a joint presentation by Dave Phillips of Dave's Travel & Events Group in Sydney, Australia, and David Grandmaison, whose Duluth, Minn., business offers craft brewery tours and outdoor adventures. The two met last year at the first Beer Marketing & Tourism Conference and started working on establishing an international association to share best practices in the emerging sector.
The friends were doing more than networking; they'd met up a week earlier to travel together through Boston; Portland, Maine; and Stowe. "We are craft beer tourists, as well," Grandmaison said. In Vermont, besides hitting breweries like Hill Farmstead and von Trapp, they went to Burton and Ben & Jerry's, "educating ourselves" on how other industries create destinations, Phillips said.
After a busy lunch of pouring her beers, Andrea Gagner, CEO of 14th Star Brewing Company in St. Albans, said she appreciated the support from both near and far. "It's a sign that those within our state know just how impactful craft beer has been to the economy," she said. Her conversations with conference-goers, she added, drove home the point that "Vermont has developed a serious reputation for quality craft beer."