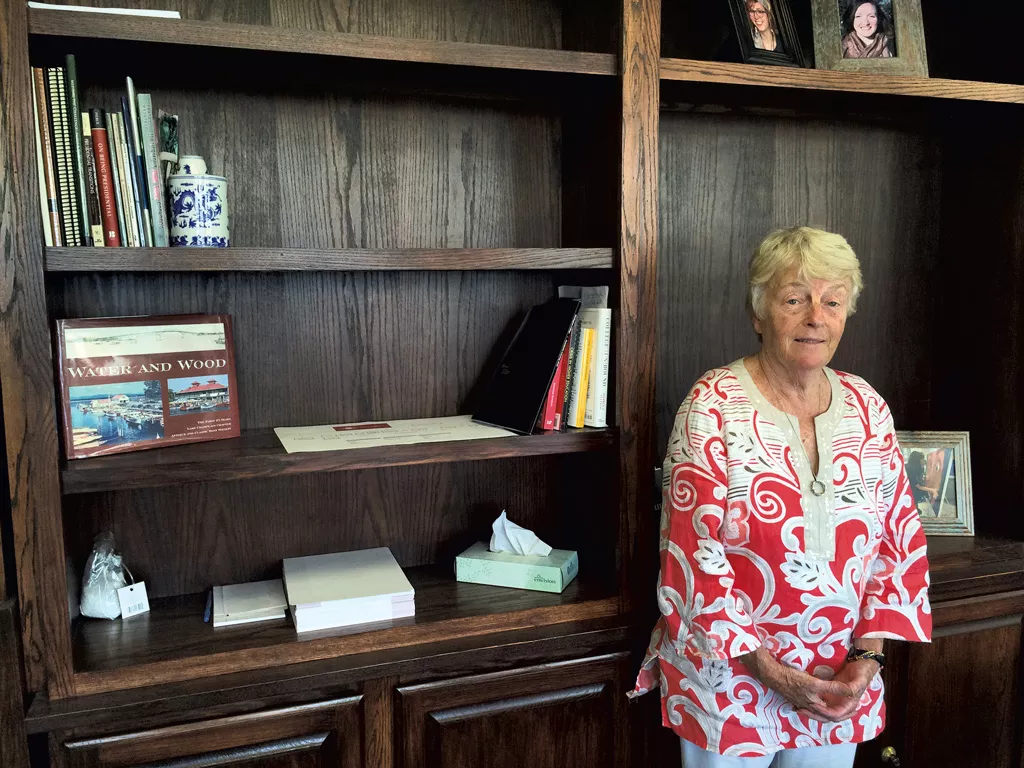 Alicia Freese
Carol Moore
"It's not too late to apply," reads the banner outside Burlington College. A visitor heeding that call last Friday might have seen a man on stilts rolling paint onto the bare walls of an entryway under construction.
The North Avenue building's off-putting appearance is actually a sign of progress, according to administration officials, who say the nearly completed renovations will make the struggling college more appealing to current and prospective students.
Interim president Carol Moore would not disclose how many students are currently enrolled for the fall semester, which is roughly three weeks away. But the former head of Lyndon State College did say that she anticipates starting the year with a total of 135 full-time-equivalent students.
That's down from 164 last spring.
"This year will not be a growth year for us," Moore predicted matter-of-factly.
Founded in 1972, tiny, liberal-arts Burlington College has always catered to nontraditional students, but last year, it narrowly avoided closing its doors. Accreditors placed the school on probation because of tenuous finances. Its president resigned after a student revolt. Interim leaders took over, and, in a last-ditch effort to save the college, they sold most of its prized lakefront campus.
When classes resume on September 8, students won't be the only ones put to test: In the coming months, the college needs to convince the accreditation agency, future students and the surrounding community that it has turned a corner. Will it make the grade?
Eight months into her 22-month contract, Moore has presided over a period of relative calm. The land sale executed by the previous interim president, Mike Smith, reduced the school's debt from roughly $11 million to $4 million and lowered its property-tax bill and hefty debt-service payments. That helped Burlington College finish this past fiscal year in the black, which was the first thing Moore mentioned when asked to assess the progress she's made.
Smith signed a second agreement with Eric Farrell, the same developer who purchased the land, to sell him the main building on the property, too — a former orphanage run by the Roman Catholic Diocese — for $2 million.
No money has changed hands yet — Moore said they're waiting for Farrell to secure city permits — but she hopes to complete that transaction this fall. A public hearing on Farrell's proposal to convert the orphanage building to housing is scheduled to come before the Burlington Development Review Board on August 18.
On Tuesday, Farrell publicly shared a draft plan to build roughly 750 units of housing on the property, including 63 apartments in the former orphanage building that faces North Avenue. Nearly 12 acres of lakefront land will become a public park.
If the orphanage sale goes according to plan, it will further reduce the college's debt. Moore also thinks it will entice new students, who get first dibs on the apartments as part of the agreement with Farrell.
In anticipation of the sale, the college is renovating the smaller, more modern addition to the building that it will retain. Moore considers these upgrades, which include a new student lounge and an expanded writing center, another recruitment tool.
Moore said attracting students has been hampered by the "community perception" that the college "could go under." The 2015 enrollment figures, she insisted, shouldn't reinforce that notion. "Growth in enrollment is a lagging indicator, which means that you might be doing all kinds of wonderful things, but it doesn't show in terms of increased student population for a certain period of time," she said.
Months earlier, however, Moore had outlined more ambitious enrollment goals. During a "state of the college" address in February, she shared internal admissions targets for the 2015 academic year at a gathering of employees, students and board members. At that event, which was videotaped and later posted to the school's website, she said the college hoped to bring in 110 additional full-time-equivalent students and urged all attendees to pitch in: "Remember that everybody is an admissions counselor."
On Friday, Moore said the goal is to grow to 300 students within three to five years. "We have a very concrete plan and, based on my experience elsewhere, I'm pretty confident the plan will come to fruition. It's just not going to happen this year," she said.
The approach to admissions will be "much more data-driven," according to Moore. Recruitment officers plan to attend twice as many college fairs and high schools as they did last year, and the college is also redesigning its marketing materials and coming up with strategies to improve the school's retention and graduation rates. She described recently hired admissions director Ryan Longe, who previously worked with her at Lyndon State, as "very experienced."
Is the college seeking donors to make up for fewer tuition dollars in the meantime? "No, there's not a campaign," Moore said, with a laugh. "Just the hope that people will send money." She continued: "I'm just being facetious. We've really focused on getting our internal house in order." Both Yves Bradley, chair of the board, and Moore said they plan to start making overtures to potential donors this fall.
"There's only so many hours in a day," Moore said, noting that the school is "very thinly staffed."
A number of employees have left the college in recent years, a trend that has continued during Moore's tenure. This summer, two professors who led hallmark programs — Matt Wohl, head of the film department, and Jared Carter, who coordinated the Cuba semester abroad program — took new jobs elsewhere. The college's IT director, librarian and an admissions counselor are also on the way out.
"It's pretty natural," Moore said. "When you go through a very challenging year, as the college did, people get quite nervous and need to take care of themselves, so to speak."
Likely making them more nervous: Last semester, professors were required to submit "teach out" plans that would enable existing students to graduate if the college was forced to close. Moore said the New England Association of Schools and Colleges mandated this process because of the college's debt load. "I have no thought in my mind that they are going to get executed, but it's a safety precaution," she explained.
Board chair Bradley remains confident, but there's been turnover among trustees. Moore put a positive spin on that, too, saying its five new members are further evidence of the school's progress. Her reasoning? People don't join the board of an institution that's about to fold. Bradley, who described Moore as an "exceptional leader," praised her conviction, suggesting, "As long as we are of that mind-set and singing the praises of this college, we've got nowhere to go but up."
Because Burlington College has only a handful of full-time professors, it relies heavily on adjunct professors. Adjuncts formed a union last fall and are currently negotiating a contract with the college.
Rebecca Weisman, an adjunct who's taught experimental film and video art, was enthusiastic about Moore's approach. "The current administration is really doing all that they can do to reach out and have better communication with faculty and greater transparency and a higher degree of organization," Weisman said.
Regarding the school's finances, she observed, "I think there is a lot of work to be done, and I think this next year will be an important year."
In part that's because NEASC is sending a team to visit Burlington College this fall. It will make a confidential recommendation to NEASC's Commission on Institutions of Higher Education about whether the college should remain accredited. After school officials are given a chance to respond, the commission will decide the college's fate sometime next spring, according to the commission's president, Barbara Brittingham.
Brittingham said college administrators have been "very responsive" to NEASC's requests for information, and she noted that the land deal resulted in "a significant improvement in the position of the college." Beyond that, she declined to comment on the school's situation.
Moore pointed to new initiatives. During the last six months, Burlington College has announced several new partnerships, which Moore hopes will attract students and reduce costs for the college. Through an arrangement with the nonprofit Vermont HITEC (Healthcare & Information Technology Education Center), people who complete its apprenticeship program can also get an associate's degree at Burlington College by taking 15 credits.
Another arrangement will give Burlington College students access to online and traditional courses offered by the Maine-based New England Institute for Teacher Education. Most recently, the college announced a partnership with the online education platform Oplerno, which will also expand course offerings for students.
The president spoke enthusiastically about a new career center at the college, where she plans to bring in potential employers for "speed interviewing" events.
Mentioning that she has 45 years of experience working in higher education, Moore said she's qualified to evaluate Burlington College's prospects. "You can look at some of the data, and you can look at some of the telltale signs, and you can say, 'OK, is this institution going to turn around or not?'" Her conclusion: "It can turn around."