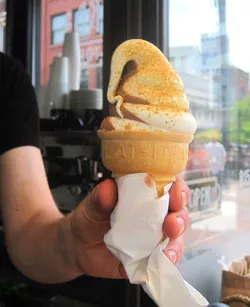 Alice Levitt
Creemee at Bluebird Coffee Stop
When the Chubby Muffin opened on Oak Street late last summer, owner Benjy Adler promised that, one day, localvore ice cream would join burgers and hot dogs on the menu. That day turned out to be Saturday, May 28, when Adler and his co-owners introduced a half dozen flavors of hard ice cream made from Vermont milk and fresh ingredients. The shop, usually open 'til 3 p.m., will now offer sweet treats until 9 p.m. every day but Monday.
The initial flavors are maple brown sugar, vanilla, coffee, salted caramel, blueberry and mint chocolate chip. Adler is particularly taken with the last one, which he says "tastes like fresh mint leaves. I've never tasted a mint ice cream like this in my life."
The fruity scoops that currently burst with blueberry will change throughout the season to include whichever local, organic berries are freshest, says Adler.
Ice cream is available in milkshakes and flurries called "Nor'easters." Creemees and ice cream sandwiches will roll out soon, and sundae options will grow throughout the season.
One specialty, Rookie's Root Beer floats, is available at both the Chubby Muffin and Burlington's other new gourmet ice cream purveyor, Bluebird Coffee Stop.
The kiosk, owned and supplied by Bluebird Tavern, now sells Church Street's only soft-serve until nine every night. Two weeks into serving the creemees, the flavors remain vanilla, mocha and a twist thereof. Owner Sue Bette hopes to "develop some fun stuff over time," but the Stop already serves the big natural tastes of vanilla and über-rich, coffee-inflected chocolate in several uncommon ways.
The maple sundae includes both powdery maple sugar and maple syrup, while the affogato is ice cream topped with chocolate-covered espresso beans and a shot of espresso. For a sweet and salty combo, customers can order crushed bacon candied almonds on top. The treats are available through October.
Down on Riverside Avenue, the Bluebird Tavern recently added a new special feature to its nightly bill of fare: the Harvest Tasting menu.
Each day, says Bette, chef Michael Clauss and his team will spotlight a different farm-fresh ingredient in four or five courses. While seasonal specialties, such as asparagus, are changing daily now, Bette says she plans to keep the menus all year. Look for coffee to be a featured ingredient come winter.