File: James Buck
The site of Burlington's former downtown mall
When you think Burlington politics, you probably think "lefties."
You wouldn't be far off. The city is, after all, the birthplace of Vermont's Progressive Party — to the left of the Democrats — and it's the home of Sen. Bernie Sanders (I-Vt.). Donald Trump won a mere 11.7 percent of the vote here in the 2016 presidential election.
Burlingtonians participate in their local politics and community affairs with gusto. There's nothing Queen City residents like more than a good protest, and they hold a lot of them. They turn out en masse to city council meetings. They also embrace grassroots get-togethers: door-knocking, organizing and neighborhood meetings.
Want to get involved? Here's an FAQ that'll help you learn about local politics, city life and civic engagement. Turn to page 25 for a list of community centers where you can find even more resources.
How does city government work here?
Let's look at it by the numbers: 400 city government employees are overseen by 1 mayor. That's currently Mayor Miro Weinberger, a Democrat, first elected in 2012. 12 city councilors are elected to represent the city's various neighborhoods: 1 for each of the 8 "wards," and 4 elected to represent "districts," which include 2 wards apiece. Most elected officials run with one of 3 major-party labels — Democrat, Progressive or Republican, though the latter appears to be an increasingly endangered species in Burlington.
What do I need to know about Mayor Miro?
Matthew Thorsen
Mayor Miro Weinberger
He's currently serving his third three-year term, and his only previous public service in the city was a stint on the airport commission.
He's stabilized city finances and overseen a significant jump in the city's credit rating.
He plays catcher in a local adult baseball league with former Red Sox pitcher Bill "Spaceman" Lee.
He's become known as "the development mayor" due to his background in real estate and some major city projects during his tenure, including the current $5.8 million redesign of City Hall Park and support for the construction of a $225 million "tall mall" project. Speaking of...
What's going on with the giant hole in the ground downtown?
Great question! We wonder that ourselves. Developer Don Sinex tore down a decrepit downtown mall and was supposed to replace it with two mixed-use towers of shops, office space and apartments that, at 14 stories, would have been the tallest buildings in Vermont. The city and voters approved zoning changes that allowed the project to move ahead in 2016, but it has been beset by delays. Now its new majority owner, Brookfield Asset Management, is planning a redesign. Maybe we'll know more next year?
I hear so much about Bernie. Where is he?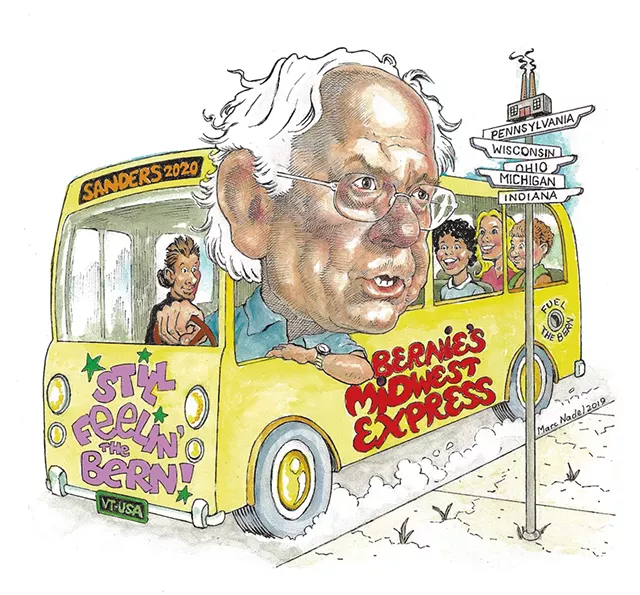 On the presidential campaign trail, most likely. The self-proclaimed democratic socialist is seldom in town, though he's an icon here.
And his legacy is still going strong. Sanders was Burlington's mayor from 1981 to 1989 — he won his first election by a mere 10 votes — and he had a hand in creating institutions that are still serving the city, including its Community and Economic Development Office, Neighborhood Planning Assemblies, and the Champlain Housing Trust.
Sanders lives in Burlington's New North End, though since he was first elected to Congress in 1991, he's split his time between the Queen City and the nation's capitol.
He led a surprisingly impactful long-shot campaign for president in 2016, spurred on by average donations of $27, and now he's at it again, claiming to be America's best chance of unseating President Trump.
If you're lucky, you'll run into him on Church Street on one of his rare trips home.
What exactly is Town Meeting Day?
Vermonters vote in the November general election like everybody else, but they make their town- and city-level decisions on Town Meeting Day, which is the first Tuesday in March.
In many small towns, residents still gather in a school gym or town hall to debate and vote on issues such as whether to buy a new fire truck or approve a bond for a construction project. In bigger cities like Burlington and Winooski, residents simply go to the polls to elect city officials and decide local budgets.
Either way, don't miss the polling place bake sale!
Why is Burlington called the Queen City?
"Queen City" is a common nickname for the largest city that's not the state capital. At population 42,000, Burlington is more like a town — but for most Vermonters, it's a metropolis. We mean, there are traffic lights!
How do I know what's going on around town?
Call us biased, but one of the best ways to get the news is to read our weekly sister publication, Seven Days — Vermont's free, independently owned newspaper. Also look for 7D reporters guest-appearing on other local broadcast media outlets, including WCAX-TV, Vermont Public Radio and WDEV-FM.
Turn to page 20 for some locals to follow on Instagram. You can also subscribe to Front Porch Forum, an online place for neighbors to connect. People post a bit about everything, including free stuff, unsolicited advice and lost pets. Once, someone reported a runaway vacuum cleaner. Beware!
How should I get involved?
Start by attending a Neighborhood Planning Assembly meeting. They're an institution unique to the Queen City, developed under former mayor Sanders. One evening a month, neighbors come together to hear from elected representatives, weigh in on local policy and, sometimes, share a meal. Find more info on these and other city gatherings at burlingtonvt.gov.
Where do I complain about a parking ticket? I got to my car one minute too late!
Parking cops take their jobs very seriously here. You can call the Department of Public Works or lodge a complaint with the police department. But good luck. Believe us, we've tried.
In the future, avoid a ticket by parking in a city-owned garage; the first two hours are free! You can also download the Parkmobile app (parkburlington.com), which helps you find a spot and sends you a 15-minute warning before your meter expires.
What about the pothole near my driveway?
Try out SeeClickFix, an app for noting anything from graffiti to potholes to fallen tree branches. City employees will see your complaint, respond to it and let you know they've followed up. Happy reporting!