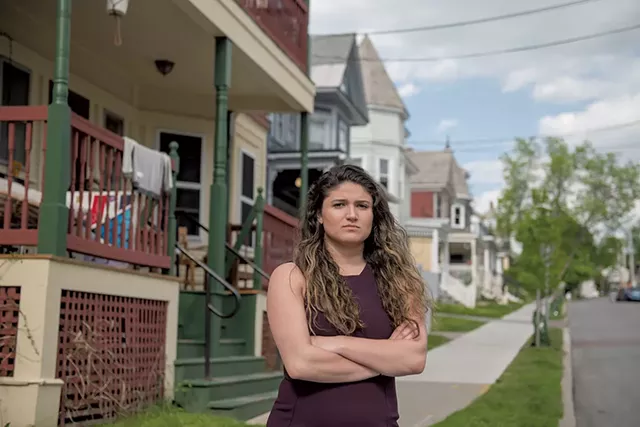 File: Daria Bishop
City Councilor Ali House
Updated at 9:27 p.m.

Burlington City Councilor Ali House (P-Ward 8) resigned her seat on Wednesday afternoon, saying "several serious situations" have made it difficult to serve.
In an interview with
Seven Days
, House declined to elaborate on the reasons she's stepping down, saying that "discussing any further details at this time could potentially be harmful for me." House later emailed a press release that echoed the sentiment.
"For my own personal safety and well-being I can't make any further comments at this time," she wrote.
House is the second Progressive councilor to resign in just a three-week span. Jack Hanson stepped down from his East District seat last month.
House's resignation comes a day after
Seven Days
contacted the first-term councilor about whether she's still living in Burlington. House, who was elected in March, didn't respond to
Seven Days
' interview requests on Tuesday.
In an interview on Wednesday morning, House declined to comment on her residency status on the record, citing security and legal concerns, and said she needed to discuss the matter with fellow Progressive councilors Joe Magee (P-Ward 3) and Gene Bergman (P-Ward 2).
A few hours later, House contacted
Seven Days
to say she would be resigning, effective immediately. She then said she is "a current legal resident of Ward 8, for sure."
A review of House's attendance record shows she was absent for three of the dozen council meetings since she was elected, most recently on September 19. She attended the council's September 12 meeting via Zoom but was in person at the August 15 meeting.
resigned
in mid-September to apply for a job at the Burlington Electric Department. The city is holding a special election to fill his seat on December 6, and both Progs and Dems plan to hold nominating caucuses this weekend.
The city charter requires the mayor to call a special election within 90 days of a vacancy, but only if a councilor resigns before October 1. Because House stepped down on October 5, the election can wait until Town Meeting Day in March 2023, mayoral communications director Samantha Sheehan said.
Adam Roof, chair of the Burlington Democratic Party and a former Ward 8 councilor, said House was right to resign if she couldn't perform her duties. But he also suggested that the Progs haven't thoroughly vetted their candidates, saying that the Dems make sure people know what to expect on the campaign trail and in public office before throwing party support behind anyone.
"It is stressful, it does take a lot of time, it's hard to prepare for," Roof said of council work, "but I think it's the job of the party to communicate [that]."
Burlington Progressives enjoyed a relatively steady rise to power beginning in 2019, when Hanson and political newcomer Perri Freeman (Central District) defeated two moderates on the council. The momentum continued for two more years as the Progs reinstated ranked-choice voting and passed a measure to ban no-cause evictions, among other priorities.
In March 2021, former councilor Max Tracy challenged Democratic incumbent Mayor Miro Weinberger — and came just 129 votes short of defeating him. The Progs were riding high.
But earlier this year, Tracy didn't run for reelection. Neither did then-Ward 8 councilor Jane Stromberg, who cited struggles with mental health as a reason for her exit. Ward 1's Zoraya Hightower did run again, but only after attempting to court someone else to run for her seat.
Prog council members have since voted to reverse the police cuts and have approved bonuses to attract and retain cops.
Vermont Progressive Party executive director Josh Wronski said none of those events signal waning enthusiasm for the caucus. He compared the council turnover to that in the Vermont legislature this election cycle, which he said "highlights just how challenging it is for anyone to be in these positions."
"That's just the nature of the type of people we're recruiting, and I think that's a good thing," Wronski said. "The council role is challenging, and we haven't, as a society, totally figured out a way to fully support, especially working class people, in these roles."
Councilors are paid a meager $5,000 annual stipend for their large workload — an imbalance that Stromberg, when she was serving, tried to correct by proposing an increase. Wronski thinks the city should revisit her proposal.
The Progs expect to have two candidates at Saturday afternoon's nominating caucus for the East District seat special election, which Wronksi said is a sign of enthusiasm for the party. The Dems, by contrast, have one declared candidate so far for their meeting on Sunday.
"Even with the resignations, we'll have the same number of councilors as the Democrats," Wronski said.
The cochairs of the city Progressive Party, Councilor Hightower and Carter Neubieser, shared the same conviction in a statement released on Wednesday evening.
"We look forward to electing capable and empathetic leaders like Ali in the coming weeks to the East District and Ward 8 seats," they wrote. "We are fortunate and grateful to have an exciting group of leaders ready to continue [to] step up and build the movement."
In a statement, Weinberger said Ward 8 residents are welcome to contact his office with concerns while they're without any council representation. He also offered House luck in her future endeavors "and in addressing the situations that caused her to take this action."
When she was sworn in this April, House became the first-ever college student to serve on Burlington's city council. Her 43-vote win over Democrat-endorsed Hannah King, a fellow University of Vermont student, was a
victory for city Progressives
, who needed the seat to maintain their six-person plurality on the 12-member council.
"Being an elected official may not be a sustainable organizing practice right now, but my promise to our community is that I will never stop fighting for collective liberation and justice," she wrote. "The process may be slow, but there is hope so long as we raise our voices together. I hope you can continue to join me in the fight."