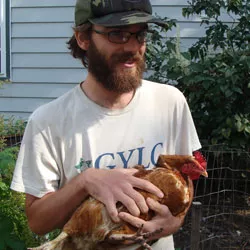 Will Bennington with a chicken
Will Bennington had to give up more than half his flock of chickens last spring when a Burlington code enforcement inspector busted him for having too many hens in his yard. The bushy-bearded University of Vermont undergraduate had 10 layer hens outside his apartment on Decatur Street in the Old North End — six more than city ordinance allows.
So he and his housemates sent their feathered friends away to a farm and made do with fewer omelettes.
Now Bennington is trying to convince the powers-that-be to increase the number of chickens backyard farmers can raise. Zoning ordinance permits no more than four chickens per property — whether it's a single-family home or multiunit apartment building. Bennington and others argue that's unfair to renters who share backyards with other families and therefore get fewer eggs each.
The Board of Health is poised to take up the issue next month, and a city councilor is backing Bennington's idea. "I don't see why I shouldn't be able to have more chickens," says Bennington, 22, noting he would love to have 10 hens but would settle for six. "I understand the need for limits, for health or nuisance reasons. But it doesn't seem like anyone in the city understands why the limit is four."
Today, Bennington keeps four chickens in a homemade coop. They peck at food scraps on a dirt patch outside. Together, the birds lay two to three eggs a day, fewer in winter. It's sufficient for his household, Bennington says, but not enough to share with his friends and neighbors, as he used to do when he had 10 birds.
Urban farming was already trendy before this summer's salmonella-tainted- egg scare gave consumers another reason to go local. Burlington's livestock regulations have been a hot topic on the Old North End's Front Porch Forum; the majority of contributors appear to believe the four-chicken limit is unreasonable.
"I live with a lot of people, and we all like eggs, and we have a huge yard, and three or four just won't cut it," writes one Old North End resident. "In the summer they'll lay about once a day, and much less in the winter. Why not let there be one chicken per person in the house, granted that there is adequate yard space? That's one egg for that person a day."
Burlington's chicken farmers can procure locally raised eggs at City Market or any one of the city's seasonal farmers markets. But for Bennington and others like him, raising hens is the ultimate localvore experience. Plus, he says the flavor of fresh eggs, with their deep orange yolks and silky texture, is far superior to anything he can get at a grocery store.
"We're trying to bring local food systems to a truly local scale," Bennington says. "I've seen footage of chicken operations that most people in this area would say are the good places to buy eggs from, and I'm just uncomfortable with 300 chickens living together."
Burlington code enforcement director Bill Ward says there's "room for discussion" on chicken limits but suggests it will be on a case-by-case basis. Some multiunit apartments could accommodate four birds per unit, he says, while others clearly could not. An example of the latter, he says, is Decker Towers, the 159-unit apartment building at 230 St. Paul Street. If every tenant in the building wanted four hens, there would be more than 600 birds crammed onto the property — an outlandish scenario, but conceivable on paper.
"I would think the neighbors on Church Street behind there would be pretty upset that the Perdue family was keeping a farm behind there," Ward says.
To date, Ward's office has received few, if any, complaints about noise or smell from backyard chickens, he says. Bennington's overcapacity chicken coop was discovered this past June because a code inspector was on Decatur Street for an unrelated call.
But Ward predicts that more chickens could mean more complaints.
"There are a lot of people that don't take proper care of their dogs — just ask the police department," Ward says. "So, will there be people who don't take proper care of their chickens? I guarantee it."
City Councilor Bram Kranichfeld (D-2) represents the Old North End and says several constituents have spoken to him about the issue. Kranichfeld supports raising the limit from four chickens to something higher, but says he'll leave it to the experts to find an appropriate number.
"I lived next to a house that had backyard chickens on Hyde Street, and you wouldn't even know they were there," he says. "You don't want to end up with chickens overrunning the neighborhood. But unless the Board of Health thinks it isn't doable, then I don't see why we can't increase it."
The Board of Health, which can advise the city council but can't change city ordinance, wants to put chickens on its October meeting agenda, chairman Ian Galbraith says. The board's sole concern: Would more hens pose increased health risks to Burlingtonians?
"These things, when they become the fashion, can get out of hand," says Galbraith, who describes the board as pro-urban agriculture. "We need to make sure that doesn't happen."