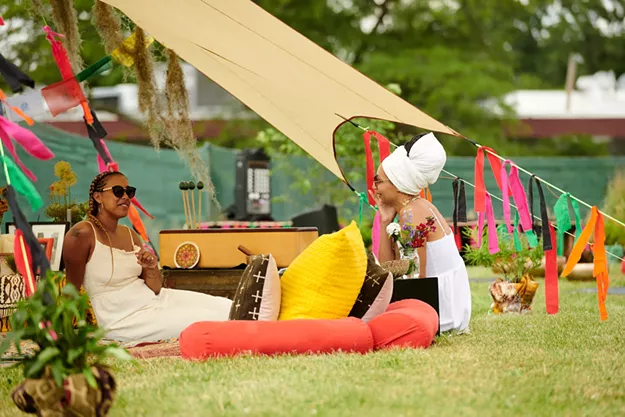 Bear Cieri
Amber Arnold, left, and Naomi Doe Moody in the Black Healing Village set up at Champlain School
Bear Cieri
A panel discussion at the Fletcher Free Library about building an equitable food system in Vermont
Bear Cieri
Artwork on Fletcher Free Library
Bear Cieri
Members of Jeh Kulu Dance and Drum Theater performing at Flynn Elementary School in the New North End
Bear Cieri
Mayor Miro Weinberger speaking
Bear Cieri
Charlie D. Megeso, right, embracing Mark Hughes, executive director of Justice For All, during the Gospel Brunch in City Hall Park
Bear Cieri
Mark Hughes (left) and Charlie D. Megeso
Bear Cieri
A gospel brunch in City Hall Park kicked off Burlington's Juneteenth celebration.
Bear Cieri
Rishona Phillips reacts to the spoken word stylings of artist Joe Mac
Bear Cieri
Spoken word artist Joe Mac performing in City Hall Park
Bear Cieri
Dr. Christopher Von Cockrell, pastor of the New Alpha Missionary Baptist Church, speaking at the gospel brunch
Bear Cieri
Evelyn Walton looking at historical black ephemera on display at the Black History 101 Mobile Museum at Flynn School
Bear Cieri ©️ Seven Days
James Moore accepts a plate of Ethiopian food provided by A Taste of Abyssinia. Right is Alganesh Michael, the owner, and her daughter Lydia Ambaye.