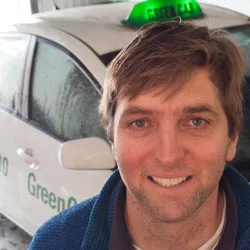 Matthew Thorsen
Charlie Herrick
Burlington City Councilor Emma Mulvaney-Stanak (P-Ward 3) doesn't take taxicabs very often, but she vividly remembers one very expensive ride from Nectar's to the Courtyard Marriott and back. Under the city's "zone system" of pricing, the six-block trip should have cost her $6 or $7. The cabbie charged her $14.
The situation hasn't changed much over the years. In 2008, a Seven Days investigation documented what Burlington taxi riders have known for years: The zone system is routinely ignored and unenforced, meaning a cab fare from Point A to Point B can cost almost anything, depending who's driving.
What's new is the city's response: A total rewrite of the taxi regulations that would replace the zone system with meters. Draft regulations headed to the Burlington City Council this month would also subject taxi drivers to random drug tests and biennial physicals, and crack down on bad habits that city officials say they've tolerated for far too long: cab drivers smoking, watching porn, sleeping in parked taxis and dressing sloppily, for example.
Mulvaney-Stanak, who also sits on the city's Taxi Licensing Board, says the new regulations come in response to "chronic complaints" — often from cabbies themselves — about price gouging, a glut of taxis on city streets, offensive behavior and a lack of enforcement of the existing rules.
"Right now it's a little bit like the Wild West out there," says Mulvaney-Stanak, who says the goal is to create "very consistent standards for drivers."
For cabbies, those "consistent standards" would mean no cellphones or "improper dress," such as exposed boxer shorts or exposed midriffs. No watching porn or "lounging" in the cab. Violators can already lose their taxi license for such offenses. Under the new rules, they could also face fines of up to $500.
Queen City cabbies are fuming about the proposed rules change, threatening to sue the city or pull out of Burlington altogether if it goes through. While many agree the system needs fixing, they view the city's solution as an "overreach" that will lead to a cabbie exodus.
"If the city is so bullheaded that they can't work with us, we just won't service the city of Burlington," threatens Paul Robar, owner of Burlington's largest taxi company, Benways Transportation. "We would take every legal action known to mankind to fight them."
Robar admits the zone system is widely abused, but he opposes switching to meters because, he claims, it would be more expensive for his customers. Under the zone system, rides within Burlington now cost $6.53 to $14.37, depending on the distance. The 60-page draft taxi rules make no mention of what Burlington meter rates would be. Fares would continue to be set by the city council, with adjustments pegged to federal transportation rates set by the U.S. Bureau of Labor Statistics. Any time gas prices rise 25 percent in a six-month period, a two-thirds majority of the city council — at a petitioner's request — could adjust meter rates.
Today, taxis that work from Burlington International Airport are already required to be equipped with meters. Fares from BTV are $8.50 for the first two miles, plus $2.75 per mile for the next eight miles and $2.10 for every mile after that. The metered return ride usually works out to be more expensive than the nonmetered one that brought you to the plane.
At the January public hearing, one cabbie suggested the city meter rates be set at $8 for the first mile and 60 cents for each additional quarter mile. "Anything less will result in an unsafe taxi fleet," the cabbie said, meaning taxi drivers won't earn enough to maintain their vehicles properly.
Today, zone pricing only applies to rides that begin and end in Burlington. Customers who start or end their trips elsewhere are free to negotiate prices with cabbies. That's created a sort of free-market system for cab fares that taxi meters would do away with. Under the new regs, any trip that goes through Burlington must run on the meter rate, taking away a cab owner's ability to bargain.
Freddy Solomon, an independent cab owner, reminded the city panel last month that the vast majority of cab business comes from prearranged pick-ups, which have generated very few complaints about price gouging. Almost all the problems are coming from hailed cabs, he said, so if the city wants to require meters, it should do so only for hailed rides.
Not every cabbie in Burlington opposes the meters. Charlie Herrick, the co-owner of Green Cab VT, a fleet of five alternative-fuel Toyotas, doesn't agree with every proposed rule change, but says the meters would be a huge improvement over the zone system. Right now, customers hailing cabs can't reliably predict how much cab rides will cost, he says.
"It's right for customers to have a fair representation of the cost of a ride," Herrick says.
Robar argues that the city should better enforce the regulations it has before enacting new ones, even while admitting that he has trouble keeping his own drivers in line. Robar tells Seven Days that the state recently threatened to fine his company $10,000 because drivers have been caught smoking in their cabs. "I can ream them a new butthole. I can tell them they're not going to smoke, but it's a little harder said than done," Robar says.
Burlington police have jurisdiction over taxis, but Mulvaney-Stanak admits it's not the department's top priority. To address that, the new regulations would empower a "taxi advisory group" made up of drivers, consumers and industry reps to enforce the ordinance. Mulvaney-Stanak likens it to a "neighborhood watch."
"They'd be empowered to go up to a taxi driver, ask for their license, do a quick inspection to see if they're complying with the new ordinance," she explains. "They won't have the ability to issue tickets, but they can initiate a complaint process which would trigger an investigation or hearing to review the situation."
Robar's beef with the current state of Burlington's cab industry goes beyond what's addressed by the regulations. He complains of refugee taxi drivers who don't speak English and receive assistance from resettlement programs toward paying for their cab and taxi license.
"You've got to be able to speak English, and you've got to know where you're going," Robar says, adding that when the ride is over, "They understand the money. They understand that, but they don't understand anything else."
Too many taxis is another common complaint heard by the city, and Mulvaney-Stanak says the new regulations would "likely" mean fewer licensed cabbies, in part because new drug and health screenings would disqualify some applicants. However, she stresses the regulations wouldn't cap the number of licenses given out, or institute a New York City-style medallion system. At present, there are 168 taxi drivers licensed to serve Burlington and Burlington International Airport.
Cabbies have complained about the proposed drug tests and questioned whether randomly screening private employees is even constitutional. Assistant City Attorney Nikki Fuller believes the city is on firm legal ground and notes that it's taxi owners and drivers themselves who often complain to the city about other cabbies' drug habits.
"We had such a huge number of people [with convictions for] possession and sale, the city would be kind of remiss in not trying to address that issue before giving out a license," says Fuller, noting that drivers who demonstrate they've been clean for some time can qualify. "When you give someone a license, you give the impression the city is saying this person's OK to drive around."
Another bone of contention — the requirement of biennial physicals — is meant to weed out drivers with medical conditions, from mobility issues to vision problems, that would make them unsafe for licensing, Fuller says.
"We have one person with asthma who could barely breathe, and we're going, 'Are you serious?'" Fuller recalls. "Not that you're trying to be mean or anything. But if this person can't breathe, should we put them in a taxi with someone? We want to make sure that whatever condition you have is properly treated."
All those extra tests would jack up the annual taxi license fee — to around $200 instead of the current $105, according to Fuller.
For his part, Robar is resigned to the city council approving the new regulations, and is threatening to stop serving Burlington as a result. The city, he notes, represents a mere 10 percent of Benways' business.
"When the snowstorm comes the next time, and people are calling for a cab, and there is none out there," Robar says, "well, thank your city fathers."