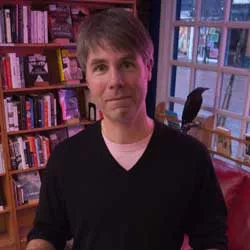 On December 13, Slate published a story titled "Don't Support Your Local Bookseller." Two days later, Salon countered with a piece called "What Slate Doesn't Get About Bookstores" — namely, that communities need them, and not just for books.
The owners of two local bookstores hope Burlingtonians share the second view. In the wake of last summer's closing of Borders on Church Street, they're banking on it.
One of those booksellers — Keith Terwillegar, owner of Crow Bookshop — is already established in an 1800-square-foot space in downtown Burlington. The others — Renée Reiner and Michael DeSanto, owners of Phoenix Books in the Essex Shoppes & Cinema outlet center — have plans to set up shop downtown, as well. They're negotiating a lease on a nearly 6000-square-foot space near Church Street and are pursuing a "community support" model to raise $400,000 they need to open.
At press time, Reiner reports that, in the past month, the couple has received support pledges of $293,000. Question is, with Crow and Phoenix (or a Phoenix chick) sharing downtown, will feathers fly? Or can Burlington, seemingly a quintessential reader's town, support two independent bookstores?
While Reiner and DeSanto collect supporters, Terwillegar is making moves, too. For 16 years, Crow Bookshop, located near the top of Church Street, has been a source for used books, its packed shelves and vintage hardwood floors giving it a classic bookstore vibe. What some locals may not have realized — and Terwillegar hopes they will now — is that Crow stocks about 1500 new volumes.
Three years ago, Terwillegar says, he began selling "frontlist" books (published in the past year) because customers requested them. They'd ask, "'Do you have this? Do you have that?' It's silly to say no," he says.
But Borders' demise changed everything — the shift was "explosive," says Terwillegar. Last month, new books accounted for a third of Crow's gross, three times the July figure. "We're putting all the money we make on these books back into buying more," he says.
Terwillegar carries a mix of carefully selected new backlist titles (The Hunger Games, for instance, in the Young Adult section) and recent hits such as Chad Harbach's The Art of Fielding, which are displayed prominently, face out, by the entrance. New hardcovers bear discount stickers: 20 percent for adult titles, 15 percent for kids books.
Before he got into the used-book business, Terwillegar worked at frontlist stores. So "I had the skills, but the business has changed a bit," he says. "The New York Times review used to make or break a book."
The internet changed that. Like Phoenix, Crow belongs to the IndieBound booksellers consortium, which means Crow's future includes an expanded website "from which you will be able to purchase books online, including Google e-books (if you must)," reads the current home page. North Country Books, the sprawling used-book store that used to share Crow's block, now exists solely in cyberspace.
Physical space is an issue for Crow; a recent reading by Vermont poet laureate Sydney Lea attracted more people than the store could accommodate. Terwillegar says he's currently negotiating a possible upstairs expansion that would double the store's footprint: "It's important for us to get bigger if we can," he says.
Meanwhile, he emphasizes the store's community involvement. This fall, Crow contributed about 140 books to Fletcher Free Library's Books for Children Gift Campaign. Volumes from local micropublishers, such as Ra Press, Fomite Press and Honeybee Press, have their own shelf in the store.
Burlington-area readers, Terwillegar says, are "giving us a chance. Fallout from predatory Amazon stuff has motivated some people to shop local."
Local loyalties are also the linchpin of Reiner and DeSanto's plans. Reiner notes that their business model, adapted from the popular community-supported agriculture concept with help from attorney Eli Moulton, is similar to one used successfully by Greenlight Bookstore in Brooklyn. Claire's Restaurant & Bar in Hardwick is another inspiration.
The key is "tiered financial participation." Right now, the couple is gathering "firm commitments" from people who are prepared to put down at least $10,000 for a subordinated convertible note, says Reiner. That's a bond at 4 percent interest, payable after five years, that can be converted into shares in the company.
Though "the big money at the front end is the first driver," says Reiner, she's a "firm believer in grassroots community support." Phoenix will offer supporters with shallower pockets options such as paying $1000 up front in return for gift certificates in the same amount; or purchasing a $100 membership. (Reiner and DeSanto are still working on the details.)
For now, the community can only guess at the store's likely location. Reiner says the couple is working "fast and furious" on the lease and is "very close" to an announcement. They'd like to have a soft opening in April and a grand opening in May. The Essex store, she assures, will stay open.
Besides books, Reiner says the new store will sell "sidelines" such as cards, stationery and writing implements — filling a void left by the closure of Scribbles on Church Street. One thing it will not sell: used books.
Reiner admits that there's "a bit of unfortunate timing" where Phoenix and Crow are concerned. She and DeSanto didn't know Terwillegar was selling frontlist books until they met with him recently, she says, and had hoped the stores could complement each other instead of compete. With that possibility off the table, Reiner says, "I do believe there is certainly room for both of us."
But how much room is there? In their approaches to supporters, Reiner and DeSanto describe their new store as filling a "vacuum." "In order to make Burlington happen," Reiner says, "we're going to the community to say, 'Look, we believe Burlington wants its own frontlist bookstore.'"
That language echoes media laments about the demise of bookselling in Burlington, and Terwillegar sees it as a plain denial of Crow's continued and expanding community presence. "I have strong evidence to support the fact that we actually do exist and that we have been existing for 16 years," he says. When it comes to the "frontlist" designation, he adds, "I would describe the two dozen copies of the Steve Jobs bio and three dozen Murakami novels I've been selling since August as frontlist."
"I certainly mean no disrespect to Keith," says Reiner. "He's survived for 16 years on Church Street. That's a testament."
For Terwillegar, who has "more books coming in the door as we speak," expanding into the frontlist is the natural next phase in that survival story. "Our community asked us to do something, and we did it," he says.
Can downtown Burlington support two bookstores? Fifteen years ago, the answer would have been a no-brainer. Today, the Salon article suggests, it all depends on whether bookstores can make themselves as indispensable as farmers markets — gathering places that enhance our quality of life.
"I would love for there to be full-on competition of a number of independents, the way there was in the old days," Reiner says. "That would be a dream revisited."
If they build it (or expand it), will we come? In the end, it's up to the readers.